I have been on holiday the past week and have a couple of tales to tell.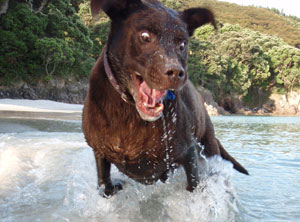 Yikes, it's the taniwha!
The first one involves my old mate "Freddy the Flounder" who I had a lot of fun with a few months ago now.
I'd have thought he would have been resting in a twolegger's gullet long ago, but no, up he rises out of the depths (all of 30cm) to test my patience once more. Bloody hell he gave the Boss such a fright I thought he was about to jump out of his Panama hat. Thought it was a Taniwha, he did, the legend of the seashores in these parts. A slippery fillet of fish he is. I will get him, Boss, thus giving him a little time to compose himself. After chasing him round the beach for what seemed like an eternity we both decided to sneak up on the blighter with the aid of a lamp in the dead of night like the hunters we both are. I will teach him once and for all to give us the run around. A couple of piercings should sort him out and he will be writhing on the barbecue in a flash.
Talking about writhing leads me onto my next story, even I blushed. The poor old Boss, just having recovered from the "Taniwha" episode, was speechless and let me tell you, this is not a common occurrence.
We arrived back at The Strand, (Freddyless I might add), on another great Tauranga day and the bosses in their wisdom decided to take me for a walk in the Redoubt. Imagine my surprise when we went around the corner of the track to see two rabid twoleggers coupling on the track. It stopped the bosses in mid stride I can tell you, which is more than I can say for the other couple. Without even batting an eyelid, (probably eyelids were not part of the exercise) they just kept right on going but being a little lean on years it did not last that long. Unfortunately the boss left his camera behind. We should have thrown a bucket of cold water over them, it works for me.
Casual as you like, up they rose, composed themselves, and off they went. I have been accused of being a dirty dog at times, and am not shy on getting my leg over on occasions, but I have got to tell you, even I have standards! Get a damn room, people! I am shocked. Oh well, it all happens down at The Strand.
On to my favourite part of the day…talking about my old mate Johnny the Aussie Butcher's meat. I hope his bones have more staying power than the aforementioned couple. The good man has pork on special this week with the pork steaks being ideal for the barbecue (as a substitute for Freddy anyway). So get in and see him at Gate Pa and stock up on all your meaty needs for these long sultry nights.
'Kumara & bacon salad'
with Barbecue Pork Steaks
Ingredients
750g red-skinned kumara, peeled
1 red onion, peeled
2 Tbsp oil
2 rashers bacon, cut into wide strips
3 cups (130g) baby spinach leaves
¼ cup fresh orange juice
3 tsp grain mustard
1 large orange, peeled and sliced
For Steaks
¼ cup fresh orange juice
3 tsp grain mustard
1 Tbsp freshly chopped thyme
4 Pork Steaks

Method
Preheat the oven to 200 degrees Celsius. Cut the kumara into chunky wedges and cut the onion into eight wedges. Toss the kumara and red onion in a bowl with oil, season with salt and pepper. Arrange of a baking tray and bake in oven for 25 minutes or until the kumara wedges are golden and tender.
Pan-fry the bacon pieces until golden and crispy, drain on absorbent paper to remove excess fat.
Arrange the hot roasted kumara and onion on a platter. Scatter over the bacon and spinach leaves. Mix orange juice and mustard together and drizzle over platter. Garnish with orange slices.
'Barbecue Pork Steaks'
Combine orange juice and mustard in a bowl with thyme. Turn pork steaks in the mixture, cover and marinate for 30 minutes or longer.
Remove the steaks from marinade, and barbecue over a moderate heat on a preheated, oiled hot plate or grill for 3-4 minutes each side depending on thickness.
Set steaks aside in a warm place, covered with foil for 4 minutes for the pork to rest.