There were five of them living in a two-bedroom state house. Mum and Dad camped in the lounge with the two baby boys, while their teenage son occupied a bedroom.
"Part of it was because it was cold and they [the baby boys] were so sick," says dad James.
It was an old house, says James, 45. "It was a bit damp and there was black mould all down the walls. There was insulation in the floor which made a difference but there was still no insulation in the walls." And it was making the family sick with colds, flu and the occasional rashes.
James had to switch jobs. "I was an engineer but the house was making me quite sick and I was having a lot of flu problems."
Despite the family's health, it was the only home mum and dad could afford for their family. "I didn't think I deserved any better, I gave up," says James.
But today, the family is speaking to Life+Style inside a new three-bedroom home – a home free of mould and dampness. We're sitting at the dining table and mum Helena is pouring us coffee. "We're warm, we're dry and we're happy. It's all thanks to Habitat for Humanity Tauranga.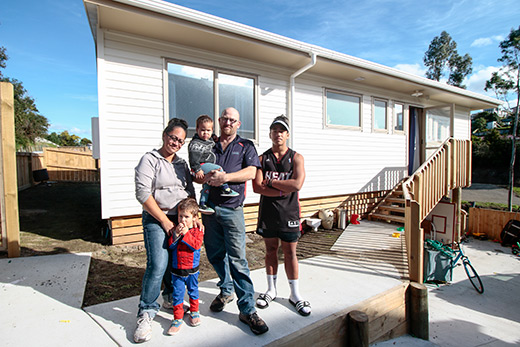 "We don't get sick anymore," says James. "The kids love it," says Helena. "The two babies are finally in their own bedrooms and we have our own room."
Habitat for Humanity is a Christian not-for-profit organisation that works in partnership with people of good will and families in need, to eliminate sub-standard housing by building and selling simple, decent homes on an affordable rental basis.
"I'd actually pretty much given up on the dream of owning my own home," says Helena. "Life's circumstances and finances got in the way."
Habitat for Humanity Tauranga works alongside local, independent, not-for-profit community organisations to assist them to build homes for families and help these families achieve their goal of home ownership.
Applications are shortlisted based on various criteria including a willingness to partner long-term with Habitat and an ability to make the required payments.
Volunteers, corporate groups and the family work alongside experienced workers and supervisors to build or renovate the house.
An applicant must work at least 500 hours helping to build both their home and others. This is called 'sweat equity'. Then, the family can move in.
The five-year initial tenancy period is followed by a sale and purchase agreement activated if all required conditions are completed during the tenancy term.
An applicant is someone who is not eligible for a commercial home loan, their house is too small, and they're living in an unsafe or unhealthy home, or have a low or marginal income.
James and Helena had been in an old, cold state house in Judea for 14 years.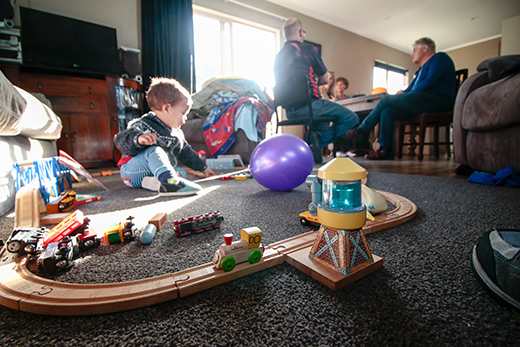 "I'd been looking around for a bigger house to rent and just couldn't find anything that we could afford, then we saw Habitat for Humanity and thought we actually can afford this," says Helena. "I actually didn't want to apply. I had too many misgivings."
But their church pastor and friends encouraged them to apply.
"At the end of the day getting a 20 per cent deposit on a house is like a pie in the sky for a lot of us. I had to swallow a bit of pride," says Helena.
"We were told it could take up to two years, and three weeks later we get a phone call saying they've already started the house," says James. They were lucky. "I had to pinch myself. It took a while to sink in."
Through their Family Support Committee, Habitat works with the family from time of selection and during the rental period to provide assistance in the move towards home ownership, including home maintenance and monitoring rental payments.
The family has been in the new house since February. "I think for the first time I actually know who all my neighbours are. I not only know their names but I know they've been through something similar to us," says James.
"Now we have something to aim for, for the future. When you're renting, you're constantly thinking on a 90-day notice to move, whereas in four-and-a-half years we get to buy it with a mortgage and it will be our home."
Since 1995, Habitat for Humanity Tauranga has housed a total 64 families in Tauranga and Te Puke – and 29 families in Eastern Bay of Plenty.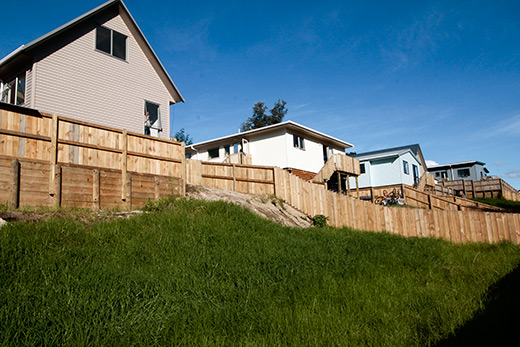 Three houses are being built for Tauranga families, with two about to commence building and two more in the design process. "That's a total of 100," says Habitat for Humanity Tauranga office manager Murray Graham.
They also hope to start building in Greerton next year, says Murray."There will be eight homes initially and eventually 10. This could house as many as 50-60 people."
Murray says Habitat has purchased more land in Tauranga, enabling the organisation to build another four-five homes.
"During the current financial year, five of our families have been able to purchase their homes from us at the five-year point – this is the ultimate aim."
To apply for a Habitat home, visit: www.habitat.org.nz or email: habitat.tga@xtra.co.nz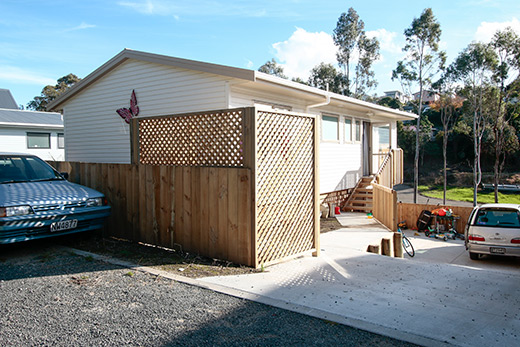 Subscribe to our weekly Newsletter
Email: