A son of Tauranga is bringing his greatest treasures to the Tauranga Art Gallery. The aspects of life that mean the most to Mr G will be on display over the coming months, in his first ever solo exhibition.
On the outside of the gallery, a single letter 'G' stands out in deep gold against a dark magenta, heralding this coming home. And, significantly, the theme of the show is simply haukainga or home.
"This is about me honouring my Tauranga Moana roots," says Graham Hoete, or as many of us know him as – 'Mr G'.
"My mum and dad are from here. But also the exhibition specifically honours my connection to Motiti Island and Matakana Island."
A celebration of those connections, and telling the unique stories that come from those places, is what he seeks to portray.
"It's also an opportunity to show who I truly am as an artist and person, and what better place for me to do that than my hometown Tauranga."
He recently painted a sign with the word 'Towel-Wronger' on it, highlighting the mispronunciation of Tauranga that he often hears. He published a video and photo of the sign to social media, but this is an opportunity for the public to see it up close."
The sign is part of the exhibition, along with the video. There are also other strong pieces, ranging from portraits to bronze cast sculptures.
"My goal is just to be able to tell my stories honestly, with authenticity. To highlight how we can find beauty in the simple things in life, rather than the glitzy glamorous Hollywood stuff. It's about how we define wealth."
He draws from close family connections to explain what that sense of true wealth feels like.
"On Motiti Island there's no power, it's straight roads but such an enriching place to spend time. There's simple things like fresh food, Mum and Dad with their veggie garden, fresh kaimoana, seafood."
Wanting to draw his audience into a more multi-sensory experience he's not only painted kina on toast, but also collaborated with Izakai Bar and Eatery to create three kina-based dishes.
"When I think of home, I think of kina and my upbringing on Motiti. I really wanted to make the kina a superstar in the show and celebrate it.
"The Japanese love kina too. I've been to Izakai where they do a fusion of Japanese and Maori food. So I asked them to come up with three signature Mr G dishes all related to kina."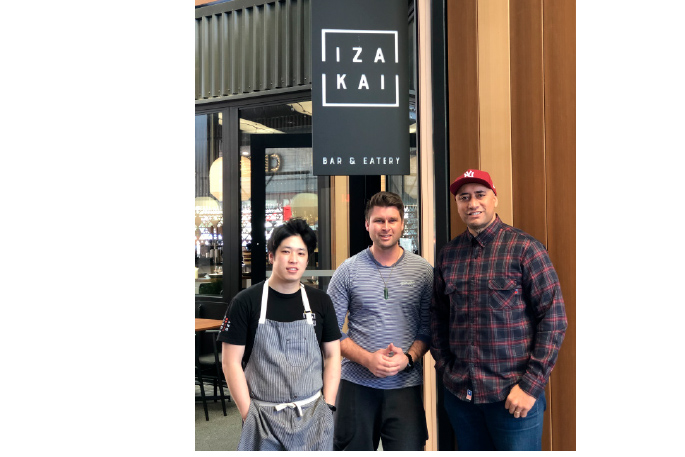 The kina dishes include a coconut infused dessert, and the Japanese version of kina on toast.
The kina taste testing experience will be happening from 11-12pm on Saturday November 9 at the gallery.
Hononga or connection is another key aspect to the show.
"I'm exploring the importance of whakapapa and genealogy to holistic and mental health. Making connections and knowing who you are brings context.
"When people introduce themselves on the Marae they stand and tell everyone where they're from and people they are connected to. This is pepeha. One of the main pieces I'm doing is a self-portrait or a visual pepeha."
Graham's celebration of family connections, how precious connecting back home is, exploring one's own whakapapa, and where we each come from, is why he has created this show.
Some of the work on display has been drawn from his own life experiences.
"Also from history. For example in the portraits of my mum and dad, it's not just painting a beautiful picture of their faces. In the frames I tell their history and connection to where they're from.
"With Maori carving there are a lot of symbols, patterns and motifs that have special meanings.
"It's a visual language really, and carving was how Maori told their history back in the day."
He's drawn a tiny black backed gull image into his father's eye, and referenced the Battle of Kokowai between Ngaiterangi and Ngati Ranginui iwi in his mother's portrait frame. He plans to explain the stories behind these during a public artist's talk at 2pm on Saturday, November 8.
"I think it will be a good opportunity for people who want to get a bit of an intimate backdrop to who I am as an artist and a person because I'll be talking through my works."
Encouraging others to explore their own connections means he will be attending the opening of the show in a Scottish kilt.
"I went to Moffat in Scotland and painted a portrait of my great-great-great grandfather John Alfred Borrowdale Murray on a wall there in his home town."
This drive to explore and celebrate family connections and roots wherever that may take him in the world has added to the already enriched treasure trove of his life and help created this moment where he brings it all home.
"The main thing I want to get across with this exhibition is honouring my Tauranga Moana roots and my love for this place."
Mr G's 'Home' exhibition will be on show from November 9 to February 9, at Tauranga Art Gallery.
Subscribe to our weekly Newsletter
Email: