It's the time of year where the stress starts to mount, people forget to relax and things can get a bit overwhelming. But it's still important to have a little fun!
BayStation, located at Trustpower Baypark, offers all the fun you could want for you, your family and friends, or your workplace. There are four great activities on offer at BayStation – Blokarts, drift trikes, laser tag and paintball – so there's bound to be something for everyone.
For many people, there's nothing better than the wind in your hair, the speed and that rush flowing through your veins. But if you're not too keen on getting your sea legs or you're more of a land lover, BayStation has the perfect solution.
It's just like sailing on land – BayStation's Blokart track is a fantastic way to get an adrenaline rush while still staying safe and dry.
The Blokarts are a three-wheeled go kart with a big sail and, despite being referred to as 'land yachts' no previous sailing experience is required.
Participants are strapped into the Blokarts and guided through how to really get the best experience.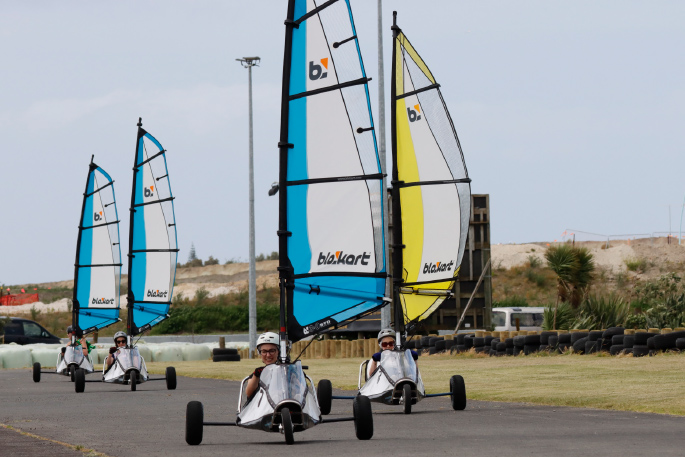 Learning to catch the wind and use it takes a few goes around the track but it comes quickly and you'll soon find yourself wanting more.
When you get the hang of things and if you really want to challenge yourself, you can try to get up on two wheels without tipping the kart over.
And there's no need to fear – if your Blokart catches the wind a bit too much and topples over, the chances of getting injured are highly unlikely.
BayStation's specially designed drift trike course is guaranteed to make even the staunchest participants crack a smile – especially if you share the track with family or friends.
Drift trikes are a three-wheel trike, powered by an electric front wheel with custom built drifting rear wheels. Another invention from right here in the Bay of Plenty! The course is filled with twists and turns to really get the best drifting experience.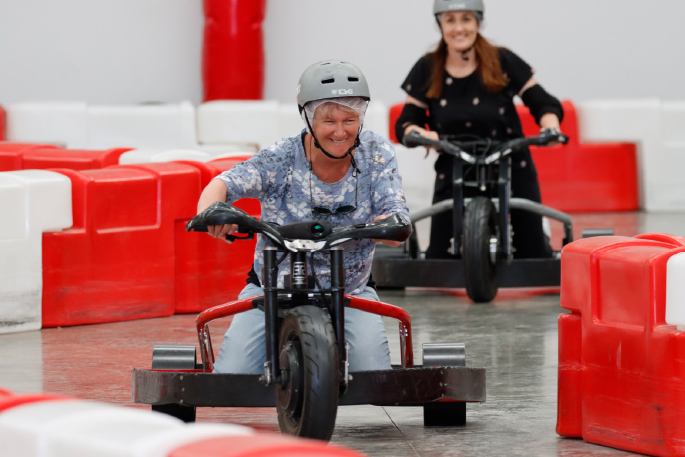 It takes a lap or two to get the feel of the trikes but once you've nailed it, you'll never want to come off!
The drift trikes are unique and different as --they are front-wheel drive which allows you to have a lot more control over the trikes, while the custom drift wheels on BayStation's polished concrete track mean you will be sideways as often as possible.
The drift trike track is perfect for those wanting to get the hang of drifting as well as the more experienced that want to race their friends.
And because the track is indoors, there's no need to worry about the weather – you can drift rain or shine!
BayStation also has a fantastic outdoor paintball and laser tag arena. With old Jeeps and plenty of house structures and obstacles to hind behind, this arena is the perfect place to put yourself and your team mates to the test.
Most people are used to laser tag being hosted in the dark and while wearing cumbersome vests to measure how many shots you sustain.
At BayStation, they've simplified things. The laser guns work in daylight and have a great shooting range on them. There's no need for a vest or jacket either as the gun measures how many times you've been hit.
If you're looking for something with a little more impact and something a bit more high-adrenaline, try the paintball. Being sprayed in coloured paint really adds a dimension to the sport and when there's the possibility of light pain people are more inclined to think before they shoot!
Either way, the BayStation outdoor paintball and laser tag arena is big enough for two teams to go head-to-head and crown a champion.
The activities at BayStation are an ideal way to bring people together – whether it's for a birthday party, a family outing, a school holidays activity or a corporate event.
With light competitive elements along with loads of fun, every group could benefit from taking part in these great activities.
There are package deals available and nearly everyone can participate in the activities available at BayStation. Packages can be tailored to suit personalised specifications and all safety equipment and professional tuition is provided to ensure a safe, fun experience.
Catering is also available on request and there is a licensed bar on-site, meaning BayStation offers everything you could need for your next event in one place.
So what are you waiting for? For more information and to book, visit: www.baystation.co.nz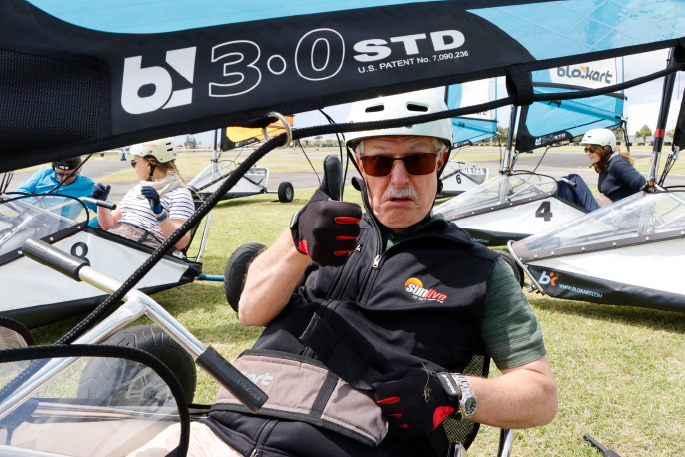 Subscribe to our weekly Newsletter
Email: