It was the early hours of New Year's Day. On the last day of the year I'd been working until well after midnight so was planning a sleep in, but I knew that Porina Whetu McLeod and her East Coast Paddler team were paddling out before dawn to greet the first sun of the new decade.
She'd spread the word through Facebook, resulting in 15 enthusiastic and experienced paddlers turning up to join the three instructors. The plan was to paddle from Mount Main Beach to Motuotau Island and back, with breakfast served out on the water.
Porina hatched the idea for the New Year's Day dawn paddle about three years ago.
"As a musician of over 20 years, the only time I would ever see a New Years' Day sunrise was on my way home from gigging and socialising," says Porina. "I was starting my New Year feeling seedy and tired and would spend most of New Year's Day in bed nursing a hangover or recovering from fatigue."
"Since my involvement with paddling, I've discovered a new and wholesome way of doing life," says Porina. "I've begun the last three years seeing the sunrise from the ocean."
The small group assembled in the near-dark and were given their instructions. Breakfast was going to include muesli, gourmet yoghurt, strawberries, blueberries, grapes, cheese, crackers, a sandwich bun and juice, and they were keen to get out around the ocean side of Motuotau to enjoy it.
"There were nerves to start with as we had some waves, they weren't huge but 5am in the emerging sun is a little scary for some," says Porina. "We assured our guests that the worst thing that will happen is they'll get wet, and that we're there to assist each of them to get out past the waves.
"Although they had all paddled on flat water, waves are a little step up."
Everyone geared up and received their dry bags containing their breakfast, before joining in a group prayer and setting off.
"One of our attendees, Mokoera Te Amo, acknowledged our natural entities with a karakia before we motivated everyone into the waves.
"There were a few spills, but not one person complained about that! The water was reasonably warm, and so was the air. We all made it out, and just as we crept around the front of Motuotau, Tamanuitera peaked on the horizon."
Tamanuitera is the personified form of the sun. In Maori mythology, Tamanuitera was caught in a snare by Maui who beat him to make him travel more slowly across the sky. When the vessel 'Takitimu' made her voyage from Tahiti to New Zealand the sailing instructions were as follows: "Keep the bow of the vessel carefully on Venus during the night, and during daylight follow behind Tama-nui-te-ra" which is Maori is "Kia pai te takoto o te ihu o te waka i runga i a Kopu i te po; i te awatea ka whai i muri i a Tama-nui-te-ra".
"The air was smoky smelling, therefore it made for brilliant tropical colours reflected," says Porina. The paddlers sat silently on their boards, gazing towards the rising sun and admiring the brilliance as the light lit across the water around them.
"It was magical and so very special. We watched, we snapped pics, we beamed smiles at each other. We were quite disbelieving of what we were witnessing, that we were on the ocean, that we shared this together."
As the sun rose higher and the morning got brighter, the group paddled around to the back of Motuotau for breakfast on the ocean.
"Mokoera blessed our kai and we tucked in. Here we got to chat and to know each other a bit more.
"I took some time to ensure I had a chat with all attendees. A theme that seemed to permeate this experience was loss. Loss of parents, whanau members, close friends. For some, 2019 was about adjusting to life without some very close loved ones.
"This for me was befitting, because my thoughts were on a close fellow paddler I was hoping to drag out on this paddle, but who lost her life to suicide just days before Christmas."
Porina had a chance to find her own private moment on the water.
"I thought just as the sun sets, it rises again. You just need to make it through the darkness and trust that there will soon be light.
"That's how it was for me and each will have had their own experience."
The group agreed that it was, as one of them put it: "The most beautiful start to the day, month, year, decade!"
"I was having second thoughts when we saw the waves, but I'm so glad to have come," says another one.
"That was a really good breakfast," says a third paddler.
"I was quite rapt with that last comment," says Porina.
"Just starting the year like this puts your year right. It begins with clarity, calm and the confidence that I will be gifted with lessons and joys that will upgrade me into becoming an even better person than I was the year just gone."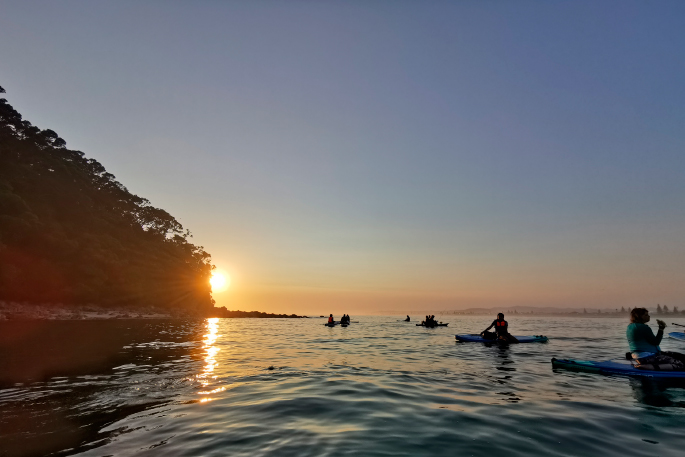 Subscribe to our weekly Newsletter
Email: