Tina Turner bursting onto your street to perform her greatest hits is a sure-fire way to break the mundanity of lockdown.
With nowhere to perform and no cars on the road, Tina Turner impersonator Tana Tapri decided the end of her Welcome Bay driveway would make the perfect stage.
"I put a flier in my neighbour's letterboxes the day before, which said to bring their chairs and snacks to the end of their driveways for the show," says Tana.
"They know me, because they see me walk my Chihuahua down the street."
An audience of around 20 neighbours were treated to a 40-minute one woman show. With strong rock vocals coming from a large speaker, Tana is pretty sure the rest of the block heard her performance, too.
The audience was even bigger online, with the Facebook livestream of Tana's April 5 performance gaining more than 50,000 views in a week, and almost 900 comments praising her performance.
It encouraged her to do a follow up show on April 12, and another on May 9. Every performance had a different 80's-glam outfit, matched with a voluminous wig to imitate Tina Turner's signature hairstyle.
"I didn't expect such a lovely response, both online and during the show.
"Some people even got up to dance, including a young girl from my neighbour's house, which was very sweet."
This isn't Tana's first rodeo. She has been a performing singer, both solo and in bands, for years, and has released several original albums and Eps.
"I can sing anything from Ave Maria to ACDC, but singing rock is my favourite.
"Tina Turner is my idol, and I've always sung her songs.
"My friend was listening to Tina Turner on the radio one day and told me I actually sounded like her – that's when I decided to try act like her on stage."
While Tana has been impersonating Tina Turner for four years, she only recently set up a local Tina Turner Tribute Band.
"It took us half a year to get ready, and now we can't perform together. Our last performance was the Tattoo Extravaganza in March.
"The eight of us still practise separately every day at home – we have 30 Tina Turner songs ready to go."
Tana's powerful, raspy singing voice and similar appearances to Tina Turner makes her quite the match. But, she still practices up to three hours every day to master the impersonation.
"I watch a lot of Tina Turner performance videos. I have to keep physically fit because she is always dancing when she performs.
"To practice, I listen really closely to try and say the words like she does, especially because of my Slovakian accent. I've lived in New Zealand for twenty years, and was even taught English in my home country, but my accent has always stuck.
"We speak Slovak at home, as well as Czech, because my husband's from the Czech Republic."
To get the look exactly right, Tana makes all of her Tina Turner outfits, as well as matching clothes for the two dancers in the Tina Turner Tribute Band.
Seamstress and musician are just two of her many hats.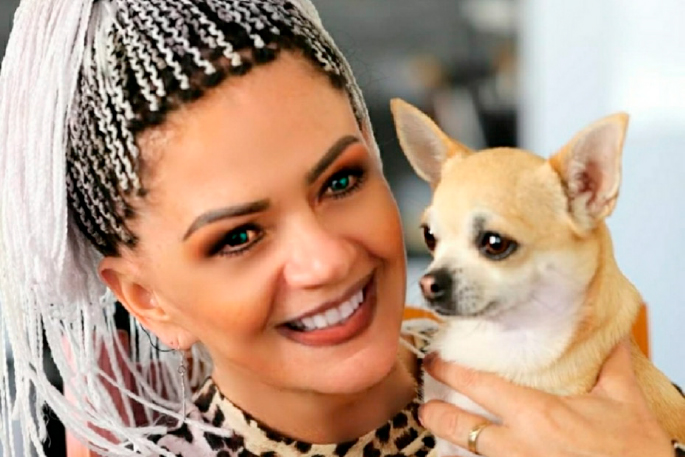 Her main job is being a cosmetic tattooist, which includes eyebrow micro-blading and lip tattoos.
She's also a keen sketch artist, and regularly posts her drawings of animals on her Facebook page.
Baker is also on her list of talents. Last year, she became known for making mini cheesecakes, decorated with jelly and handmade icing flowers.
To top it all off, she's a mum of three. Her youngest daughter, who is 17, is the last one left at home.
"My life is never boring, I always have plenty to do!"
Music has been Tana's main muse during the lockdown.
She practices in her at-home studio, kitted with a mic, audio mixer, speakers, six guitars and a bass.
"I first learned bass guitar, but decided to move on to normal guitar so I can sing along while I play. I like collecting guitars, and giving them my personal touch by decorating them with glitter."
While her performance lifted lockdown spirits, Tana has her own worries about the COVID-19 pandemic.
"When the lockdown happened, my tattooing business stopped. I keep praying for normal life to return.
"We are so lucky to live here, because what COVID-19 is doing to the rest of the world is terrible.
"I probably won't do another driveway performance now that we are out of lockdown, but I can't wait to perform with the band again."
To see Tana perform, search @tapritana on Facebook.
Subscribe to our weekly Newsletter
Email: