Let's take a tour of Greerton starting at one of the most iconic Greerton stores, Greerton Furnishings. Sitting on the corner of Chadwick and Greerton Roads this long-established furniture store boasts experienced interior design specialist Susan Snodgrass.
As part of the service Greerton Furnishings offers a free home or in-store interior design consultation aimed at helping you to visualise what can be created in your home and how you can best utilise the space available to you.
Susan passionately believes in connecting with people and helping to create something beautiful for their family home, retirement home or apartment. The extensive showroom allows you to visualise what can be created in your very own home or Susan will come to your home and show you how to maximise and add value to your living spaces.
Small independently owned retailers have done it tough so far this year, along with many other industries, however each of our Greerton businesses have strived to adapt and fulfil their customers needs and now they need us to support them more than ever as they slowly bounce back.
New Zealand is a nation of pet owners and lovers and of course many of our house pets need grooming and where better to go for that service than Pets By Design in Cameron Road Greerton. They have been in operation since 2004 and today focus exclusively on a grooming Salon with owner Jill Simpson who has been grooming since 2002. In that time she has had over 36 000 dogs through the door, which equates to around 650,000 toe nails!
Jill says "Dogs are our passion and we see many that other groomers cannot manage. Being a small quiet salon, we are great for nervous and anxious dogs, without the noise and excitement from large numbers helps keep them quiet and relaxed."
They use a Bach flower mix and happy hoods to help calm the most anxious. "Believe it or not many of those dogs settle nicely be themselves once their owners have left."
Jills says Pets by Design caters for all sizes from tiny puppies to the largest Great Dane.
"Nervousness, badly behaved, knotty, dirty coats, extra-long coats, skin conditions, flea infestations, dryer phobias and teaching dogs that brushing is OK are just a few unexpected things we can work through daily."
By shopping locally you know that you are not only supporting local business owners but their family and the wider community and now, more than ever, every dollar you spend in your local centre is a dollar that will help our whole community to grow and succeed.
Another of Greerton Village's unique stores is Robyn's Cottage. In 1999 husband and wife Robyn and Rex Parker started a knitwear/yarn supply company under the name RnR Knitwear while living in Masterton selling knitwear around craft markets, suppling shops, exporting to Japan and supplying machine knitting yarn to machine knitters and weavers around New Zealand and Australia. In late 2005 they returned to Tauranga and re-established the business, renaming it Robyn's Cottage in 2013 and branching out into other crafts in 2010.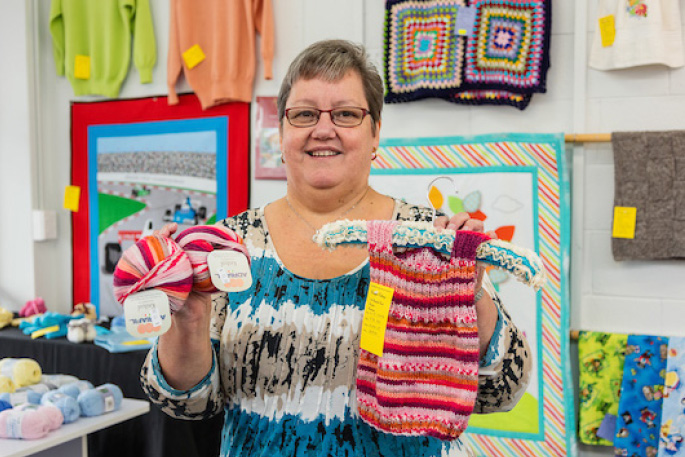 "Crafts included now are machine knitting, hand knitting, fibre and fabric dying, crocheting, sewing, cross stitch, card work and machine embroidery and we're an authorised Brother dealer too," Robyn says.
How lucky are we in Greerton to have attracted a number of new, young business owners with fresh ideas and the willingness to work hard to build their business and one such business is the Nail & Beauty Lounge in Cameron Road.
This is a truly remarkable success story of three young women. Around five years ago Hannah, Sophia and Cake arrived in New Zealand from Vietnam as independent young women in their early 20's. They met up working together at a Nail Bar in the Tauranga area, became great friends, saw an opportunity in Greerton and grabbed it!
Hence the birth of the Nail and Beauty Lounge in Greerton. Since opening almost a year ago they have built up a loyal clientele with some customers travelling from as far away as Hamilton and Auckland – just to receive the amazing, friendly service on offer.
It's not all about the nails for these ladies either, they offer a full range of beauty treatments through waxing, eyelash extensions, lifting and tinting.
These are just a few of the businesses that make up the eclectic mix of retail and service providers in Greerton Village – famous for our stunning Spring display of flowering Cherry Trees and Yarn bombing among other things. So if you haven't been out to Greerton shopping lately, come out and have a look and support these local business owners and Buy Local Buy Tauranga. Because when you spend locally you are saving local businesses.
Meet more locals here: www.buytauranga.co.nz
Subscribe to our weekly Newsletter
Email: