Mary Tait-Jamieson.
Once a year during winter, a wonderful, joyous event takes place at night on six hectares in Welcome Bay. Every year I hear about it and make a wish - to be transported back to childhood so I can experience the lantern wonderland that Tauranga Waldorf School creates.
Thousands of lights are lit, with children and their families venturing off on a nature walk, holding their lanterns as they explore the paths and grottos. There's a Viking ship, art displays, musicians, and tableaus.
The festival of lights has been a part of the school since its beginning, says principal Mary Tait-Jamieson.
"I have been here since 2006 but I believe the first lantern festival would have been in the early 90s, when the school first started here at the Welcome Bay campus. And before that, there would have been lantern festivals at Tauranga's very first Waldorf/Steiner Kindergarten which back in the early days was over in Judea," says Mary.
Back in the mid-90s the tiny private farm school, set within the city limits had about 12 children. Now there are 225 Year 1 to Year 8 pupils in the primary school and another 80 in the adjacent early childhood centre.
"The festival of lights has really grown too," says Mary.
"It used to be just a tiny community festival.
"Because we've got this beautiful campus with native bush, and an amphitheatre, as we got bigger we just made the lantern walk bigger."
All the school children get involved, helping to create the lighted grottos where they share their work.
"Each of the classes create displays and light them. The kindergarten children come and look at all the things that lie ahead in their learning journey."
The Tauranga Waldorf School and Rose Ring Kindergartens were established in 1988 by parents and educators who wanted to provide an education based on the teaching methods of Dr Rudolf Steiner, who was an Austrian teacher, philosopher, scientist, artist and architect. His approach to learning combines an academic programme delivered within a nurturing, creative environment.
"Because we're an arts school, we learn everything through the arts – through visual arts, performing arts and the hard arts."
"The festival of lights is an opportunity for the school children to show off and display what they've been learning."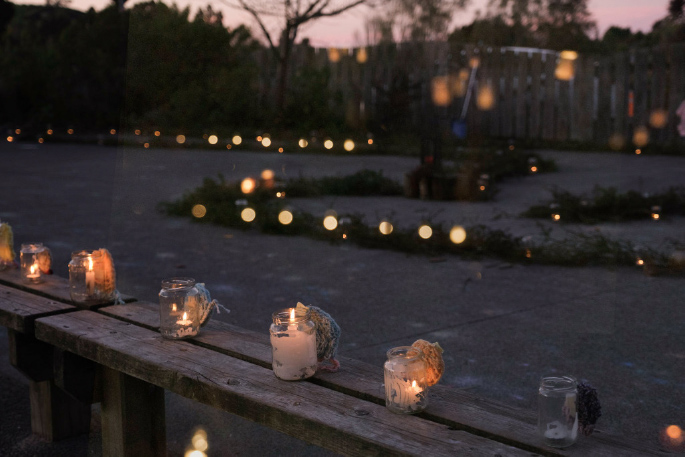 The lantern walk begins outside the school with delicious nachos and spiced apple drink. It's exciting, being rugged up on a beautiful cold winter night and going out into the dark for a nature experience. After filling up tiny tummies, it's time to light lanterns with tiny tea lights, and head off on the walk, which goes up hill and down dale.
There's lots of things to see and do along the way. If you walk slowly and stop and look at everything, including the children playing violins, it would take perhaps half an hour.
"Every year the children make their own lanterns but we have spares that we make for little children and visitors who may not have one. We give them out free and they go off on their lantern walk," says Mary.
The silent tableau often catches young children by surprise.
"Our wonderful trustees put it on. They stand so still, it's amazing. Children walk past and say 'is that real?' And a voice says 'yes I'm real'. And the children get such a wonderful surprise!" says Mary.
"I've never seen anything so beautiful," says one visitor to the lantern festival, 'because it's quiet."
The nature experience is predominantly visual, although the 12-15 different scenes include an unforgettable soundscape with native birds. There's also a sing station with music set up for people to sing together.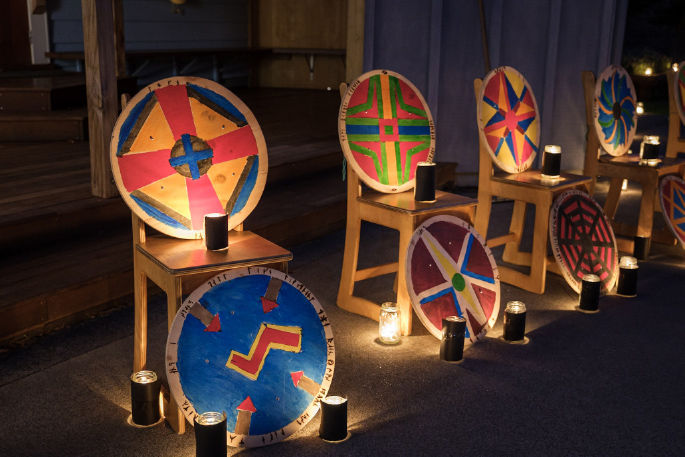 There are braziers lit along the way, and lighting stations, essential for those younger children who find their lanterns go out from vigorous swinging.
"We notice that the very young children are mesmerised by the fire. I wonder if it's because less children these days often don't see fire with the advent of heat pumps," says Mary.
"Last year we were celebrating 100 years of Waldorf Education so we invited 100 of the local primary school children and their families to come and share it with us. We made them lanterns to come on the lantern walk.
"It was so much fun sharing it, that now we say to all our community to bring their neighbours, bring everybody, free for all. If you're lighting 1500 lanterns it doesn't matter how many people see them, the more people the merrier."
There's one word for this lighted lantern trail apart from 'wow, and it is 'lovely'. As you follow the long spiral around the school property, you eventually arrive back at the bottom of the driveway, then quietly walk off back into the night to head home for a dreamy sleep touched by wonder.
I can't wait to experience it next year in late June.
Subscribe to our weekly Newsletter
Email: