He's finally done it. After 37 years of experience and 29 years of breeding, Rob Somerfield has released a green rose - 'Green with Envy'.
Growing to about one metre high, the long stemmed unique lime green roses have about 20 petals per flower.
Rob says demand for the new variety has "gone absolutely berserk all around the country".
The unusual trait with Green with Envy is the length of time the green flower lasts, both on the bush and as a cut flower.
"The green pigment in it is chlorophyll, the same chemical that gives the green in leaves, so the petals tend to act a bit like leaves and last for a long period of time."
To finally produce the green rose, Rob says that he first crossed two roses about 30 years ago.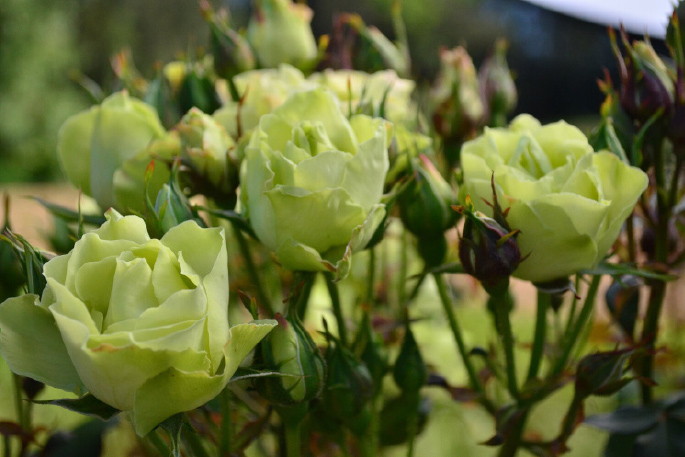 "One of the roses that came out was white and had green tinges to it so I worked on that."
He sets his rose breeding standards very high.
"After persistence I got there with this one. It's up to my standards, all the other characteristics are good and the rose lasts for a really long time," says Rob.
Looking back, he recalls how his grandfather had a rose plant beside the cowshed in Motueka when he was about six or seven.
He's nearly lost track of how many roses he's bred over nearly 40 years.
"More than 50. I have them in different stages of production. If you decide to put them on the market it takes two years to produce the plant."
Although he has a diploma in nursery management which helped him learn how to grow plants properly, Rob says the rest is trial and error. He breeds about 15,000 roses a year, selecting out the best until he has one he feels is good enough to graft.
"It takes about ten years to get one onto the market. You've got to go through all your seedlings every day and pick out the best. Next year you're whittling them down more."
He knows what roses are best for Bay of Plenty rose lovers.
"Unless you're going to be one of those old-fashioned gardeners that are out there in the garden every weekend dead-heading and spraying, in our Tauranga conditions it's got to be a healthy rose."
Rob will be sharing his knowledge and passion for roses at Bloom in the Bay at the Tauranga Racecourse during the festival.
Subscribe to our weekly Newsletter
Email: