Producer Samuel Tomaszyk (Left) and director Paige Jessie (Right)
Writing a script during lockdown, securing funding, and then casting and filming has 18-year-old producer and director Samuel Tomaszyk and Paige Jessie quickly working towards achieving their goal of being able to release their first ever feature film.
The creative pair met as 16-year-olds at an aerial silks class and have spent the past year with sleepless nights, endless facetime calls and countless hours of script writing to bring their film alive from adventurous, comedic and initially "unattainable" ideas.
'The Man She Weeps' is an adventure, self-discovery film, telling the tale of a broken girl, Victoria, who suffers the loss of her father and enters an otherworldly adventure of self-discovery.
Victoria's mother weeps the loss of her husband, but also Victoria weeps the loss of her father.
Led on a fantastical journey, she meets some oddly familiar characters including Soleil, a whimsical contortionist, Francais her awkward thick-skinned love interest, and the world-wisely 'The Painter'. She is accompanied into this eccentric world by 'The Commentor' - a mysterious figure.
Victoria's arrival is soon noticed by the watchful wicked queen La Reine, an oppressive gatekeeper. She and her four new companions join forces and rebel against the Queen's maniacal grip, with Victoria revealing a hidden, inner strength that she never knew she had.
They stand to fight against adversity and cure the lands from oppression and even the emotionally inimical villain herself. The audience witnesses first-hand Victoria standing up against affliction and get to see her grow into an empowered young woman who is ready to embrace and reclaim her true identity.
Despite the Covid-19 restrictions and the extreme personal and financial pressures Samuel and Paige had faced, they took lockdown as an opportunity to reinvent and expand their ideas, not letting the adversity of Covid-19 blockade them from their goals.
During this time the film 'The Man She Weeps' was finalised and pre-production began.
Kylie Betts who plays the leading role of Victoria, is pushing herself to overcome the pressure of taking on such a key role.
"Since I was five, I have had theatre lessons and did a lot of plays," says Kylie.
"This is a very different type of acting but I love it and always wanted to do something different. I like being behind a camera, but I just have never had the opportunity until I joined the agency and then managed to get this role."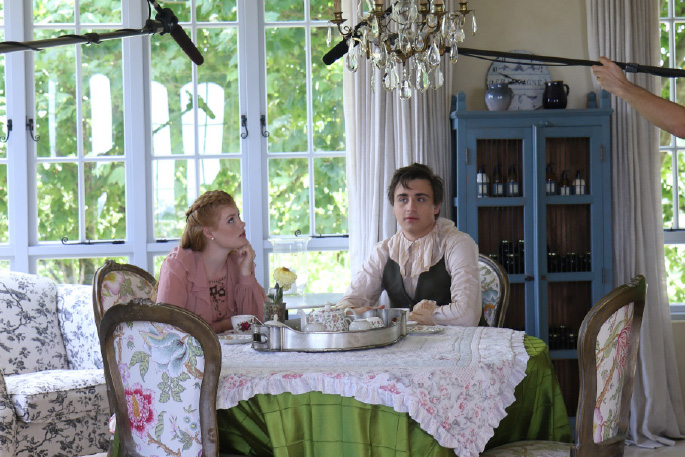 Joining Kylie on screen are local actors Fletcher Oxford, Esraa Muse, Abigail Griffiths, Larissa Downey and Jackson Pool.
Larissa, who plays the wicked queen La Reine auditioned after lockdown and comes from solid theatre acting experience.
"I'm really looking forward to getting on set, which will be my debut role in a feature film," says Larissa.
"Over the ages there have been so many strong female actresses playing queens, and it's a little bit scary to step into their shoes and follow in their footsteps but I'm really excited to give it my best shot."
The film is being produced by the local TCSC Entertainment Group. The group started as a few friends gathering, creating, and choreographing dance numbers.
"TCSC Entertainment Group is an organisation established to produce high-quality work that is thought-provoking, justice speaking and inspiring to the audience and the viewer and this film is no different," says Samuel.
Sam is producer of 'The Man She Weeps', and artistic director of the TCSC Group.
"The Man She Weeps is a story of friendship, love and comedy to tackle, break down and inspire those who are in real-life situations that many of us experience," says Samuel.
The film's primary shooting locations are in the Bay of Plenty and Waikato regions.
"Not only are these locations close to the film's primary base of Tauranga but also because these areas hold some of New Zealand's most beautiful scenic areas such as Blue Duck Station, a pristine 3000 hectare farm that aims to conserve the native wildlife and increase the health of the native flora and fauna," says Paige.
"The station is also surrounded by the Whanganui National Park which gives us the opportunity to create a seamless background for long shots and potential drone footage of the natural and untouched wonders of New Zealand bush. We also plan to film in Matua, with aspiration to bring more exposure to Tauranga City and the many found beautiful shooting locations around the area."
One of the most exciting and notable elements of the film's production will be the usage of Aeroleaf wind turbines to provide electricity at remote filming locations.
"The Aeroleaf's silent rotation does not create any noise therefore will reduce our surround sound making it easier to shoot and minimise the sound blocking for editors in post-production," says Paige.
The feature began pre-production in July 2020 with filming taking place now, and the release and distribution set for November 2021.
Subscribe to our weekly Newsletter
Email: