"What's a churro?" I ask while visiting the C4 street food truck at Tauranga's Village Night Market. "Is it like a sausage?"
The couple inside the small food caravan with the black and white striped awning grin at me.
Gently, they push a hot churro towards me.
Oh, glorious heavenly sweet deliciousness!
It was like the best of the best hot crumpets, camp dampers, griddle scones, doughnuts and choux pastry all covered in sugar.
I think I lost my vision for a moment.
"We're called C4," says Dion Stewart, while his wife Paige smiles at my dazed expression. "It stands for coffee, chicken, chips and churros."
A churro is like the panda bear of food.
You wonder what it is for, and then realise its whole purpose is to bring delight. I needed to know how and why the Stewarts had broken into my existence.
"Last Waitangi Day I broke my knee while we were tramping," says Paige, "and then Covid happened. It pushed us out of what we were doing in our daily lives and forced us to think about what we wanted to do."
Paige and Dion had been tramping in the Pinnacles, out the back of Thames.
The Auckland Westpac Rescue Helicopter was sent in to airlift her out.
"New Zealand services are amazing," says Paige.
"And then Covid kicked in," says Dion.
"Paige got laid off, so we thought: 'why not do this?'"
Paige had been working as a barista at Alimento Café on Tauranga's First Avenue.
"I loved that," says Paige. "Alimento is a fantastic café but it's so big and getting around is too much for me."
"She can only stand by herself for about an hour," explains Dion.
Dion had also worked at Alimento for a little while in the kitchen, as well as being front of house manager and organising shows at Baycourt Theatre.
They had always wanted to run a food truck enterprise and it seemed unfortunate events had presented them with an opportunity.
"We thought we may as well do it all for ourselves, as we've done it long enough for everyone else," says Dion.
"The stars aligned I guess," admits Paige.
Paige has had three surgeries over the last year to fix her knee. "It wasn't just a broken knee, it was quite extensive," says Dion. The pair have been together 12 years and married for two.
"For our honeymoon, just before Covid, we managed to get over to Europe and stayed with Paige's best friend's parents in Spain. Hence the Spanish dish. Churros is our little piece from overseas."
Dion had been involved with the markets before starting their own enterprise and they have friends who are also involved.
"We've helped them out with their markets. "Once Paige lost her job, we thought: 'let's do this'."
They've been running their C4 food truck business since November, with a customised trailer all the way from Christchurch.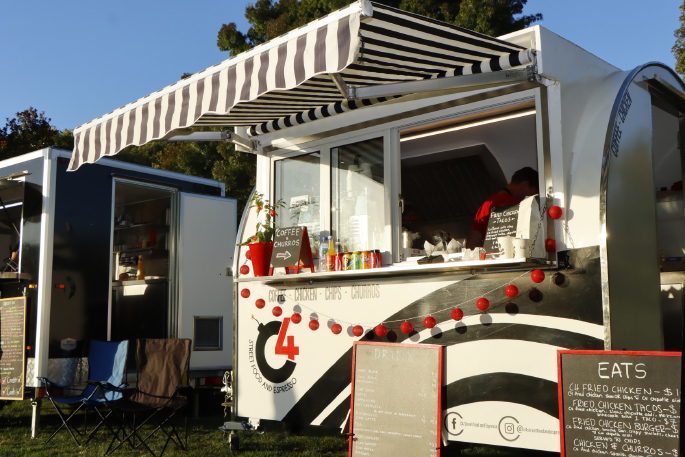 "It's called 'The Money Maker'. It was shipped up here and we installed the coffee machines, deep fryers and a rangehood."
Fergusson Park is their usual daily spot during the week, pumping out the coffees. I told them I had wandered over because I'd spotted their chilli plant in a pot under an awning that made me think of France. The true warmth though was the two of them,and their care of each other.
"I help Paige, but still work at Baycourt," says Dion. "Our shows are just starting up. With Covid it's still part-time and I do a lot of admin there during the week. Paige can't stand for too long. Until she's completely back on her feet, I'm helping run this and doing the shows until they pick up.
"Our main mission at the moment is for Paige to recover from her surgeries. We're keeping busy."
On Thursday nights they head to Papamoa's Dinner in the Domain; Sunday night they are in Matua at Dinner in the Park; and every Friday night they serve up deliciousness at the Tauranga Village Night Market at the Historic Village.
The Friday Village Night Market had its first season last summer, but was cut short because of Covid and the lockdown. This season it started on October 23, but was interrupted by festivals at the Historic Village, beginning again in the second week of November. Like any outdoor market it is weather dependent and sometimes has been called off around 2pm only for the sun to come back in the late afternoon.
Rachel Small, who organises the Tauranga Village Night Market, also runs the Sunday Village market along the village street.
"Now that school is back, the Friday nights at the village are picking up again," says Rachel, who hires the village green, books the live music and liaises with stall holders and food truckers.
It was while I had been sitting with a stallholder enjoying the music that I'd noticed Paige and Dion's trailer and sign.
"Our C4 logo is also an explosive," says Dion.
"We have our own chicken recipe so there's a bit of spice in there."
I decide next week to return and have dinner.
And a churro. Can anything beat a churro?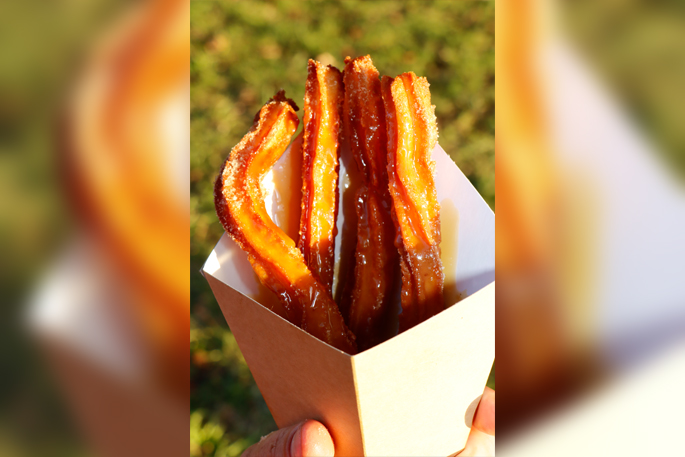 Subscribe to our weekly Newsletter
Email: