The stars were aligned when Canadian-born Julia Gerhard met Waikato-born Kingsley Comins on her OE in 2015.
From their first conversation, they realised that their beliefs, values and dreams matched perfectly. In early 2020, after a long, countrywide search, the couple bought a simple house on two hectares of remote bush on the Ruapuke coast, outside Raglan.
Julia has a BA in Hotel Management, a Diploma in Massage Therapy and is currently in her final year of a degree to become a qualified Naturopath and Medicinal Herbalist.
Kingsley has a Physical Training Diploma, Advanced Yoga Teaching Diploma and extensive knowledge of brain neuroscience from an unfinished triple major degree in Psychology, Chemistry and Biology.
Together they are well placed to start the health and wellness retreat they have talked about for so long.
Off grid a priority
The land ticked almost every item on their wish list for the lifestyle they would like to lead and share.
The steep and rolling contour, predominantly bush clad land sits elevated above Ruapuke beach, with stunning views in every direction.
"The energy here is amazing, with the flow of the land from the mountain down to the sea, and we are in the middle of that," says Julia.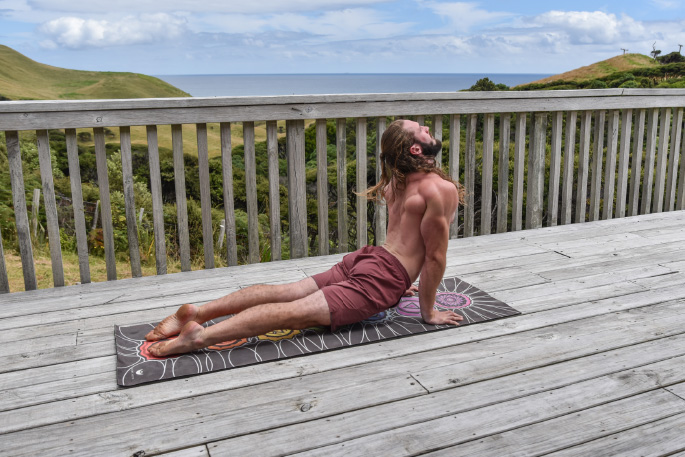 "One of the main requirements was that we could be off-grid," says Kingsley.
The house already had some solar panels, but more were installed, so there are 14 to cater for greater electricity needs, and they charge four large batteries. A diesel generator is on standby in the shed if required.
"We've got a big wood burning range in the main living area, which can be used for cooking, and has a wetback for our hot water," says Kingsley.
The two hectares has already provided a good store of wood from naturally fallen trees, and keeping that a sustainable practice will be part of the couple's journey.
A small, rocky bed stream runs through the land from Mount Karioi, but the water supply comes from a mountain spring, piped to and shared by several neighbours. Roof water is also collected and stored in the water tank.
There's no council wastewater and the couple were delighted to find a vermiculture waste system under the house.
"It's a two tank system, with tiger worms dealing with the solid waste," says Julia.
"We add lime and grass clipping to the worm tank."
Building blocks in place
Previous owners had started projects that were already shaping the property in a way that resonated with Kingsley and Julia's plans for self-sufficiency and sustainability.
The thick bush has a maze of formed paths and mown areas where there is no bush.
"We've got a fully established 40 tree heritage orchard.
"It's been so carefully thought out, with different fruit coming ripe at different times," says Julia.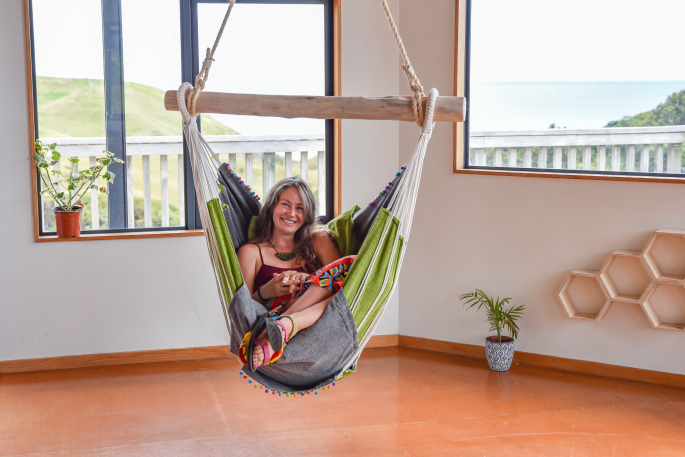 Once she is practicing, Julia dreams of growing a complete herbal apothecary and making her own herbal remedies from scratch. She points out various native trees and plants already on the property that can be harvested and used.
"It's really important to me that I know the origin and quality of any herbs that I use, and this way I know what I am giving to clients," says Julia.
The 12 raised garden beds are lined up for growing year round vegetables and herbs using permaculture principles, with Julia planning on having a greenhouse to extend what herbs she can grow.
"We're also looking at having chickens, sheep in the orchard, and bees," says Julia.
"We visited my grandfather, a shamanic herbalist in Kaitaia, and their set up on a smaller scale just blew our minds away, totally inspiring us as to what can be done with our land," says Kingsley.
Health and wellness
The rustic, batten and ply, two-bedroom home has a purpose-built yoga room.
The high vaulted ceilings and large picture windows, with its sea and mountain views is a very special place.
"It's already the perfect venue for yoga, conferences and gatherings," says Kingsley.
Kingsley teaches calisthenics – coaching people to effectively manipulate their bodies to get the most out of their training with minimum effort and without the need for much equipment.
"It encompasses full body awareness and works on strength, mobility, balance and co-ordination," says Kingsley.
The couple see their land as a place for gathering like-minded people and facilitating progressive conversations around social structures and ways of living.
Rustic cabins and little clearings throughout the bush are planned, offering a truly spiritual experience with nature.
"Wealth is in community, people are way too disconnected," says Julia.
"We'd like to provide a place where people can come to grow and share, and we
can empower them to heal themselves," says Kingsley.
In 2022 the couple intend to be living in Ruapuke full time and running their retreat.
Subscribe to our weekly Newsletter
Email: