Tauranga Jazz Society president Jeff Baker is excited and hopeful about New Zealand's most popular jazz festival going ahead this Easter.
"After the disappointment of having to cancel the 2020 National Jazz Festival due to Covid-19, we are especially pleased to be hosting this 58th National Jazz Festival and 43rd National Youth Jazz Competition," says Jeff.
"Without the generous support from our sponsors, and especially Tauranga City Council and TECT, this event would not be possible."
Saxophone player Alana Milson.
The jazz festival is set to be another spectacular Easter occasion, showcasing some of the best of New Zealand's jazz artists and emerging artists, particularly from secondary schools across the country.
The world-famous NZ Army Band will be back, boasting top-class vocal and instrumental soloists delivering innovative performances with a distinct and spirited Kiwi flavour. This award-winning band has played festivals around the globe, including the Royal Edinburgh Military Tattoo, and will entertain a local audience with 90 minutes of impressive swing, jazz, funk and pop music.
The 43rd National Youth Jazz Competition is attracting 44 bands from schools across the country, providing an opportunity to soak in the incredibly talented combos and big bands as they sweep the stage with stunning jazz for prizes, awards and trophies.
Baycourt will be humming with one-night-performances that are selling out fast.
There will be the swooning, lush smooth vocals of Steve Carlin, bringing alive the magical swing era with the Rodger Fox Big Band.
Popular and full of mischief, Ben Wilcock and The Jelly Rolls will be joined by one of NZ's finest jazz musicians, saxophonist Roger Manins, for a special one-off festival performance. The combination of Ben Wilcock on piano, Dan Yeabsley on double bass and saxophones, and Scottish jazz supremo John Rae on the drums is not to be missed.
On Easter Saturday, Baycourt will ring out with a tribute to one of New Zealand's leading jazz artists – well-known pianist and composer Phil Broadhurst. Phil's wife, Julie Mason, will be leading The Kiwi Jazz Legends with a performance of Phil's favourite standards, followed by the Auckland Jazz Orchestra performing a selection of his recorded works.
Georgia Jamieson Emms will be performing in a one-woman show titled Love, Linda: The Life of Mrs Cole Porter, featuring some of Cole Porter's best loved songs, while Kevin Field's Supergroup will bring together master musicians to present a varied night of different genres from groove to contemporary, with a strong underlying jazz feel.
For some jazz-influenced orchestral music, a symphony of jazz on Sunday afternoon sees the BOP Symphonia make its first ever appearance at the National Jazz Festival, featuring piano soloist Soomin Kim – winner of the Bay of Plenty's Rising Stars concerto competition in 2015.
As well as the stunning performances hosted by Baycourt, the downtown area will come alive with a two-day carnival of jazz, beginning with a vintage car parade down Willow Street and continuing on with the best street party Tauranga has had since 2019.
Multiple stages will stretch along The Strand, extending through Red Square and the newly-updated Wharf Street, with its Chinese lanterns and outdoor seating. There will be jazz, swing, blues and funk, with plenty to keep the kids happy in the Family Fun Zone. Little Big Markets will join the downtown party on Easter Sunday.
For some uptown jazz, head along to Hotel Armitage for Loris Zigon on keyboards and Sam Swindells on guitar on Easter Friday; and a jazz high tea with sparkling jazz singer Lady Larisa on the Saturday.
The historic Kewpie will once again be sailing people back to a nostalgic past on Easter Saturday and Sunday, with gentle sunset harbour cruises - a unique Easter jazz experience. Each cruise takes two hours and is a special delight, with on-board jazz as the sun sets and the city lights sparkle across the water.
On Easter Sunday, Tauranga's own Big Band, with band leader Joe Thomas, will be performing their favourite big band numbers at a Tea Dance at the Tauranga Citizen's Club, while the audience enjoys a buffet meal.
A favourite of many and a popular crowd pleaser is the TECT Jazz Village on Good Friday – Tauranga's very own version of the New Orleans French Quarter. Set in the distinctive Historic Village on 17th Avenue, and starting at 11am, there will be plenty of entertainment served up in true New Orleans style.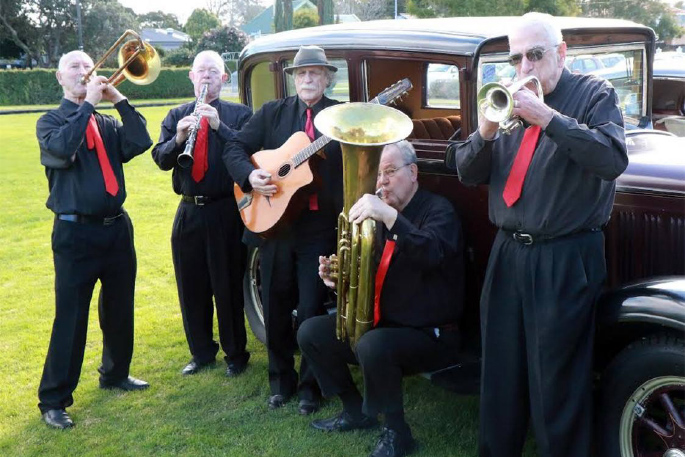 Bay Dixie Band.
Dixie music and swing will ring out around the cobbled streets, with families able to relax in the village green while entertainment continues on the outdoor stage. Tauranga's Big Band, Miho's Jazz Orchestra, Rodger Fox Funkbone, the Hipstamatics and more will bring delight to everyone. Art and craft stalls, as well as food trucks, refreshments, fun rides and entertainment for the children will ensure an amazing day out.
"Thank you TECT for making the National Jazz Festival a reality again this year," adds Jeff. "The 12 years of support and over $1 million in funding has helped us grow the festival into the spectacular event it is today!
"We hope you enjoy the depth and variety of the concerts on offer featuring the best jazz musicians in Aotearoa, and look forward to your support for our up-and-coming performers at the National Youth Jazz Competition at Baycourt. Enjoy the weekend and keep music alive."
Subscribe to our weekly Newsletter
Email: