The Tauranga Home Show is proud to return to Trustpower Arena Baypark on May 7-9 for its huge 22nd show.
With more than 325 exhibitors spread over two halls, you can browse, compare and draw inspiration from a huge range of home and lifestyle businesses from top of the line to budget conscious.
"We encourage you to support local businesses by visiting the show," says Dana McCurdy, managing director of Bay Events, who organise the show.
"We live and work here in the Bay and we see first-hand the positive effect that the Tauranga Home Show has on business progress in the region."
Being Tauranga owned and operated means Bay Events works together with local businesses and community groups to create a special show experience.
BespOak Kitchens Mount Maunganui have designed and built the fully functional Live Cooking Theatre kitchen, specifically created for live cooking sessions while showing off their beautiful oak kitchen design.
Each day of the show, Kiwi household names in cooking will be bringing their expertise live to the cooking theatre – Annabelle White on Friday, Mark Southon on Saturday and Peta Mathias on Sunday.
"We're also supporting Waipuna Hospice again this year," says Dana. "Make sure you show your support with a friendly wave or donation!"
Grab lunch at The Landing Food Truck Hub, with a range of local food trucks and plenty of seating.
With everything from blinds and bathrooms to beds and barbecues, the Tauranga Home Show is the centre for home inspiration.
Get your space ready for the oncoming cold of winter with a new heat pump or fireplace, or keep living outdoors with a louvre or pergola to shelter from the rain. Keep your home warm with double glazing or insulation, and be ready to enjoy those cozy indoor evenings with new soft furnishings and flooring.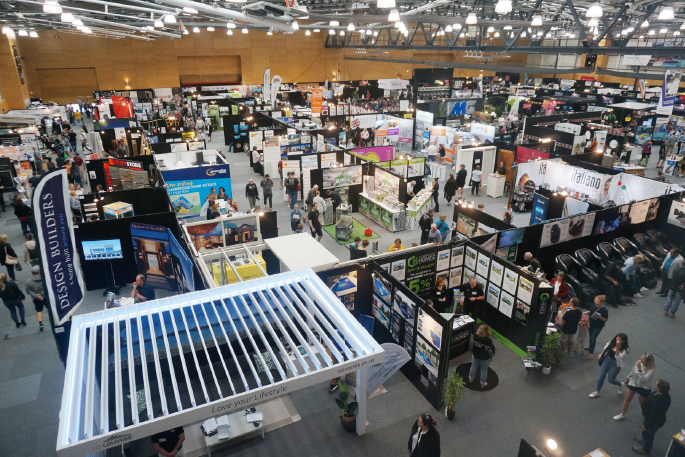 Modernise your existing property with smart home solutions, renovation services and retrofit ideas, or plan your dream home with building companies offering home and land packages as well as tiny homes and cabins.
Every adult ticket entry into the show gives you an entry form to be in to win 2021's major door prize – the Family Hub French Door refrigerator from Samsung Family Hub refrigerator with a retail value of $7999!
With a Wi-Fi enabled touchscreen, you can manage your groceries, connect with your family and entertain like never before. Simply fill in your entry form, pop it into the entry box in the show foyer at the show, and you're in the draw.
Take advantage of exclusive show specials and giveaways you won't find anywhere else – doors are open from 10am to 5pm Friday and Saturday, and 10am to 4pm Sunday.
Door sales only – adults $10, children 13 and under are free.
Visit on Friday and take advantage of two for one door prices – that's two adults for just $10! Parking is free.
The Tauranga Home Show – May 7-9 at Trustpower Arena Baypark.
For more information, visit: www.taurangahomeshow.co.nz
Subscribe to our weekly Newsletter
Email: