Contrary to what people might think, it's possible to live a big life in a tiny space.
The team at Amazing Spaces are testament to this – building luxe-looking tiny homes on wheels since November 2020.
With a housing crisis in Tauranga and beyond, Gareth Davidson from Amazing Spaces says there's a growing demand for tiny living.
"I think there's been a lot more outcry for something of a housing solution. I think that's why, primarily, we've seen such a growing interest in recent times, especially with the way the property market seems to be going all throughout the country, and that has really boosted the want and need for an alternative like a tiny home."
But Gareth says people are still wary of council consent and making sure they are sticking to the rules.
"We haven't had any direct issues yet with councils, but councils tend to be one of the biggest holdups for tiny homes, for sure. It's basically just a giant grey area, and nobody has a clear definition for a tiny house. Some have clear definitions for caravans, but then things get squirreley with it being on wheels or not, and council services and things like that. However, we have had great dealings with Tauranga Council who seem to be a bit more progressive and proactive when it comes to our clients siting their tiny homes."
Amazing Spaces doesn't deal directly with councils, but they make sure their tiny homes come with helpful documentation.
"We use a company in Auckland called The Building Business, who create a building pass. This process goes over all of our tiny homes, all of the structural plans, all the products used – from the wheels to the wall lining and everything in between – and writes up a large report to say that the tiny home is up to building code.
"That pass is then used as a document to supply alongside the tiny home, so if someone wants to go down the consent process, that document states that the tiny house is up to code and therefore they're only needing to get the other side of things ticked off – things like service connections, placement and things like that."
Amazing Spaces might create beautiful tiny homes, but they also build structurally strong tiny homes, too.
Each home has a custom-built chassis, steel structure, truck-grade axels and electric brakes.
"Our units sit at about 9 tonne, which is not small, but it just reflects the chassis and upper structure itself; it's not just the steel frame, but on top of that, we have two 14mm plywood barriers – internal and external – full wall and ceiling insulation, insulated cladding, which all adds to the rigidity and thermal insulation of the home. We've 'over engineered' it, but it's also valuable points because at the end of the day, they still have to travel on the road. In our research we have also seen some really concerning examples of small chassis carrying large structures on top, a lot of which are not safe or legal to travel on the road at their everyday weight and we did not want to follow suit."
Their stunning homes are also bigger than standard tiny homes on wheels. Measuring 11m long, 2.5m wide and 4.3m high, Gareth says most people are astounded when they walk in and really grasp the space.
"Because they are so much bigger to what people might have been looking at prior, most clients get inside and are just really taken aback at how much space they have; they're not walking into a space where your kitchen, living and dining areas are all within one step of an oven, there's actually room to walk between areas, which people don't expect to have in a tiny home.
"We're also working on homes at 3m width. That half a metre wider makes a world of difference to the space. At that width it really does replicate a small house, which can make that transition a lot easier."
And, Gareth says it's not just the young folks interested in going tiny.
"Downsizing, low on-going costs and the easy maintenance side of things is a huge bonus, and we've had a large elderly clientele coming through. I thought it would be all the young ones wanting to use it as a stepping stone, but it's actually surprising the amount of people wanting to downsize, who want to live a bit more of a minimalist lifestyle and just get back to traveling and things like that," he says.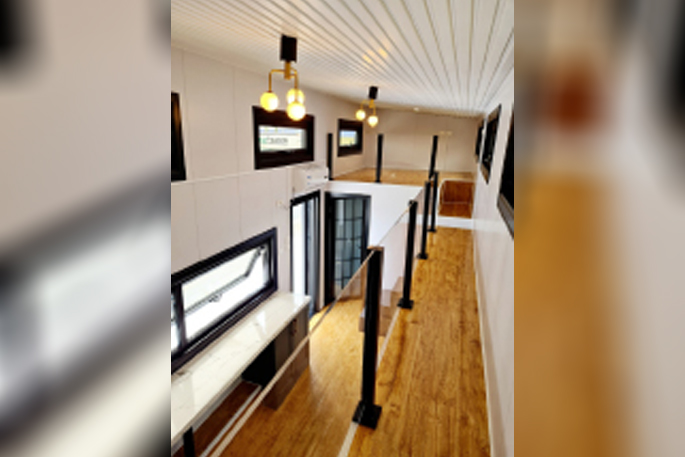 "With our units, although it's downsizing, it makes it an easier transition. There are full downstairs bedrooms options, a large sized lounge area, kitchen and bathroom, similar to what some people have now. Along with a full appliance package, stone benchtops, lots of built-in storage and a 20 per cent turn key structure, these really are a move in ready product with amenities people have come to love from a normal residential house. Ultimately that's exactly what we wanted to achieve - a normal house on a small footprint - not something that replicated a caravan with tiny facilities and amenities. Starting from $139,000 we provide a cost-effective option when compared to some of the much smaller tiny homes on the market that exceed $155,000."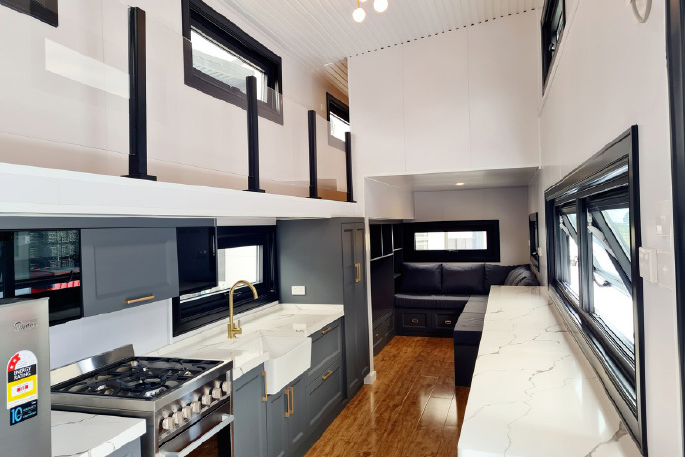 Not only does living tiny tend to free up some finances, but it also frees up the time you'd spend doing household chores, such as vacuuming a four-bedroom home.
"When you don't have a big home that you have to maintain and do heaps of work on week-to-week, it gives people time to focus on the more enjoyable parts of life.
"Lifestyle and finances are two big benefits we've found when talking to people and switching to that sort of style."
To see these beautiful tiny homes in person, make sure you come along to the Tauranga Home show; the team will have one of their double loft builds for people to walk through and fall in love with.
For more information, visit: www.amazingspacesnz.com or give the team a call on 0800 Tiny HM (0800 846 946).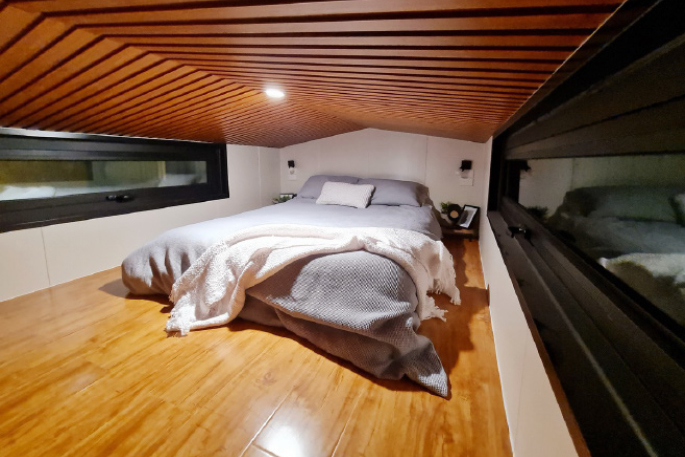 Subscribe to our weekly Newsletter
Email: