The old saying: 'change is as good as a holiday' feels more relevant than ever in the current climate.
With international travel all but non-existent, now's a great time to spruce up your home and think about changing things up a bit.
Danielle Renee from Refresh Renovations says, with the world the way it is at the moment, more and more people are choosing to upgrade their home in lieu of a holiday.
"People seem to be holding onto their properties and making them fit their needs rather than moving," says Danielle.
"We have a lot of people wanting to extend their homes, or to convert their garages to add bedrooms and bathrooms. This is ether to fit their growing needs or to significantly increase the value of their property. Although converting a garage into a permanent, habitable space includes more than just putting up walls and removing garage doors, the effort is often worth it though.
"We are also finding people got 'fed up' with their kitchens and bathrooms over lockdown, and they want to make them more functional and modernise them. There was a lot of realisation that home offices are often very important!"
For those looking to freshen up their home, Danielle says it's important to keep budget in mind, but also have an idea of what you want for the finished product.
"By having a priority list of what you want to achieve it allows you to assess the best way to utilise your budget. If you want to improve more than one area in your home, planning ahead during the design phase is essential.
"You may not want to renovate your bathroom quite yet, but you don't want to knock down a wall in your kitchen if it's going to impact your future bathroom renovation. A lack of thorough planning at the beginning is so important and is where renovations can fall into trouble. The most expensive time to make design changes is during the build phase!"
Getting some help from the professionals is also a good idea, as they often know best.
"It's not your job to know how to design or plan a renovation, just like it's not our job to tell you what you want!
"It's important to work with people who can follow your project from start to finish and who are prepared to complete thorough planning from the onset. Refresh Renovations works with you from the very beginning of your project to its final completion.
"It is so important to work with people who specialise in what they do. You need to consider all facets of the renovation; from feasibility and design to the completion," says Danielle.
"There are a lot of financial components to a renovation that often don't get thought about, it's not just the build itself and it's early on in the process that those want to be identified."
And while people might be adding space and converting garages, Danielle says the kitchen and bathroom are still top of the 'to renovate' list for many.
"In Tauranga we are finding that a lot of the houses needing to be renovated now are from a generation where kitchens were designed less functionally than they are now and they lacked practicality.
"Making bathrooms functional and easy to clean is a daily request I get when discussing bathroom renovations with people. The old saying: 'kitchens and bathrooms sell houses' definitely seems to be true."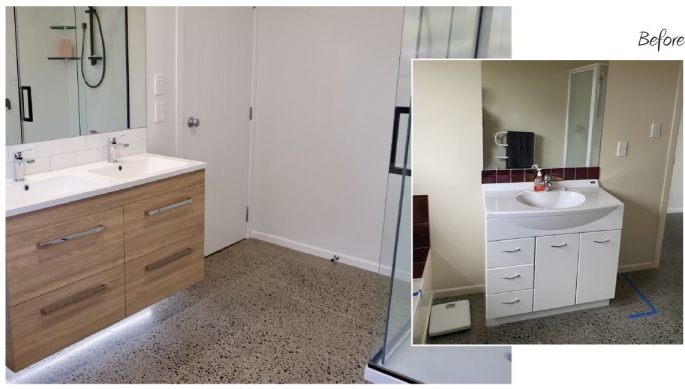 And while you might be renovating just one area of your home, Danielle says it's important to think of the house as a whole when it comes to changes.
"Any renovation needs to be considered with the entire house in mind. Renovations need to integrate with the other areas of the house; practically and aesthetically."
And Danielle says you don't necessarily have to be knocking down walls and adding rooms to spruce up your home.
"A new coat of paint and changes to flooring make a big impact in terms of the aesthetics of your home.
"Comfort is also key- we need warm, dry homes- so insulating, double glazing joinery and adding heat sources should always be considered."
So when it comes to picking a company to help with your home renovations, choosing someone who will work with you from start to finish is important.
"Everything that goes into a renovation we can and will complete for you," says Danielle.
The team at Refresh Renovations would love to talk to you about your renovation ideas.
Contact Danielle for a free, no-obligation consultation on: 0800 006 133.
Refresh Renovations will be at The Tauranga Home Show, May 7-9, at Trustpower Arena. They'll be at stall #167.
Subscribe to our weekly Newsletter
Email: