When Simone Anderson is pitching caravan awnings for the hordes of Bay of Plenty holidaymakers in the hot sun this festive season she'll be thinking of the moment she finally gets to unwind with her beloved Olive. For the first time!
"When I have supplied everyone else in New Zealand with holidays this summer – because that's what I do. I go and put the awnings up for everybody that comes and stays in our caravans at the Mount."
"When that starts to calm down late-January to early-February I'm going to slip on over with Olive and have a holiday of my own at the Mount."
"Because even though I work there a lot of the time I still think the Mount is the most gorgeous spot for a holiday," says Simone.
And as much as she loves the Mount, it seems Simone loves Olive more. You see Olive is an 18 foot, olive green and cream 1962 Oxford Deluxe caravan.
"Olive. She's a darling. Actually, she's my baby," says Simone, who has done a few caravan restorations before, but nothing to this extent.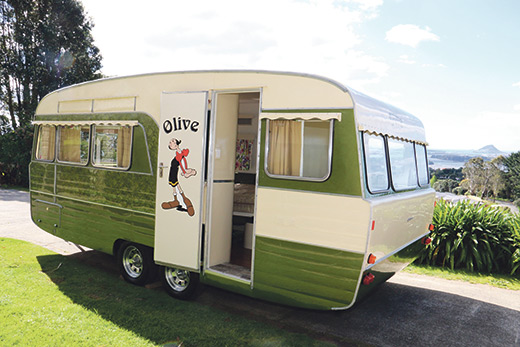 "My husband John owns BOP Caravan Rentals Ltd – so I have a pretty good supply of interesting caravans to pick from.
"But Olive was one that just grabbed me and I thought: 'Oh, she's just gorgeous'," says Simone, who now has Olive proudly sitting on her Welcome Bay lawn.
"When caravan number 102 came back from being rented, the occupier had used the cupboard containing the Murphy bed s a grow room for his marijuana plant, set up with grow lights; the works.
"So I gutted her out and then started to rebuild her, and I was quite amazed with how all her bits were still all there. She's a bit of a darling."
But Simone has a huge supply of caravans to pick from, so why Olive?
"Probably the fact her interior structure was still reasonably sound. And she just had lovely curves.
"I love her exterior lines and her curved interior walls with chrome trim, quite a cool 'retro' look."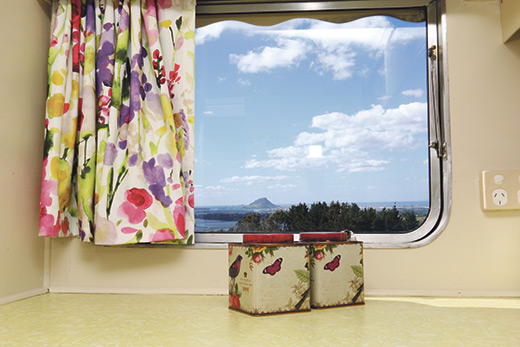 "We painted the outside of Olive – and we got a bit creative and put some lace features in certain areas.
"A lot of people ask how we got the lace effect but it's our little secret, it's not a sticker." Adele Henderson, my company painter, and I work well together and come up with some pretty cool stuff. It's a lot of trial and error though. And Adele came up with her name 'Olive'," says Simone.
Olive's interior has had a lot more work done. "We stripped her right back to nothing and found some nice matai flooring hidden under her shoddy old lino. So we've polished this up for the flooring.
"I had to repair the ceiling which had been leaking and had damaged some of the walls. I took all of the trims off and Adele has spray-painted car paint on all of the built-in furniture, which incorporates the curved walls and gives it a different texture from the walls. This looks really cool," says Simone.
"And we've brought the cream colour onto the inside walls as well. And the lace-work onto the inside – but in a slightly different genre."
Olive has two double beds, with her own separate little kitchen, but no shower or toilet facilities.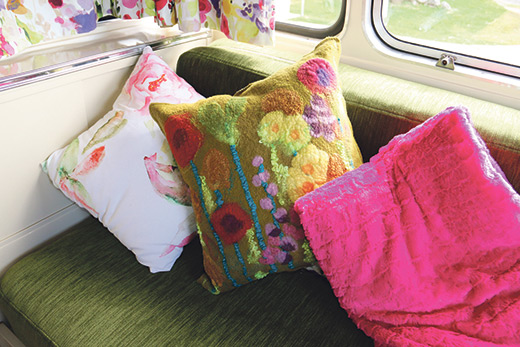 "I'm working on the kitchen at the moment – I've got a retractable tap that I can pass out the kitchen window and use as a shower to rinse sand off you if you've been on the beach.
"So that will be my outdoor shower," says Simone. And she's using an old tea trolley table because "I don't know what happened to the original table".
Soon, when Simone's job of providing others with summer holidays in caravans finishes, Simone and her family, with Olive will go on a sabbatical of their own.
"Olive is going to be my holiday home – when we head from Welcome Bay to Mount Maunganui," laughs Simone.
So a small road trip then? "That's the one," says Simone, who gave Olive a good old wash before her photo shoot with The Weekend Sun.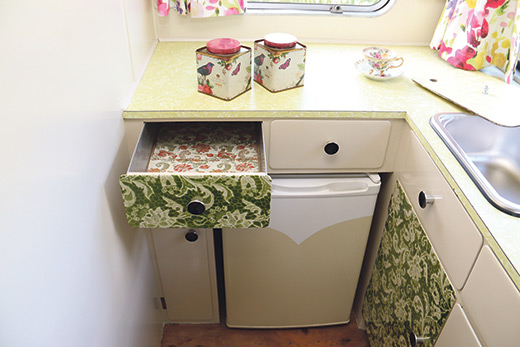 Subscribe to our weekly Newsletter
Email: