It was a beautiful 1940s-built home with an equally beautiful view. An oldie, but goodie.
It had creosote boards, with white window frames and a pitch ceiling.
"That's the house that got away," says interior designer and landscaper Hamish Dodd. "It's the one that you wish you never sold, I loved it."
It's the first home he's ever renovated. "I poured everything into it that I collected over the years, great fabrics and bits of pieces. Luckily for me, some architectural enthusiasts bought it, so I knew it was in good hands."
That was about 12 years ago now and things have changed. Prices of materials have skyrocketed, products have evolved and technology has advanced.
"I've noticed everything seems to have become more specialised," says the 39-year-old. "Now you have an insulation company that does the installation, you have a jib lining company that does jib lining.
"Everyone's broken into very compartmental areas, which is good in some ways because they're fast and efficient and know their job really well. Whereas back in those days the builder did everything."
Hamish has noticed the changes between renovating his first home to the recent building of his holiday home in Taupo. The one we'll get to see on the telly.
Choice TV's '100 Day Bach' is a "warts and all" reality television programme recording Hamish's building project from start to finish. So we grabbed him for a quick chat to ask his top tips on renovating and building.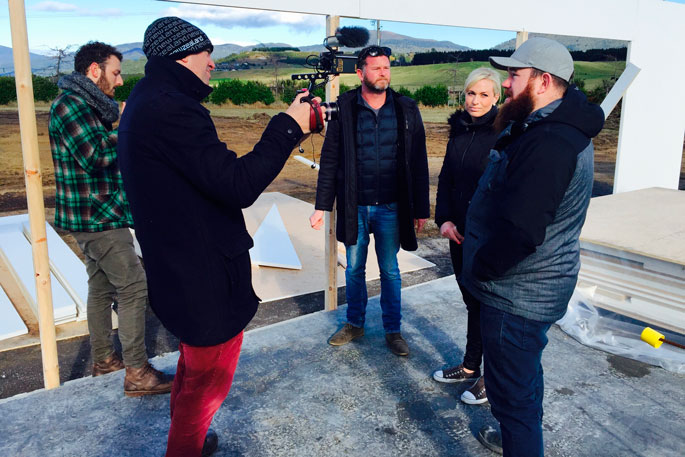 1) Dream big, but not too big
Hamish's three-bedroom bach started out at 180m2, but was scaled back to 149m2 for cost. The land cost about $150,000 and about $400,000 for the finished property.
"If we were to go with our original 180m2 design it would have cost us well over $500,000. Straight away we went: 'ah, nah!'
2) Get things costed
"It's about picking and choosing where you do and don't spend your money," says Hamish. "Sometimes you've got to spend a little bit more if it's a key feature, but you can save in other areas.
"You can wait for small plants to grow outside, but spend more money on your trees for instant impact."
3) Finding clever uses of material
"It's about choosing materials that go into your home that are going to be durable," says Hamish.
"I painted all of the walls inside using Resene SpaceCoat. It's a slightly dearer paint, but it means you can actually scrub the walls to keep them clean.
"I don't want to be precious about our kids running around inside. It's not a mausoleum, it's a holiday home."
4) Have the support of your closest friends and family
"I don't think this would have been as easy if I didn't have my partner, my mother and father and my mates."
You can catch all of the highs and lows of Hamish's bach renovation by tuning into the new '100 Day Bach' programme on Choice TV every Friday at 9pm.