Heels or sneakers, dresses or jeans – whether you dress to impress or just for comfort, you can tell a lot about someone by their clothes.
Even if you're adamant you don't care about fashion, your clothes make a statement.
Your outfit is some kind of communication to the world about who you are and how you're feeling.
Papamoa's Hannah Davis is always keeping up with the latest trends. You'll never catch her wearing anything out-of-date. She's stylish, modern and fashion-forward.
"The way you dress is an extension of your personality," says Hannah.
What does Hannah's fashion tell us about her? The 29-year-old loves to shop.
A sneak peek into her wardrobe tells us more. There's running shoes, gym gear, equine apparel, including riding jackets and riding boots, and shades of white and blue – most with the latest labels sewed to the inside.
From this, we know Hannah is a horse rider and she likes to run. Her favourite colours are blue and white, and she definitely knows how to dress.
Her taste in fashion possibly stems from her Zimbabwean roots. This fashionista was born in a country which has its own successful Fashion Week and is the birthplace of fashion designer Farai Simoyi, who's behind one of American rapper Nicki Minaj's fashion line.
The label-loving lass moved to Tauranga from Africa seven years ago. Life here is much different for Hannah.
"The biggest difference is more time is spent running the house as well as working, although I do enjoy these tasks," says Hannah, referring to her past in Zimbabwe where it's common to have live-in maids.
"There is better infrastructure in New Zealand and everyone is well looked after. There is a good safety net here, which we lack in Zimbabwe. In Zimbabwe, we are accustomed to frequent power cuts, poor roading and food shortages. Zimbabwe is also a landlocked country, so it's a great pleasure being close to the beach here in Tauranga."
So there's no doubt her New Zealand wardrobe features a few pairs of bikinis.
From Zimbabwe to Tauranga, Hannah's had to adapt to the fashion trends here.
And what are those fashion trends? "Very eclectic," says Hannah. "There is a reasonable range of fashion available locally and online."
Being able to buy clothes both over the counter and at the click of a button is important to Hannah, as access to fashion in Zimbabwe was difficult.
"People are restricted because they cannot shop online due to the poor delivery services, so they do not have access to the broader range of designers," says Hannah.
"People from Zimbabwe have to travel to South Africa and typically buy from the likes of Zara, Guess, which is very similar to Australia and New Zealand." It's why she and co-director Janie-Lee Maisey started a coupon site for online shopping www.goskey.co.nz, where fellow fashionistas can shop online for discounted designer brands and well-known labels, whenever and wherever they want.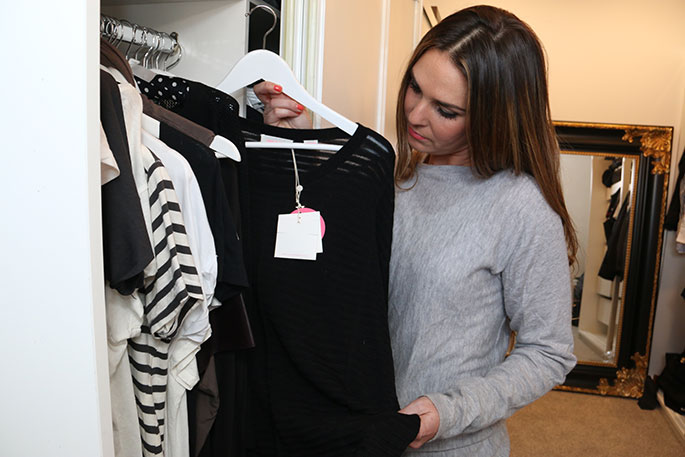 "Because people can shop online whenever they want, there is a wider range of fashion lines, and it gives people in smaller areas access to the full range of designers and retailers," says Hannah.
"With the growth of online shopping, we wanted to offer fashionistas value in the form of discounts, which is currently only available with printed coupons in bricks and water stores.
Plus, it's convenient, classy and current.
"We love the convenience of online shopping, we avoid maddening crowds, pushy sales assistants and searching for parks," says Hannah. "We also want value, the freedom to shop 24/7 from wherever we are, and to know each retailer stands behind their brands."
For work, social outings or family events, there's an outfit for every occasion and Hannah has an outfit picked out for all events. She knows what to wear and when, and explains all of this in her fashion blogs on the Goskey site.
Her fashion may say she's an up-to-the-minute gal, but Hannah's not about to judge if a T-shirt and jeans is your outfit of choice. You're bound to spot her in a casual get-up at some point – Levi's, Lee or Wrangler, of course.
Subscribe to our weekly Newsletter
Email: