'I'm so lucky to live in paradise' is something I've found myself saying increasingly over the past six months since I, like most of Auckland's population, made the shift back to Tauranga from the big smoke.
But every now and then, you need a weekend by the beach to remind yourself that yes, this truly is the best place in the country to live (if you love the beach).
It's easy to forget how big Tauranga and the surrounding territories are, and just how much we have to offer on our own doorstep.
Currently residing in Whakamarama, Papamoa is a good 40 minutes' drive, the equivalent of a trip to Rotorua (and, in this beach bunny's opinion, the better choice).
Any excuse for a holiday will do, and on this occasion I chose 'work-related stress' to justify a weekend away in Papamoa with my significant other – a chance to unwind, relax and take in the sights in a part of town that many get to call their backyard.
The morning began with a leisurely, traffic-free drive across town from home to the Papamoa Domain, where the Little Big Markets was in full swing.
Despite being a howling gale, that didn't stop the jovial local stallholders from greeting you with a smile and the crowds turned out in droves to pick up their fresh produce, a new necklace to match their dress or a bite to eat from one of the many food vendors.
Although a slightly smaller set-up than their Mount markets, there were around 50 stalls showcasing all kinds of wares. In the spirit of market-going, I picked up a gold-imitation arrow ring at a bargain $10, and was tempted by many more shiny items.
But considering the time, I was more tempted to swing by the various food carts, particularly Tia's Tacos, whose sweet smells of grilled cheese and spiced meats filled the air. Enchiladas for me please! What better way to while away an afternoon, than under the trees in the spring sunshine?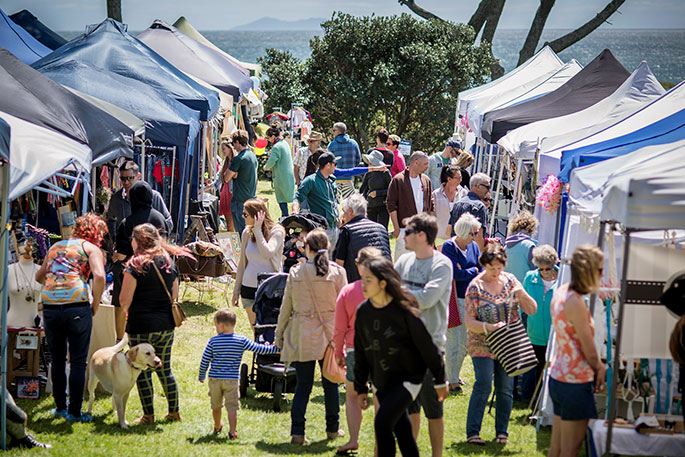 The great thing about Papamoa is the accessibility of so many great activities in the area, whether you're a young couple like my partner and I, a family or with visiting relatives from out of town.
From shopping sprees at Fashion Island, to mini-golf and paintball further afield at Baypark, the fitness conscious are also catered for, with the option of popping into a local gym or tackling the nearby Mount.
One popular attraction, and one I was excited to try, was blokarts. Blokart Heaven, situation on Parton Road, has turned the land into a race course, where you can zip around at speed (wind dependant) in one of these Kiwi-engineered land sails.
Now, I'd seen that episode of The Bachelor NZ, the one where the contestant gets flung from the cart in a gust of wind, and I have to admit I could see myself heading southward also.
Never fear! The safety briefing is pretty clear that if in doubt of tipping, let go of the rope. Plus, you're nicely cocooned into your steel frame and canvas pod that if you do take a tumble, you're well covered from any tar seal scraps.
It was 30 minutes of pure adrenalin, racing around the course, trying not to get swept up in the wind and navigating corners without hitting fellow land sailors.
Easy to control, providing plenty of fun, the blokarts are best suited for everyone from stag dos to family outings (there's even a cute side car kart for parents and children under the required age limit of eight years).
After enough excitement for one day, it was time to check into our accommodation – the Papamoa Beach Resort. Formerly Papamoa Beach Top 10 Holiday Resort, the newly rebranded and extensively upgraded family business (which celebrates its 50th year in 2016) caters for every budget and occasion.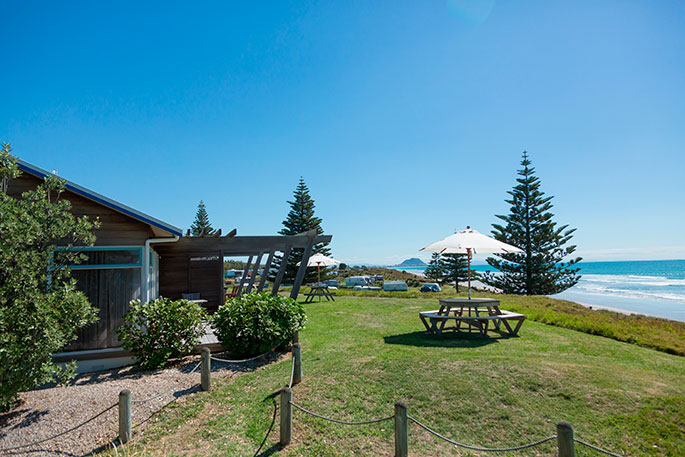 With their new conference room, The Deck, you can even tie the knot there.
We were treated to a luxury Beachfront Spa Villa, a glorious retreat that's as close to the water's edge as you can get without setting up camp in the sands.
Sliding doors open up to your own private deck, with views of the sea and the sound of the ocean echoing through the room. It was pure bliss, and despite the spring breeze cooling the air, wine and cheese on the deck, followed by a stroll along the beach, was the best way to unwind on a Saturday night.
Sunday morning was equally leisurely, as we hired two bright yellow cruisers (Buttercup and Daisy) for a casual cycle around the Stormwater Trails that line the reserves around Papamoa.
At 30 minutes return one way, on flat track, the trail is by no means strenuous and it was good to see many residents out and about utilising the reserves – many of them walking their pooches!
There's a misconception that weekends away need to be spent gallivanting around the country, traipsing everything including the kitchen sink for a two-day getaway. But with beautiful white beaches, local fare and entertainment on our backdoor step, why go anywhere else?
Subscribe to our weekly Newsletter
Email: