"I found an article written about me when I was 16," says Selwyn Ridge Primary School music teacher Andrea Meredith.
"I'd just won a trophy playing piano.
"In the article it said 'Andrea would like to become a teacher of music'."
She smiles a moment and reflects on how she left college to pursue medical science.
These days her life has come full circle back to music.
"Music teaching is what I'm doing now, so that's pretty cool."
Her three eldest children attended Selwyn Ridge Primary School when it opened in 1997.
Andrea came to school assemblies with her pre-schooler, played for her daughter's class musical then started playing for Friday assemblies.
This grew to setting up the school's itinerant music programme, giving keyboard lessons, assisting teachers with their music teaching until finally she stepped into a paid permanent role.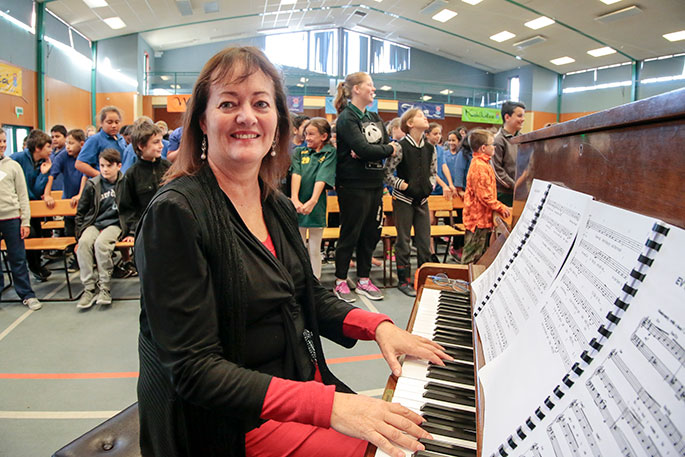 Photo: Bruce Barnard.
Not all primary schools have music teachers. Andrea says Craig Price, principal of Selwyn Ridge, believes that music and the arts help a child's learning. "Music is part of the national curriculum but I think many teachers don't find it easy to teach.
"Anything I want to do, Craig is so supportive. One of his questions is are the children learning? Yes they are, so go for it."
Tauranga Music Festival has been running for over 60 years.
"I've been involved since 2002, playing the piano for it," says Andrea. "It wasn't until Carol Storey and I took it over that we decided to have a theme each year.
"This year's theme is 'All Creatures Great and Small' and involves students from 35 primary and intermediate schools from Papamoa to Katikati."
For a week in September, more than 1300 school children will fill Baycourt with singing.
That's 280 children from five or six schools per night over five nights.
Andrea, with co-musical director and conductor Carol Storey, recorded a CD of the piano and vocal tracks in April.
Books of the music and lyrics are printed for every school.
"There is a maximum of two-part harmony for the songs, so each mass choir is divided into Side A or B.
"Some schools will learn Side A harmony and some Side B."
Early in term two, Carol and Andrea run a workshop for the choir trainers, teaching them conducting and familiarising them with the songs.
"We have the first choir rehearsal about the seventh week of term two.
"That's five rehearsals over two and a half days, where all the schools come in, grouped according to the nights that they will be performing. We do that twice before we go to Baycourt."
As well as about 10 or 11 mass choir songs, each school performs their own song around the theme.
"One passion of mine is watching children perform and seeing them go from being nervous to 'out there'.
"I love watching kids perform and encourage them to do things outside of their comfort zone."
Subscribe to our weekly Newsletter
Email: