Just as it does today, from the 1880s to 1906 Athenree Homestead stood grandly next to Athenree Rd, with an elevated and enchanting view of northern Tauranga Harbour.
Pioneer Irish settlers Adela and Hugh Stewart came to the site in 1878 and quickly went about building the homestead, which became the focal point for the modest community.
And thanks to Adela's energetic and hospitable nature – and a yearning for the social life she once enjoyed in Ireland – she made her homestead a hive of social activity.
She took in visitors – entertaining the likes of William Rolleston, Lord Ranfurly (the governor), Bishop W G Cowie, Richard Seddon and Te Kooti.
And she was known for her balls and dances, lighting up the house with guests, frocks and music, going into the wee hours – some to 5am with visitors leaving after breakfast at 10am.
Today, the Athenree Homestead Trust committee is working hard to restore the homestead to its former glory and bring the home back to being a community hub to be enjoyed by all through many different occasions, activities and simply by opening it to visitors every month.
And trust chairman Martin Rapley has an added motivation. His family has deep ties to the house, which by the late 1950s had fallen into disrepair. It was later used as a hay shed!
But in 1986 Martin's uncle John Rapley and his wife Colleen purchased the property. Martin's great-grandparents, Arthur and Margaret Rapley, had previously owned the property from 1921-1946.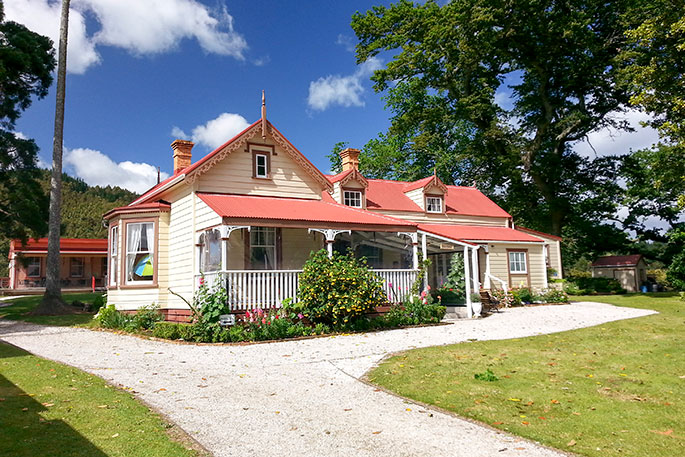 During the next few years John and friend Snow Browne worked to restore the homestead.
Today it is partially restored and Martin is carrying on his family's passion with a team of committed committee members behind him.
"As a Rapley family member I thought 'Geez I better get involved'. Because my uncle, John Rapley, was the instigator," says Martin, who has been chair for two years.
"This place is quite dear to the Rapley family, relations have donated to it. So I'm keeping family history in it alive."
Martin says even back in Adela and Hugh's day – and his grandparents' day – the homestead was a meeting point.
"There wasn't much around the area of Athenree so people would come and meet and that's really what I'd like to see for it today. For it to be a community-based place.
"And I think we, as a team, really want to make this a vibrant hub – where everybody can use it."
Martin says today's number one project is to restore the home's southern wing, which the committee has secured funding for. This will include rebuilding a downstairs kitchen, pantry, dairy, laundry and the upstairs bedrooms, which once doubled as a schoolroom for Adela to teach her son Mervyn and other children from the community.
Martin says the biggest priority is to authentically restore the wing the best they can. "For example, for the kitchen to be restored authentically, with a wood stove, it will not be an operational kitchen."
But in recent years the trust has moved Athenree Railway Station behind the homestead and kitted it out as a commercial kitchen and cafe to serve food on the premises.
Another project underway is the recent removal of an old cottage, which was placed in front of the homestead since the Stewarts' day.
"Now the cottage has gone we're restoring the grounds, which look out to a beautiful vista of the northern Tauranga Harbour – that's probably why the built the house here," says Martin. "Adela could watch the ships coming in."
Volunteer garden enthusiasts are sourcing plant and garden donations to re-plant the site.
"We're going to not only concentrate on it being heritage [English] plants but also try and make it so it's an Irish garden. And we want to have colour too," says volunteer Edith Johnson.
The site was originally Adela's flower garden. "She had chrysanthemums and all sorts – she put them into shows. But everything else was edibles because they had to sustain themselves."
And most plants Adela sourced were from New Zealand. "We've got a list of all of her plants she had – but we won't be planting blackberries."
And as for the community enjoying the homestead – "it's to be a hands-on experience in every way," says committee member Val New.
"The other thing is with this being a lovely old farmhouse we encourage people to come in and actually sit down and touch things.
"Some historic homes have beautiful old priceless furniture that is not to be sat on or touched by the public. Here, we would not say to children 'Don't touch'."
"We are trying to get it to the stage where it looks like Adela and Hugh have just walked away for the day – and we are just the servants, letting everyone visit and walk around and touch things.
"As if they would have back in the day."
Subscribe to our weekly Newsletter
Email: