I had been watching the sun rise from the sand below Harrison's Cut in Papamoa. It was cold, about eight degrees. On the way back to the car, half a dozen cars pulled in.
The drivers, all men, emerged, congregating near the boat ramp, shuffling in the cold, a couple sitting on the seating. Welcome to 'Fishermens Corner'.
I went to say hi. Paul Cameron, Gordon Peterken, Barry Harford, Hugh Jorgensen (Jorgy), Ray Smith, Graeme Williams, and Gary Thompson.
There are others, but not there today.
The near daily ritual of heading off out of the house and meeting at Harrison's Cut has been going on for about 17 years. All married, mostly retired, the thing they have in common is fishing.
"A couple have died. We used to have the odd party at each other's homes when we were a bit younger," says one.
Jorgy used to work on the wharf, Barry has worked in motels in Rotorua; Paul has been here about four and a half years. Gary used to be the superintendent in the mine in Waihi.
He recalls the Rena disaster.
"I worked with the navy and army, cleaning up oil and containers for three and a half months on this beach," says Gary. "I looked after a crew of 23 volunteers, sifting the beach, getting the oil out of the sand."
These days they're usually out fishing with kontikis. "We don't all do it at once, we go different areas, different days. We come down in the morning to see who is fishing and what the sea is like."
It's time out.
Why is no one fishing that particular day?
"Weeds," says Gary. "Too much weed in the water." They instead settle in to discuss the weather, car park, council, the sea. Gary kicks it off.
"We all agree that there need to be toilets here," says Gary.
"Definitely," they all chime in.
"If they're not willing to put in permanent toilet blocks here, something for the people during the summer anyhow. Portaloos or something. There's so many kids," Gary continues.
"You should have seen it yesterday afternoon," says Graeme. "The carpark was full and there were kids everywhere. You can't tell me that they don't need toilets at some stage."
"They go in the dunes," mutters one.
"The Coastal Care people come, beautifying the dunes, but they're walking amongst human faeces," comments Gary. They all look concerned.
"Obviously the problem is going to be how to establish a toilet block," says Jorgy.
"The one at Arataki is ideal, but how can you hook up to the sewage?"
They muse on that. Jorgy continues.
"You can have composting toilets," he says. "Portaloos are prone to vandalism. In the summer you need toilets here for all the people that are using this area."
"They've got a composting toilet at Kaituna Cut," says Graeme. "Let me also say they're now bringing out composting toilets for motorhomes, they don't have the smell and the waste problems. Every couple of weeks they just empty the dried manure."
"Motorhomes," continues Graeme. "That's another thing. They've only got two parks here for motorhomes and the council hound this place as far as tickets go. If you can't get parking in one of the two areas, then you get a ticket."
It seems the motorhome parks aren't wide enough.
"They need at least four motorhome parks, I'd say," says Graeme. "The more motorhomes that are here at night, generally the safer the area is."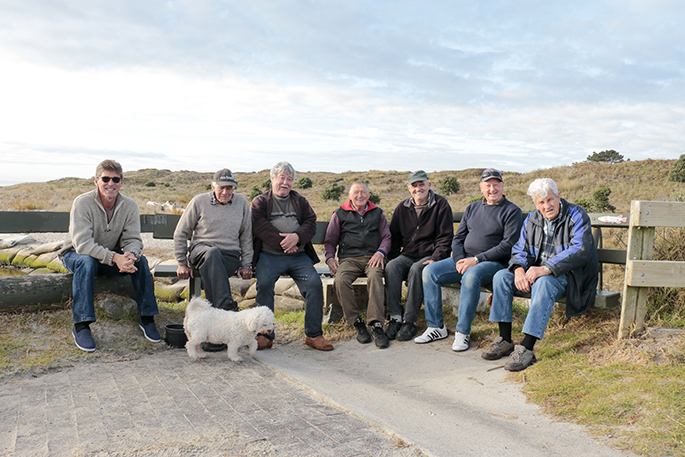 Paul Cameron, Gordon Peterken, Barry Harford, Hugh Jorgensen (Jorgy), Ray Smith, Graeme Williams, and Gary Thompson.
A kayaker arrives, kitted up with wetsuit and fishing gear.
"Toilets would be good eh," he chimes in. "I come in from kayaking and I'm usually busting."
Jorgy built the seating for the fishermen about five years ago. There's a sign 'Fishermens Corner' and a small fish attached to a seat.
"It's very solid," says Jorgy. "That log there washed up, so we towed it up with the truck and extended our seat because we didn't have enough room for everyone to sit."
Nearby is a Papamoa Beach Toy Library, made by local college students.
"The paving went in a couple of years ago," says Jorgy. "Council came down and threatened to take it away because they didn't like the idea.
"But they didn't take it away after we had a discussion with them."
They keep the area clean, picking up cigarette butts. One of them planted a Norfolk pine.
And a couple of pohutakawa. The council sign has been leaning against the fence for about two months.
"The carpark is under a lot of pressure now," says Graeme. "There's just not enough parking here and people park out on Papamoa Beach Rd and then walk in.
"It hasn't kept up with the pace of development."
It's true that beach access along Papamoa Beach is very limited.
The Papamoa Surf Club, Taylor's Reserve, Stellar Place, Pacific View – there's more people competing for the parks. It's a nice morning, with the sun rising over the water.
The men shoot the breeze a bit more. I ask how they know when the best fish biting time is.
"We use fishing apps," says Jorgy. "It's quite unusual for the weed to last as long as it has."
Subscribe to our weekly Newsletter
Email: