Forty sneaks up on you ever so quietly, and wafts a gentle breeze across your back as it flutters past.
Fifty races up to you a few minutes later, and smacks you in the face like a Kenworth truck.
For Tauranga's Karolyn Timarkos, it turned her procrastination into nocrastination. She wrote a '50 for 50' list, and is taking the millennials on at the game of digital nomadism.
Digital nomads travel the world to exotic locations, blog about it from their laptops, and mostly earn their living through affiliate click marketing.
The Weekend Sun has run several stories about two of Mount Maunganui's most successful young travel bloggers, Nate Buchan (@World Nate) and Hannah Martin (@Intrepid Introvert). Karolyn wrote those stories, and took inspiration from them.
"Nate and Hannah made me aware of a new way of living; a new way of travelling.
Hundreds of thousands of millennials are doing it around the world, and I thought, why can't an 'older' person?"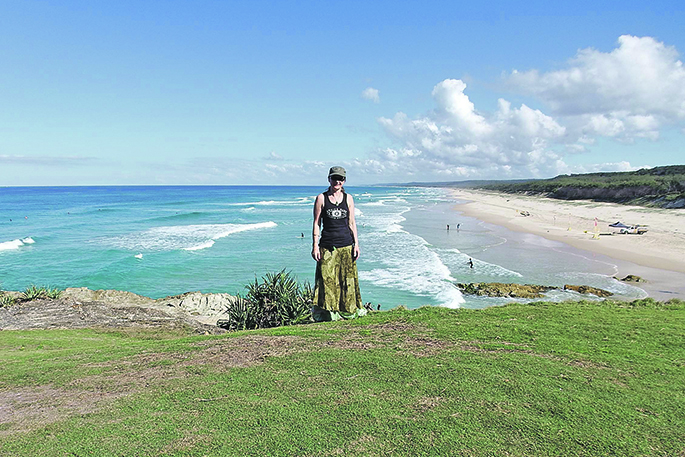 She's doing it now, having flown to the USA mid-August for five months, but she is different to the typical digital nomad.
"I'm 'old'. I value 'stuff' – I didn't minimalise my life before I left New Zealand so all my belongings fit in a backpack. I wasn't motivated to escape from a job I hated and a life I hated, and I maintain a permanent home here in Tauranga."
Nor does she earn a living from travel blogging. "Nate and Hannah have over 330,000 followers between them on Instagram and Facebook. I have 113 followers. You can't monetise that."
After 20 years in hospitality, Karolyn 'fell into' a career as a technical writer. "More and more of those contracts were moving to online work, so the transition to digital nomadism wasn't a high-risk plunge for me, more a slight side-step."
A recent quick trip to Queensland served two purposes. She ticked off some items on her list.
"I'd been intending to go to the Abbey Medieval Festival in Brisbane, and revisit Minjerribah (North Stradbroke Island) for 26 years. I also reconnected with several friends, and did quite a bit of travelling to achieve that."
Still having to work 40 hours a week, the short trip made her realise she couldn't move as much as she'd planned.
"I'd intended to work a week, move on, work a week, move on. But I realised – while that's fine for travel bloggers, who get to do fun stuff during the week and write about it, it's a little different when you have to spend the week tech writing. Plus, living in New Zealand, you forget how big the rest of the world is and how much time you can lose in travel."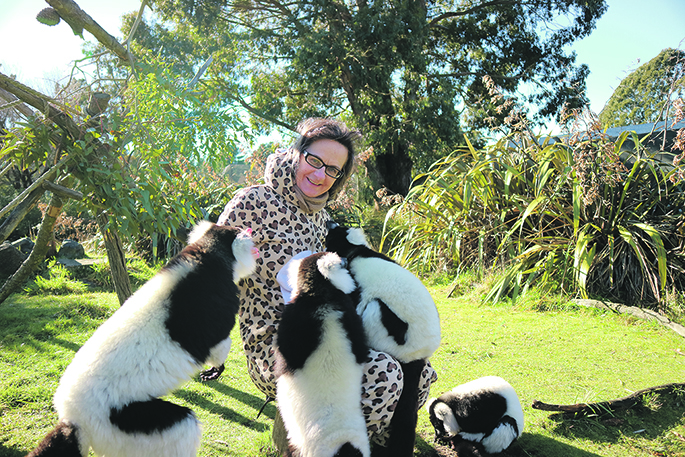 She's now planning to base herself a few weeks at a time "wherever I can get a house-sit", work four 10-hour days, and "do stuff" on the other three days.
When not being paid to write, she still writes.
"I'm hoping through my blog to inspire other 'oldies' to hit the road. I think so many of us travelled when we were young, then got tied up with life – whether that was work, kids, or both – and then settled into a kind of complacency.
"We started travelling vicariously through Michael Palin, Simon Reeve, and David Attenborough documentaries, instead of doing it ourselves."
Unlike many 'bucket lists', Karolyn's '50 for 50' list doesn't include items such as 'jump out of a plane', 'hang-glide over the Grand Canyon', or 'ride the Diamondback roller coaster on Kings Island'.
"I'm not an adrenaline junkie. My list is more about 'nocrastination' – doing things I've been meaning to do for years. The Medieval Festival, I'd wanted to go for a ride in a TD Haulage truck since I was 12, so that was the first item I ticked off, and visiting Orana Park in Christchurch, where I was beyond delighted to hand-feed four lemurs."
Not everything is far afield either.
"I was born in Tauranga, and I've lived here for a total of 37 years. I've never been to Tuhua. I've never been to Matakana Island township." Those items she'll be ticking off this coming summer.
Serendipity is playing a part in progressing some of those list items towards fruition.
One of the items is to see The Jerry Cans play a gig in their home town of Iqaluit, on Baffin Island in Frobisher Bay, 200 miles below the Arctic Circle in far northern Canada.
"It's about $3000 for an airfare from Montreal, and I didn't want to get there, and find they didn't have any gigs scheduled."
They played in Adelaide when she was over there in March for WOMADelaide (also on her list). "Being relatively unknown in this part of the world, they were playing in a small pub instead of a large stadium. I spoke to Andrew [Morrison, singer], and he said, 'Hell, if you come to Iqaluit from New Zealand, we'll play a gig just for you'. Cool."
Three of the items on the list were to see gigs by Nahko Bear, Hope J Medford, and Dustin Thomas.
"Turns out, all three are playing the Darkening of the Sun festival in Missouri - with a total solar eclipse. Ultra-cool!"
You can follow Karolyn's travels at www.facebook.com/dontwait2live, on Instagram @dontwait2live, or on her blog www.dontwait2live.com – where she also writes travel tips and guides on technical writing as a career.
Subscribe to our weekly Newsletter
Email: