I met Phill Palmer at one of the Bay of Plenty Film monthly network meetings.
Over from Te Aroha, he was keen to connect with local film makers and due to start his next film Real Cowboy – a kiwi comedy western. I caught up with him at the Tauranga Historic Village where he was in the middle of filming.
He'd grown a set of whiskers since I saw him last.
"It's my little baby," says Phill, "a film I wrote a couple of years ago. After some unfortunate events in our lives I said to myself 'how long are you going to live for Phill?' So I decided to go ahead and make it."
He enlisted some acting friends and crew that he knew.
"This has been in pre-production for five months. I've been putting together props, costumes, make-up and weaponry. I even wrangled a cactus.
"I went and cut it down myself."
"The scenes and set people have been phenomenal, we couldn't have been happier.
"We've even had an armourer on set firing blanks and it's been absolutely amazing."
The story is loosely based on a young farm hand called Jimmy Wilson, who daydreams about becoming a western hero. By chance, he stumbles upon Blade O'Sullivan, an old retired gun slinger.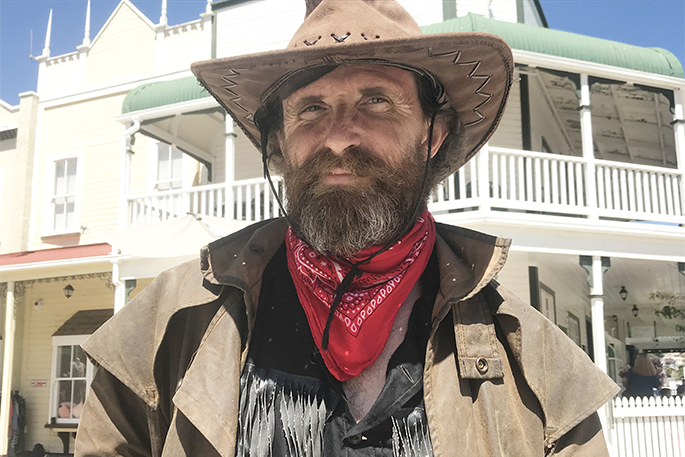 When he realises who Blade is he begs him to teach him the 'western ways'. The entertainment is in seeing what they get up to through the training.
"There's no American accents or references to the American wild west. It's kiwi wild west," explains Phill, who plays the part of Blade O'Sullivan.
He's also writer, producer and props person. "It's a short film, almost a mini-featurette. There's enough that we could turn it into a feature if we wanted to."
Most of it has been filmed at the Tauranga Historic Village. "We filmed the desert scenes at the Manawaru sand fields in Te Aroha," says Phill.
"We had a massive Indian tepee tent, cacti, an Alaskan malamute dog and horses. The rest of it is being filmed at the village."
With a total of four weekends at the Village and one in Te Aroha, I was on set on day three, with two more weekends to go. There are a lot of advantages for filming a western in the Village.
Bay Costume Hire, located there, is supplying the costumes. The church is a refuge for the nun and priest. The saloon bar scenes, street scenes and undertaker scenes all benefit from the turn of the century-looking village.
Laurene Bonsor is in charge of continuity. She takes before and after photos.
"I have to look for modern items, take down the posters in the window, and make sure it's all put back correctly afterwards," says Laurene. "I check for fire extinguishers, make sure no coffee cups are in the background and no actors wearing wristwatches or holding mobile phones."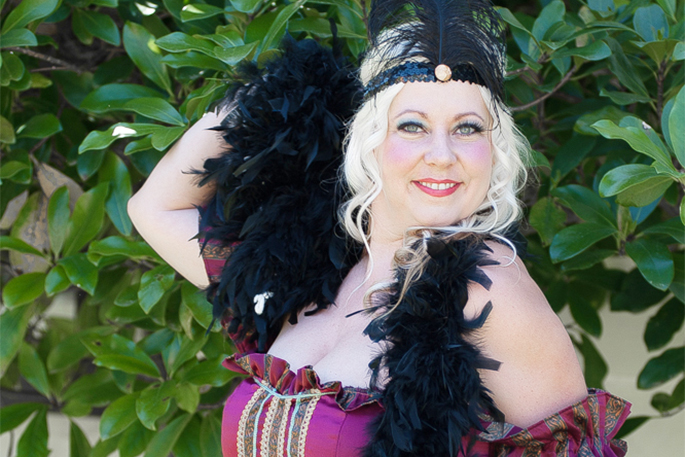 Photo: Shifting Light Photography
One of the extras is Rachael Annear from Tauranga.
"A friend messaged me asking if I'd like to be involved," says Rachael, "so I said 'yes'.
No audition was needed, I just emailed Phill, told him I was keen, and now I'm a nun!"
Six Beck family members are also extras. From Te Puke, they are only required for one day.
David Blok from Thames plays the undertaker, and John Turner from the Waikato plays the priest.
"Phill and I have done some theatre together and he called me," says John, also known as JT. "He's done a few short films, and this is the latest one.
"I look after the children when the shootout starts."
The extras start at 10am, and the actors earlier at 7.30am. "They'll wrap about 5-6pm for us extras," says JT. "I'm lucky I'm just a one-day wonder, then I head back to Hamilton."
The executive producer, Chris Lambert, reckons he's never experienced anything like what's been happening with the Real Cowboy.
"It feels like the whole of Tauranga is behind this!" exclaims Chris. "The big machinery Phill had in Te Aroha – unbelievable! And the community spirit!
"This place is amazing.
"In Auckland it's so different."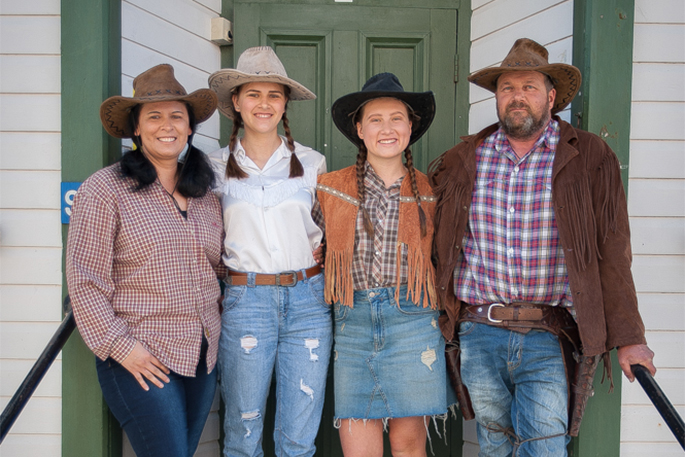 Photo: Shifting Light Photography
Chris has made short films, and two features.
"There's an awesome team on board," says Phill, "including Kevin Luck as director, and Jacqui Gilbert as co-producer and first AD."
The film has been sponsored by Creative Waikato, The Lion Foundation, Iceberg, UI Revolution, Attic Attire, Bay Costume Hire and Handforged Knives to name a few.
"I've been overwhelmed with the response of people in Tauranga, Te Aroha and Auckland," says Phill. "And people from Rotorua, Putaruru, Taupo and outlying small towns have helped and given us financial help."
Phill plans to have a couple of screenings for principal cast and crew, sponsors and extras before sending the film to NZ and overseas film festivals.
"Everyone can see the project come together collectively and be proud of what they have been a part of."
Subscribe to our weekly Newsletter
Email: