Four hours of concentration is etched on Brett Muir's face as he applies the finishing touches.

While most people go to the beach to soak up the sun, the surf, and the sand, Brett goes for the possibility.

Where some children spend half an hour building a sand castle before they want to kick it over, Brett spends four hours crafting his.

"For a while, every time the family went to the beach I'd do that and after a while they'd go: 'Oh yeah well we're going home, we'll leave you to it'," says Brett.

So now Brett heads to the beach two hours ahead of the rest of the tribe, so he can lay his foundations and get the start of his sand creation ready.

"It's something to do on the beach, and people enjoy it. It's a very temporary type of art form – the tide will take it if a kid, a dog, a beach ball or a flying umbrella doesn't.

"It's a performance art – it's like drawing pictures on the footpaths. If you're not there to see it, you're not part of it."

Reigning national sandcastle champion Brett says he's looking forward to the next competition – whenever that is.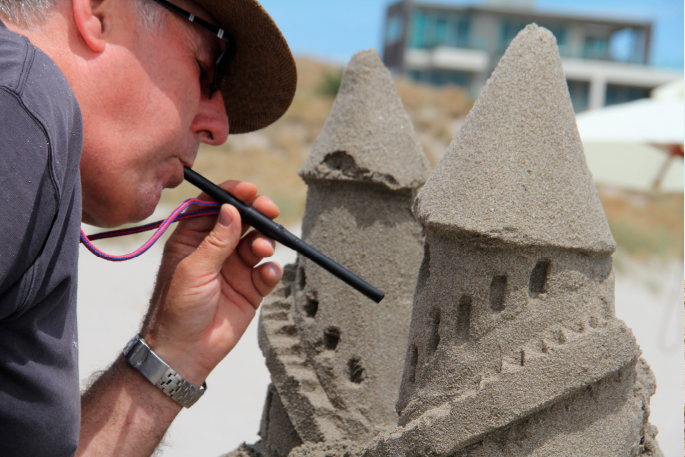 "In 2015 I went to the New Zealand Sandsculpting nationals, which are held in Christchurch, and I won first place in the individual category. Brett says the national competition is typically held at New Brighton Beach in Christchurch, but the pier is under earthquake renovations deeming it unsafe for potential sandcastle masters. The organisers have cancelled the last two annual competitions."

"They're waiting for the pier strengthening to be finished before they hold it again, so I've ended up being the New Zealand champion for the past two years, uncontested," says Brett.

Winning comes with its perks – Brett says his family started to take his hobby seriously when he began winning tangible prizes that everybody could benefit from.

"About three years ago I won a summer competition run by Hyundai where I won a Hyundai Santa-Fe for a year, and that was the turning point. Because that was when all the people who thought you were a bit crazy sort of went: 'Oh, okay, that works'."

Not all sand is created equal, says Brett, and he's always on the hunt for the very best.

"I usually make them [sandcastles] around Omanu, because funnily enough all sand is not the same, and the sand at Mount Main Beach is too coarse. There are too many shells and little bits of volcanic glass so it doesn't want to bind together, and the sand down by Papamoa Domain is quite coarse too.

"But the sand between Tay St and Omanu beach is probably the best on the beach."

And – whether you want to believe it or not – you don't need fancy tools to create something that looks like it belongs in a Disney movie.

A bucket with the bottom cut off, a butter knife, some sand and water, and a good amount of sunscreen.

"The main thing," advises Brett, "is to spend time on the foundation. Use lots and lots of water. Get a bucket and cut the bottom out of it so that gives you a form that you can pack full of sand. The more time you spend packing the hard wet sand, the more you can make the castle defy gravity and the longer it will stay up".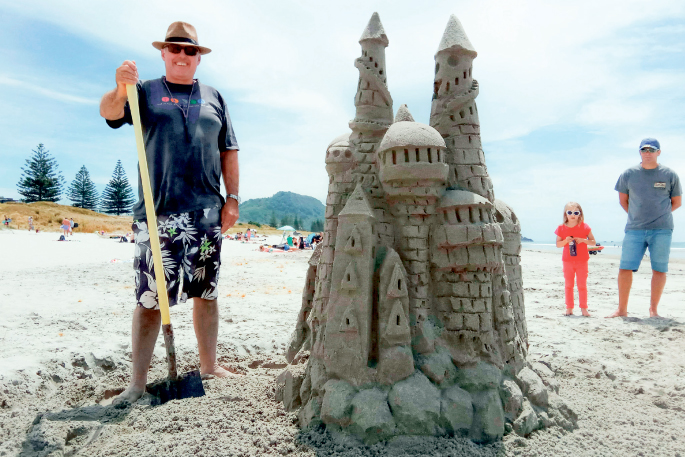 As you can imagine, it's heart-breaking seeing someone storm through his sandcastle, and Brett says it happens on occasion.

"The hardest one is when it's a 15-year-old running through it for a $10 dare, and Whangamata is the worst place for that.

"I was up there one New Year and there were some police doing the beat along the beach and I actually got them to guard the sandcastle while I went for a swim.

"And even the policewoman who was guarding it when I got back up said: 'Oh it's so tempting jut to push it over'."

Understandably, Brett unwittingly ropes in a lot of passers-by – curious to see what the man covered in sand is crafting.

"People love watching, and I'm good enough now that people stand around and watch and sort of get a feel for how they're made. Because when you see the finished product it's very, very hard to visualise how on earth someone did that."

And Brett appreciates it when spectators come up and offer to help – even if it's offering him a cold drink.

"It's just a pain there's a liquor ban on the beach! I have built them on other beaches where people come up and go: 'Oh look, I can see that you need a beer while you're doing that so here's a beer'."

And of all the spectators that Brett sees watching his creations come to life, he says the little ones are the most interesting.

"The funny ones are the toddlers – you'll get a three-year-old sitting there fascinated for two hours watching intently and then they say: 'How did you do that?'

"For a kid it's like watching a chrysalis transforming into a butterfly; you saw both parts of the process but you don't know how it works.

"But most people, they sit on the beach and watch me shovelling the best part of three-quarters of a tonne of sand and think: 'I'm glad I'm not that guy', while still wondering what the hell you're doing.
Subscribe to our weekly Newsletter
Email: