ARTbop and The Black Sheep Bar & Grill have joined forces to create the Affordable Art & Artisan Fair, which will take place on the last Sunday of every month excluding December.

Located at The Black Sheep Bar & Grill on the corner of Plummers Point Road and State Highway 2 in Whakamarama, the next event will be held on the last Sundays of January, February and March from 11am-3pm.

The idyllic coastal country location is ideal for a market such as this, with ample parking and stall space available. While some stall holders are able to make use of the covered pagodas, a further area caters to stall holders with their own shade covers.

Rosemary Balu, Birgitt Shannon and Marcus Hobson are the creative powerhouses behind establishing this new, and already popular market.

"It was Rosemary's idea," says Birgitt. "This was such a fabulous venue and there was nothing between Katikati and downtown Tauranga, so we thought this would be a wonderful place for an artist and artisan fair. That's what we're up to."

The Black Sheep Bar & Grill has been converted from horse stables, with large indoor and outdoor dining areas, a performance space for bands and musicians, and is enjoyed by locals looking for a relaxed Sunday lunch.

The market fits perfectly into this setting, and is full of metal work, sculpture, locally-designed fashion, plants, paintings, photographs of native birds and scenery, jewellery, prints, laser-made bracelets, wall hangings and succulents growing from painted cups and saucers.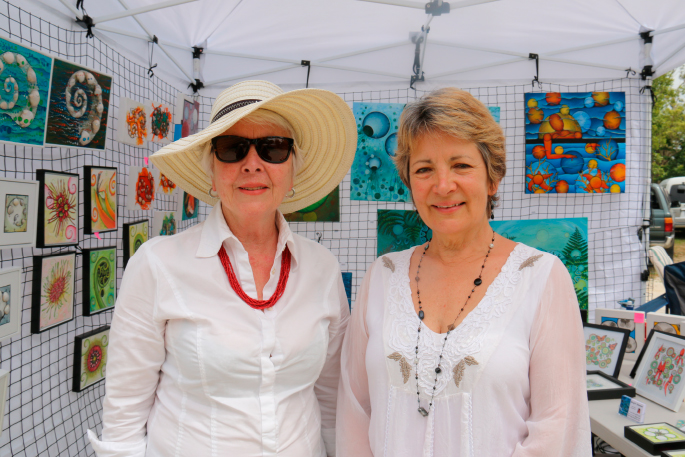 "It's been wonderful today, with lots of people through" says Birgitt on the market's opening day. "We have 26 stall holders at the moment, and that number is growing. I've got another five coming next year in January and they're all local. Everything here is original and handmade by the people here."

The hand-crafted jewellery is by Barb Hudson, upcycled wool blanket clothing is by Liza Munro, sand carved and etched glass by Rex Linder, hand-printed women's clothes by Maria Gillgren, upcycled jewellery and trinkets by Sharnie Riley and scented candles by Trish Hutchinson.

Elsewhere, turned wood pieces are by Glenn Poultney, handmade jewellery by Deb Bowden, drums restored by Grant Sutherland, timber tables and mirrors by Garry Weir, artwork by Omokoroa artists, photography by John Fitzgerland, handmade chocolates by Dreamy Chocs, paintings by Birgitt Shannon and creations by local students from Toi Ohomai Institute of Technology.

"There's been a steady stream of people through, eating, drinking and buying things," says Birgitt. "It's a magic day out."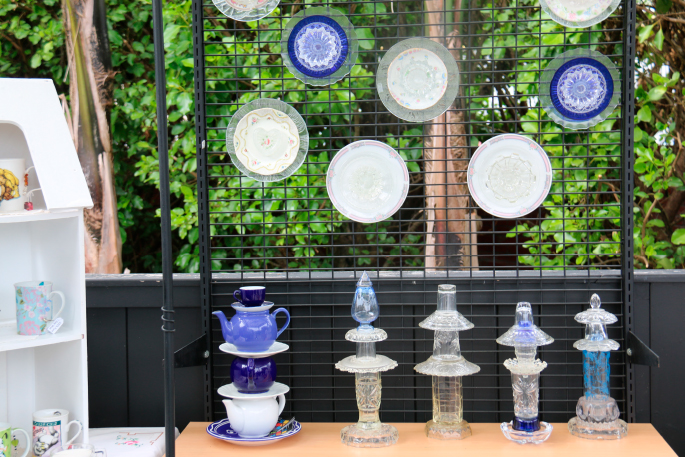 Live musicians will be performing each market day with Katikati performers at the inaugural fair.

"They were really cool - fabulous." says Birgitt.

Nearby, a large group relax in Black Sheep's outdoor seating area, with horses grazing in the paddocks down the hill. It's a wonderful addition to the growing arts heart of the Pahoia, Omokoroa and Whakamarama community.


Subscribe to our weekly Newsletter
Email: