It's one of the most important decisions a homeowner can make – we're talking about tiles.
Tile Gallery owners Gay Barber and Robyn Davis know how important it is to get the right ones to match your space, décor and desires.
"It's a big investment," says Robyn. "Tiles are glued to the floor for a long time – so every effort needs to be made to make the right choice."
Having been in the tile industry for 19 years, Robyn and Gay have recently relocated to their new showroom in Judea, previously working out of Pahoia until November last year. The new move has allowed them to display their unique collection of tiles in one space, as well as providing a "designer hub" in-house for the interior designers and architects that they work closely with.
What makes Gay and Robyn different from other tile outlets? For one, they are extremely passionate about tiles.
"They're quite exciting!" shares Robyn. "Like any changing fashion trend, it's interesting to see what new designs are being manufactured."
They are also committed to quality and service, and from the moment you step in the door to the 'chink' of Champagne glasses as you celebrate your renovations or new build, Gay and Robyn are there to help.
"We get a real feel for our clients' needs, what they are looking for and can help them with tough choices, or put them in touch with different designers they may choose," says Robyn.
They are focused on quality, which means many of the porcelain tiles in the showroom are from Italy and Spain, the home of gorgeous tiles.
"We are getting new tiles every week. A large percentage are exclusive to us in the Bay, so we do stand out and offer everything from affordable to the high-end luxury tiles."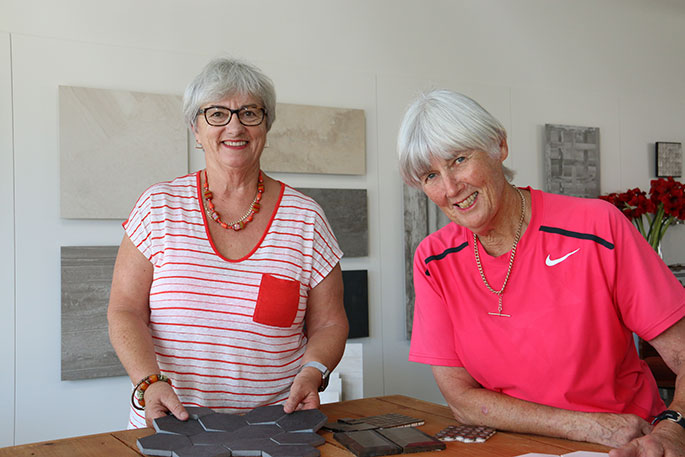 So what's hot right now? Trends shown at the Tile Fair in Italy this season were a marble-look (Calacatta, Carrara and Statuario) porcelain, and wood-look tiles are perfect for all areas, especially in spaces where there is a lot of moisture, if you want that timbered look.
Another trend is big is best, even for smaller areas, and as well as the 'normal' size of 600mm x 600mm, Tile Gallery offers 1200mm x 600mm, 800mm x 800mm and 750mm x 750mm.
Tile Gallery's showroom, corner of Birch Ave & Amber Cres in Judea, has both an interior and exterior display, showing their comprehensive and ever-changing range, including deck jack 20mm porcelain pavers, suitable for decks and level entry, which can be adjusted to any height /slope.
Tile Gallery has been fortunate enough to be associated with several award winning homes and the latest being the National Supreme award for registered Master Builders 2015 House of the Year, located at Mount Maunganui, plus Regional 2015 Renovation of the Year.
Subscribe to our weekly Newsletter
Email: