Graham Hoete, aka Mr G, was busy before and after Christmas painting a mural on the back wall of the Mount Maunganui cinema. Again. Specialising in photorealism with spray paint, he'd previously painted his father there. Now he was painting highly respected Tauranga Moana leader Teawanui Black, who passed away a year ago.

Visible from Pitau Road, it's just around the corner from a dotterel painting by good friends Charles and Janine Williams, who introduced him to the genre.

As part of the Street Prints Mauao festival, Graham was one of 18 street artists that had come together to paint over four days with the theme "It's people, it's people, it's people".

At the end of the festival, Mr G hosted the artists overnight at his family home on Motiti Island.

It's been a busy year of painting.

"I don't know exactly how many murals I've done this year," says Graham, who lives with wife Millie in Papamoa. "I've done a truckload of artwork this last year, not just murals, but canvases and commission pieces."

"I've got some other projects that I can't disclose at the moment," he divulges modestly, "but they're really cool, right up my alley."

He's fully booked for the next couple of years.

"I'm really just choosing projects that align true with what I'm about and my values.

"Projects that I enjoy taking on."

His focus is New Zealand. After completing some high profile murals in the USA, he's returned to his roots.

"Sometimes Kiwi artists don't get noticed until they do something overseas," says Graham.

"It's a bit of a shame that we have to do that to get noticed. This year I turned down quite a few international gigs so I could focus on my NZ projects here. We've got the best right here in NZ."

He also believes NZ has the best locations for his personal book project, which will feature 100 murals throughout the country.

"They are huge, like one on a cliff face in Te Awamutu," says Graham. "The book project is all about painting pieces that are in remote, obscure locations that have a real nice backdrop, like an old homestead building, or an old barn or shed.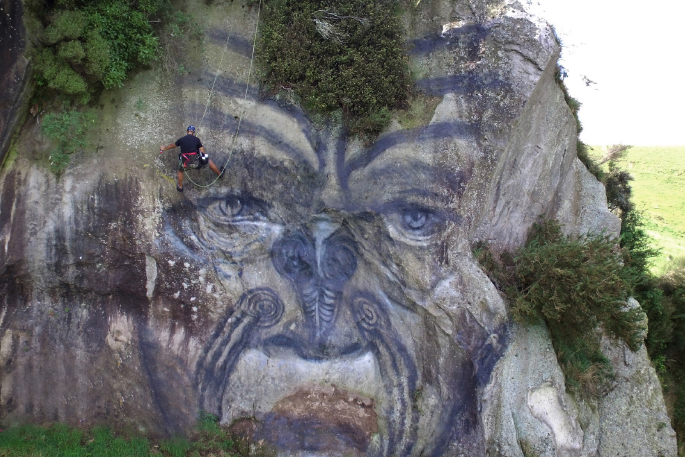 "No one will see it unless you purposely go out and hunt these buildings that I've painted."

Mr G has completed 11 of these murals, with only 89 to go, but has many locations already secured.

"It's an adventure, it's no time urgency on it right now."

To paint on a cliff face, he first went and spoke with the iwi in the surrounding area and drew a face or image that was significant to that area.

"For the Te Awamutu cliff face, I first approached the local iwi. I told the kaumatua I was wanting to paint one of the ancestors on this cliff face.

"I didn't want to disturb the cliff face or rock, but keep the image very minimal. I just wanted the rock texture to shine through the actual piece with the least amount of strokes as possible, but still make out that it's a face."

Remote, on private land, painted while abseiling the cliff, it's one of his more iconic pieces. To view it, permission is needed from the farmer.

Only another 89 to go. Just chipping away at his goal. Destination tourism for visitors to NZ who may want to go see all of these 100 places.

One of them is in the Chatham Islands.

"It's so remote. All alone, just me, the paint and the water tank, out there in the wild Chatham Islands," says Graham. "It's a really cool adventure. It's not just about painting a face, it's about telling a story."

He painted Bruce Tuanui on the Chatham Island water tank. Bruce and Liz Tuanui own private land there which includes Sweetwater, a 2.4 hectare forest protected by an 800 metre predator-proof fence. The couple covenanted the land for taiko (magenta petrel) conservation in 2004.

The Chatham Islands taiko is one of the world's rarest seabird species, with only 14 known breeding pairs in the predator-free environment in Sweetwater Conservation Covenant.

"That's what my book is going to be about," says Graham. "Just telling kiwi stories, not celebrities, just people that are unsung heroes.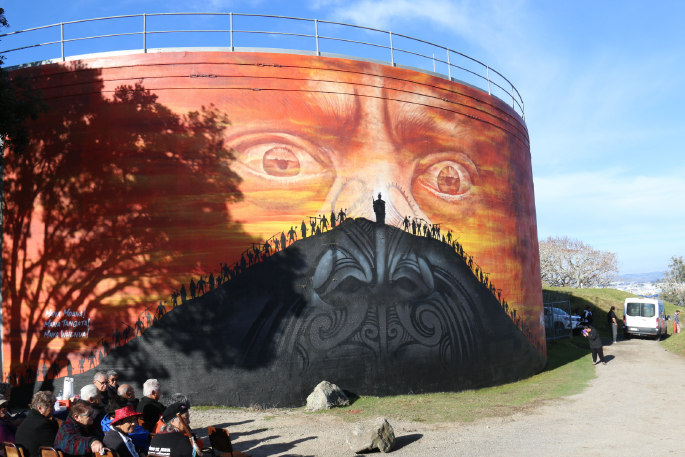 "And in really stunning remote locations.

"For me, I always try and use my art to honour people. I think the whole thing of honouring people is a rare thing these days, especially in the context of street art. So I'm using my art to pay tribute to people that no one has ever heard of.

"People that are inspiring - not just painting famous people, but people who have overcome adversity or done something great in their life for others." Mr G was brought up on Motiti Island for half of his life, and his father before him. His Mum originates from Matakana Island.

"I'm from both islands, I'm Tauranga Moana through and through," he smiles.


Subscribe to our weekly Newsletter
Email: