One Sunday afternoon after Christmas I decided to revisit my ten-year-old self and went for a train ride at Palmerville Station. Located at Memorial Park, Tauranga's Miniature Railway has been in operation for 38 years.

I arrived to find a busy bustling station, with four trains coming and going. There were far more tracks than I remember, some above head height circling around between the trees across a newly-built viaduct. I felt like the huffy puff wolf who returned to visit the three little pigs only to discover a straw city had been built while he was away.

I boarded the next train, sitting behind the driver.

Dotted around, wearing bright yellow hi-viz vests, smiling volunteers were conductors, drivers, ticket sellers and safety maintainers.

It was hot and sunny as we set off from the station, with a mild breeze. Behind me the 'carriages' were full. I'd seen Murder on the Orient Express in late 2017, and for a moment, imagination took over as we sped along towards the tunnel.

The whole ride took more than six minutes.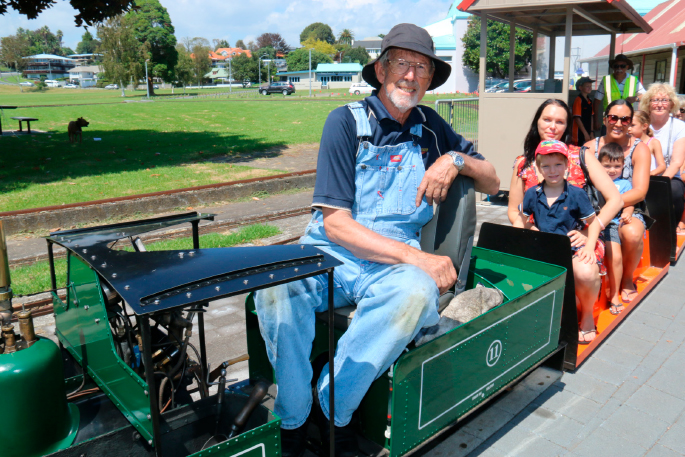 "It depends on who is driving," laughs volunteer driver Russell Prout. "It could be nine minutes if you get one of the slower drivers."

We stop along the way to give way and look out for pedestrians. "The pedestrian crossing helps raise awareness for young children about trains," says Bruce Harvey.

"And it works really well. We've had lots of kindergarten groups down. The bells start ringing, the arms come down and they hear the train coming. It's all the right information."

The club was given a locomotive whistle which they've blown and discovered it can be heard at Matapihi.

"It's the genuine article and creates a good sound."

In 2016 the Tauranga Model, Marine and Engineering Club, known as Tauranga Miniature Railway, won Supreme Winner in the Trustpower Community Awards. It's easy to see why.

"We've been running for 38 years, and today we'll probably do a thousand runs," says Russell.

"Some of those people may have had children here two or three generations ago. We see them come back week after week and they're part of the institution which is our club."

We wind through the park, under trees, over bridges and back around to circle once again on a different part of the track. In the middle of the grounds are picnic tables and a playground.

Over the viaduct and we drop down towards the other side of the hillock, stopping to toot the horn and check for passing trains. Continuing around, we chug past the larger children's playground and an ice cream truck.

Flashes of childhood memories rush to mind. We nearly overtake another train on a nearby track but they are headed for the viaduct.

"Our latest addition three years ago is the viaduct," says Russell. "That's very successful."

I agree.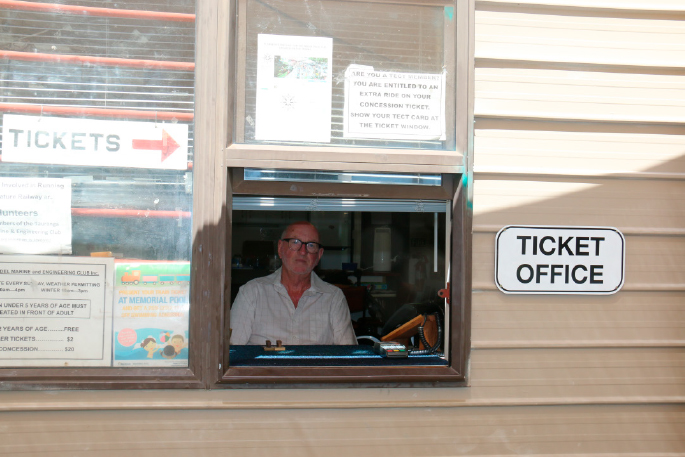 Winding back in to Palmerville Station, the train whistle blasts once more and for a moment I think we're going to stop, but no, we're headed off to another tunnel.

Weather permitting the club runs every Sunday from 10am to 4pm in summer, and 10am to 3pm in winter. Updates on the day are posted to Facebook.

"If we're not running, people ring up the council to find out what's happened," says Bruce.

"Today we have about 12 volunteers down here running it. Some days we have down to six, which we can still run. But 12 is a good number as we can relieve each other with driving the engines.

"We try to not drive for more than half-an-hour at a time. The station master role changes during the day as well, so everybody gets a turn."

The grass is mowed, and if I was still ten I would think it looked postcard-able, but today I think it all looks Instagrammable.

"Council are very supportive," says Bruce.

"They look after us and keep the grounds tidy."

Over the summer some of the club are attending a miniature rail convention in Nelson.

Four locomotives had already gone to Nelson – three steam and one diesel. And nine of the 90 club members.

"Quite often we have steamers down here as well," says Bruce. The steamers had gone to Nelson. I ask them how long the track is now, and it starts a small debate. We end up with 1.3km as the track length.

"Somewhere between one and one point something," says Russell.

Club members start at around 14-years-old. Once they get to 16 years, and are suitably trained, they can drive the public.

"It's building up job and life skills," says Bruce. "And they're very responsible. They're very knowledgeable and have certainly done their homework. They're our replacements."

On a wet day they might get up to 250 people, and close up early if it's raining, and on fine days up to 800 people.

"We do around 45,000 rides per year, and have completed more than ¾ million rides since the club first started," says Peter Jones who has been club president for 23 years. "So we're looking for the millionth ride in the next couple of years."

The ¾ million train went around about 18 months ago, and Peter thinks they're about 50,000 rides away from one million.

The train is about to leave again. Toot Toot!
Subscribe to our weekly Newsletter
Email: