I found a peace garden at the Mount. I noticed a sign over a gateway leading to it one day when walking past St Peter's Anglican Church in Victoria Street, so I went exploring.

Jenny Carmichael, who was helping with the gardening near the front of the church, came with me. Once inside the garden walls I realise we can see across to Mount Drury, and look down on the back of the shops below. It's such a tranquil place, and so close to the busy main street of the Mount.


There is seating, flowers and low brick walls with plaques, one of which has Jenny's husband's name on it.

"I planted a rose in his honour," says Jenny.

"It's called Amber and it won't grow too high."

We stand quietly and absorb the feeling of peacefulness and contemplation around us.

Later I asked the vicar, Rev Richard Vialoux, about the garden and some of the history of the parish.

Richard has been overseeing St Mary's at Arataki and St Peter's at the Mount for the last six years.

Both Anglican churches form the parish of Mount Anglican.

Richard has recently resigned to take up a new chapter of life at Elliott's Funeral Service. As well as serving as the vicar, he has been responsible for two childcare centres - one behind Bayfair, next to St Mary's, and one near Tahatai Coast School. And the parish runs an op shop, next door to St Mary's.

He and his wife Elizabeth have five sons and live in Papamoa.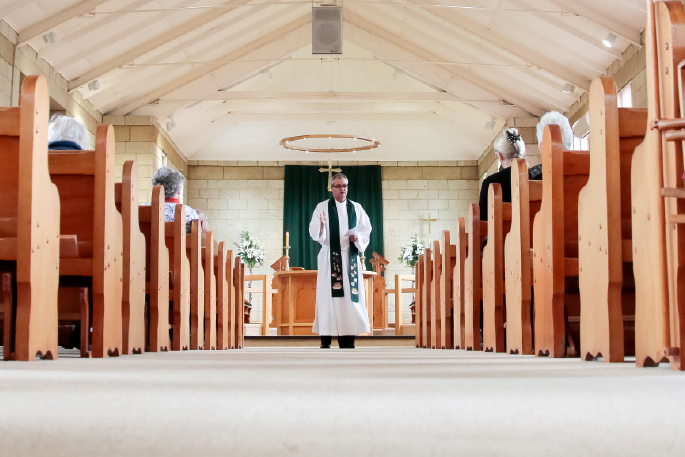 The first Anglican services at Mount Maunganui were held under the trees at the base of Mauao lead by an itinerant preacher in 1908. In 1913, a visiting Methodist Minister named Mr Richards took the first proper church service near the Pilot Bay wharf.

With the opening of the Ministry of Works cottages and a school at Totara Street, services plus Sunday School were held more regularly.

"The parish grew from Tauranga's Holy Trinity," says Richard. "St Peter's was built in the 1950s.

"From there the church grew along the isthmus. St Mary's was built late 1980s, and then this parish went out and church planted in Papamoa."

A stained-glass window at St Peter's pictures a chaplain supporting an injured soldier.

I remember this later when Richard tells me more about their work.

I find him again at St Mary's behind Bayfair, a few weeks before leaving. He's wearing a racing shirt which is, on reflection, far more approachable than the traditional cleric's collar. He looks like a priest, but he also looks like he could be a mechanic.

"I was a primary school teacher to start off with," says Richard. "I met my wife Elizabeth at Teachers College. I ended up joining the old Ministry of Transport as a traffic cop, but teaching in schools.

"We had those black and white patrol cars with a cherry on top, and we predominantly went in to schools teaching road safety to children."

He was on TV3 with Suzy Cato as a police officer on the Saturday morning kids programme 'The Early Bird Show' in the late 80s and early 90s.

"We'd go around visiting schools with Ronald McDonald. We had a lot of fun with kids and got a message across at the same time."
It's no surprise that one of his favourite places in the parish has been next door at the early childhood centre, where he and the children made a car.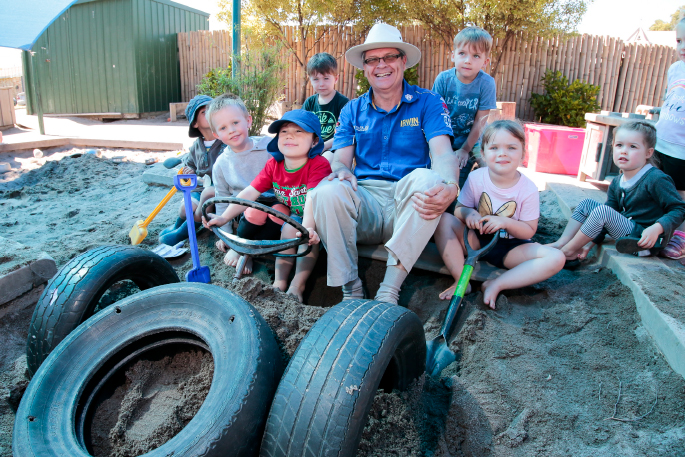 "I ended up being a police officer from 1992 until 2001, as the police took us over, and then I left to become a priest."

After training at St Johns College in Auckland, he started in a position in Albany.

The move to the Mount came after receiving a phone call telling him he should apply.

"So I did, and here I am."

The couple moved the whole family of seven; the five boys are grown up now with one in London, one in Palmerston North, one a builder living in Judea and two at home.

The interest in cars goes back to his youth.

"I've always been fascinated with cars," says Richard. "I've loved them from an early age.

"I've owned quite a collection over the years, including a few sports cars, and loved motor racing, predominantly V8 super racing."

For his 50th birthday, about four years ago, he and Elizabeth went to Bathurst.

We pop across the carpark to the op shop.

Managed by Lynn Collingwood, it is run by about 20 volunteers. On the wall is a clipping that tells of how it scored highly as one of the best in New Zealand.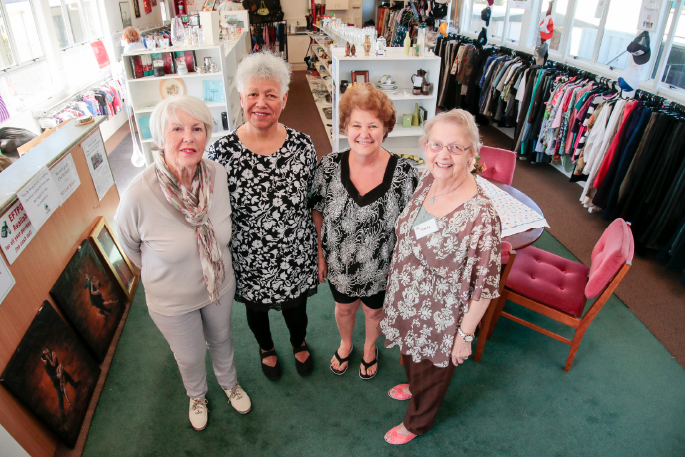 "Someone was travelling around NZ, and wrote a book about op shops and put ours in the top three or four on the list," says Richard.

I can see why. It is full of great buys at low prices. The parish has some excellent facilities available for community use.

"There are a lot of weddings at St Peter's," says Richard. "The doors, step and steeple are a nice feature. Your traditional Anglican churches usually have an older, more gothic style with darker timber inside. But somebody had the foresight to use rimu, which lightens St Peter's up. It's quite lovely."

Both churches have Sunday services. During the week, it's also about connecting with people.

"We had one young guy walk in here off the street," says Richard.

"He was in tears, and he said he couldn't do it anymore. He needed some help.

"We got him a shower and clothes from the op shop. Then I took him to a doctor and got his rotting feet sorted out. With the help of the Papamoa Support Centre, we got him back connected with his family.

"He rang me up a few weeks later and told me he'd got his job back, and was living back with his dad, and that he just wanted to thank us.

"That was a good outcome."

The people in the parish are also strong supporters of Whare te Whanau, the emergency housing service run by Te Tuinga Whanau.

"There are a core group of people in this parish that gather resources together and help them stock the homes that they end up putting families into."

I reflect on how I was originally interested in the new grand piano sitting in St Peter's.

Richard laughs.

"The piano itself is useless on its own," says Richard. "It's the people that gather that make it alive and come together to make people joyful."

I realise that the same can be said of this parish, which has hands reaching out in all directions to help the community it is a part of.

I wish him well on his new career.
Subscribe to our weekly Newsletter
Email: