My phone rang. "Oh Rooosalieeee," purred Alys Ingrid Wicksteed's velvet voice, "you simply must hear about what we have planned - it's going to be fabulous!"
She mentioned Bob Addison, the city's Steinway grand piano, Mayor Greg Brownless and the Mighty Wurlitzer all together in one sentence, and I was caught. I make no apologies for that – I used to play music with both gentlemen and miss Greg's piano accordion, Bob's shows and the immense amounts of fun.

Morning Melodies, presented by Friends of Baycourt, is set to burst into our city consciousness once again at 10.30am on Tuesday, April 24, thanks to the marvellous efforts of artistic director Alys Ingrid and her willing helpers.

Part vaudeville, part classical, splendid and quirky.

Highly successful during the 1990s, Morning Melodies was held monthly, running for approximately six years at Baycourt. Local artists sang, played musical instruments, danced and recited poetry, making the programmes immensely interesting. And the piece de resistance were the Mighty Wurlitzer and the duet and solo piano performances on the Bösendorfer, which was later replaced by the $300,000 Steinway.

"It's going to be held in the Addison Theatre," says Alys Ingrid. "Bob would pride himself on doing performances with local Tauranga people, and he made a great thing of Morning Melodies with Leila Chester on piano, and Valda Tyrrell on the organ.

"They worked really well together.

"Leila and Valda were permanent guest artists at all the retirement villages, and played every year for Jane Barr - who was the initiator of the 'Bride of the Year' competition. Leila also played at many Tauranga weddings and, of course, funerals."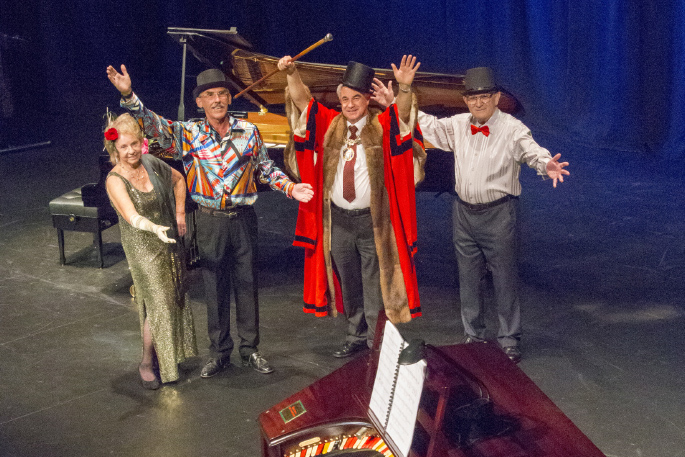 Alys Ingrid Wicksteed, Lee Cameron, Mayor Greg Brownless and Alan Dadson preparing for the show
I ask her what she intends wearing on the day.

Something that glitters is her reply. Alice Sea will also be performing.

Alys Ingrid invites me over for morning tea to join in the discussion with virtuoso pianist Lee Cameron and organist Alan Dadson. The question is, what fun comedy ideas can they include during the performances? Being a prankster, I offer a suggestion, resulting in gasps and chortling.

I decide any event where people are laughing is one I don't want to miss.

So how did all of this come about?

"It started with Morning Melodies being produced for one occasion," says Alys Ingrid.

"The theatre was full that day. Noni Roberts took the money at the door and Bob realised it was going to be such a good programme, so Baycourt took over the management."

Alys Ingrid is hoping Leila will be able to attend.

"Leila and Valda were the 'good sorts', performing for many years. Valda passed away in 2016 and Leila lives at an Auckland retirement centre.

"It is nice to recognise them for giving their musical talents for the enjoyment of others. Margaret McClymont was also a Wurlitzer performer in the days of Bob Addison, who was the compere on many occasions."

We decide to meet up for photos on the expansive Baycourt stage. I phone the Mayor.

"Please can you come along and bring your mayoral chains and gown?" I ask. He happily complies. I'm quite stunned, as the previous day he'd turned down dinner with Barack Obama.

Clearly he's into supporting 'local'! That, or he's caught the same infectious musical virus that Alys Ingrid has imparted to me.

I ask Lee what he intends playing.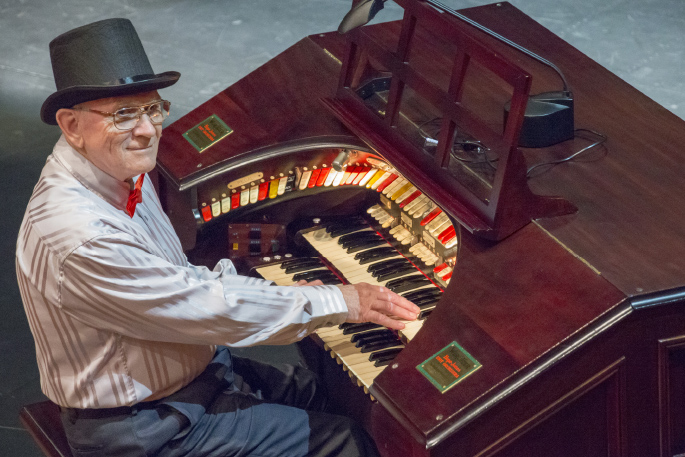 Alan Dadson on the Wurlitzer organ in the Addison Theatre at Baycourt
"A medley," he smiles. "A Chopin waltz in C# Minor. Do you know it?" He starts to sing. I can only remember Chopin's Nocturne in B Major.
Later I pull out the C# Minor and drift into that pleasure zone in my mind where waves of the sea merge with dancing light.

The Mayor arrives and rehearses 'There's no business like show business' with Alys Ingrid, so I wander over to the Wurlitzer to talk with Alan.

"This is my first-ever outing," says Alan. He nods towards Lee and Alys Ingrid over at the grand. "Not like these guys, who have been on the stage for the last 40 years. I've been playing the Wurlitzer for a couple of years. I started playing small home organs in the 80s, but never as big as this."

Alan is a member of the Tauranga Theatre Organ Society, and says there are a handful of organists amongst the society. The Mighty Wurli Organ, as it's affectionately dubbed, is the best-preserved in New Zealand, and is maintained by the Tauranga Theatre Organ Society under the direction of Scott Harrison in Melbourne. "Do we have a resident organist for the Wurlitzer?" I ask him.

"No," he replies. "We're all amateurs - members of the club. A week ago, Dale Henderson told me they're organising a concert, and asked would I care to play the Wurlitzer."

He plans to play 'The Pearl Fishers Duet'.

"That's the theme tune for the KiwiRail advert," says Alan. "Everybody will recognise it."

He also plans to play 'The Second Waltz' by Shostakovich and fun songs with the piano and a group of other performers. It's a splendid repertoire compered by none other than Tauranga's Mayor, Greg Brownless.


Subscribe to our weekly Newsletter
Email: