From the age of nine, my sisters and I would explore the headland at Omokoroa.

Our small bach was nearby, and after a day on the water, we'd go blackberry or raspberry-hunting up through the trees and bush area. It was mostly overgrown, and we spent hours rambling through there, often walking back along the beach at low tide.

Later, owner Gerald Crapp gifted the approximately two hectares to the nation as a reserve.

Most of it is flat and on top of steep cliffs. The northern end was the site of the Wai-Huri Pa, an important archaeological site.

Recently, I learned how in days gone by in Scotland or Ireland when soldiers went off to battle, they'd each place a stone, forming a cairn in their village or on a hill overlooking their village. When they returned from battle, each one removed a stone. Any stones left in the cairn signified those who had lost their lives.

In 2015, the Omokoroa community commemorated 100 years since the start of World War I.

The community held a 'Poppies on the Point' dawn ceremony, with the Omokoroa Pahoia Sea Scouts providing Milo and Anzac biscuits to everyone assembled.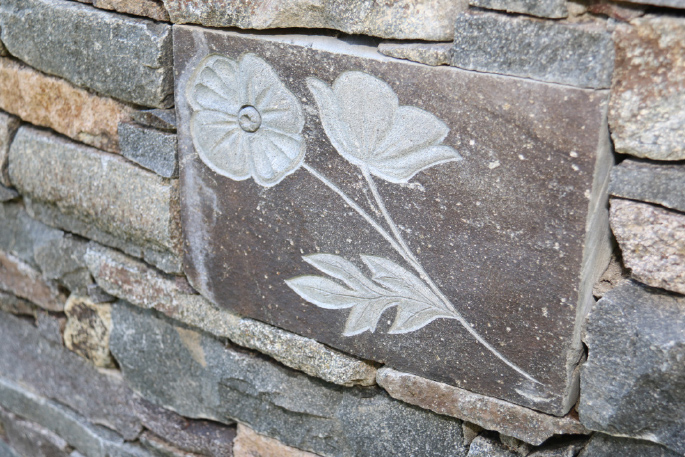 Heather Reynolds, who along with Alison Badger and Liz Farrell organised the peninsula's 2015 ANZAC Day commemoration, remembers it as a thoughtful, contemplative time. Later in the morning, another commemoration was held at the Omokoroa Point School with a wreath-laying at the flagpole, followed by a sausage sizzle and cup of coffee. It was a great family occasion with numbers in the hundreds.

"Someone asked 'why don't we have some rocks?'" says Heather.

A temporary cairn was built in the now-named Gerald Crapp Reserve, and provided a much-appreciated focal point. Hundreds of people attended the 2016 and 2017 ANZAC commemorations.

Overlooking the reserve, a stump of a southern mahogany has been carved into a likeness of Rev Joseph Tice Gellibrant, the original European settler who, along with Arthur Crapp, planted many of the native and exotic trees from 1870-1900.

"We had rocks there for two years as a temporary cairn," says Heather. "But people wanted something more permanent."

"Mark Henderson from Casmark was working here and we asked him if he was interested in a community project. He was. The Pirirakau hapu design and poppy were carved by Paul Gautron.

"The soldier on the front of the cairn was carved in Corten steel by Steve Roach of Letter Rip."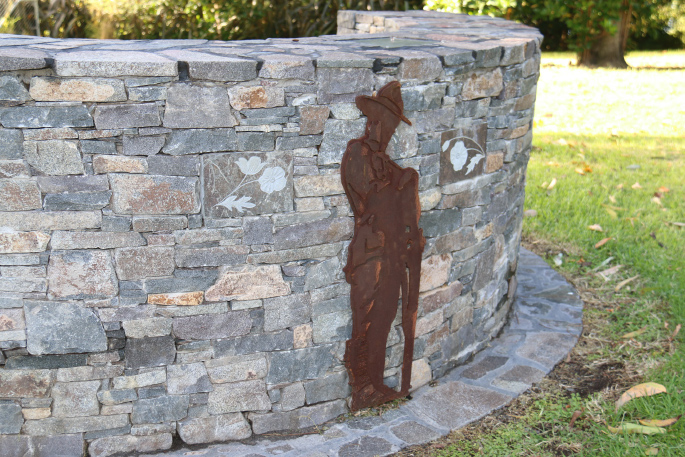 A small group gathered at the reserve in early November 2017 for a brief ceremony as the first turf was turned to mark the beginning of the construction of the memorial cairn.

The official unveiling of the memorial cairn was held in December.

"This year we don't have to shift rocks," says Heather. "We have a permanent cairn. It's been a fantastic community initiative.

"It's not just for ANZAC Day; people take their wedding photos there. And those coming past can sit there and have a quiet picnic if they like. It's a place for any occasion."
Subscribe to our weekly Newsletter
Email: