I met Neda Nozari at the Lizard Market at the Omokoroa Settler's Hall in June. She was smiling at me from next to a triangular tower of kiwiana and embroidered cushions. Stacked next to her table, they feature designs created with tuis, beaches, fish, boats and even a Kombi van.
It was how she was displaying them that caught me as much as the cushions themselves; they sit perched on an easel-type stand with removable shelves. Simple and easy to set up, it reflected a keen designer's mind.
Set out on the table was an outstanding display of hand painted copper plates, vases and pots.
The detailed miniature paintings on ceramics and metal are brightly coloured, with absorbing patterns and designs.
"I get the copper from Iran and beat it, then put it into the kiln with enamelling on it," says Neda.
"It produces a white canvas for me.
"Then I paint on it with my Persian enamelling paints, which are special paints for delicate work on copper."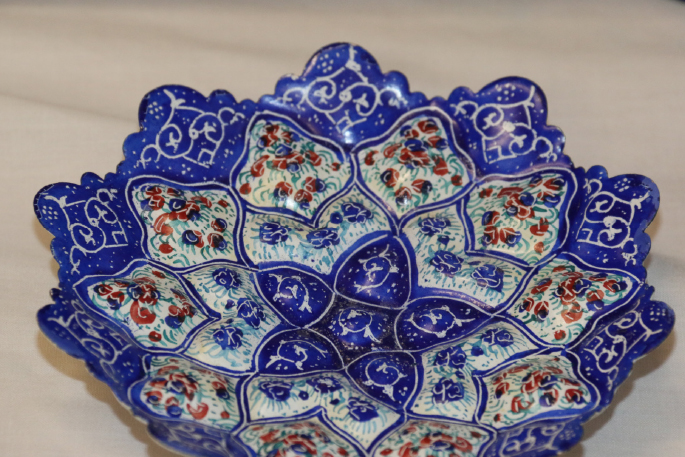 Enamel colours are metal oxides mixed with a tint of finely powdered glass, where the oxide content controls the shade obtained. Once the copper is painted, the piece is put in a kiln at 850 degrees before drying. The colours become stable and shiny and the art piece is very durable, scratch resistant and unbreakable.
The art of enamelling and ornamental painting on a metal surface dates back to 1500 BC in ancient Persia. Each piece that Neda creates is unique.
"I've been coming to the market for about a year, but I've been doing this work for more than five years."
Originally Persian, Neda was born in Bulgaria and moved to New Zealand from Iran around 12 years ago. She has been an artist since childhood.
On arriving in NZ, she went to Wellington to study building science at Victoria University.
"I was going to do architecture which was more artsy, but I decided to do building science," she says.
Neda lived in Wellington for nine years before relocating to Tauranga about three years ago.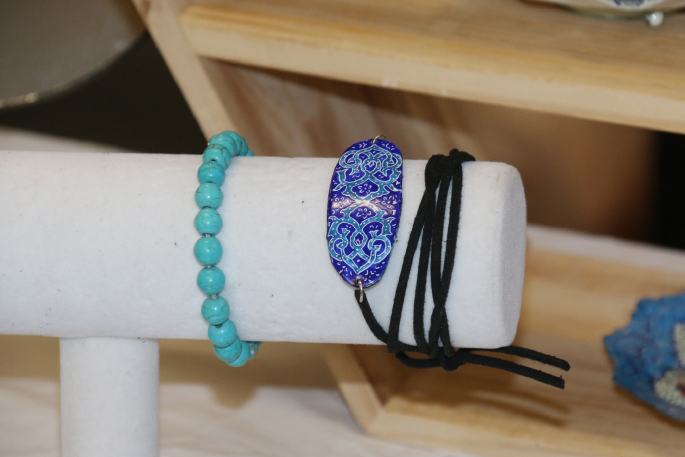 Some of her cushions are created from tapestries, and some printed on linen. She hand-paints the designs, printing the cushions from them.
The handmade copper platters and vases and jewellery are where her art takes on a different form.
"For my next project, I am doing a fusion of NZ and oriental design on my copper jewellery which will be on my website by mid-July," says Neda.
She believes there are health benefits to be derived from wearing copper jewellery and has created her brand around the word 'Nanda', which means 'the pleasure of a choice'. More of her work can be viewed at: www.nanda.co.nz
Subscribe to our weekly Newsletter
Email: