Art and flavour collide in sensational style for this year's Ora King Salmon Awards.
The region has several restaurants featuring the outstanding Ora King Salmon.
Tauranga's Trinity Wharf – Halo, Mt Bistro, Postbank, Phil's Place, Takara, Momo, Waihi Beach Hotel.
We were curious to see how the entrants would interpret this year's challenge.
It was a pleasure to visit chefs Stuart at Trinity Wharf and Stephen at Mount Bistro.
The Ora King Awards celebrate innovation, creativity and craftsmanship among chefs who are at the top of their game.
The competition is open to chefs in New Zealand, Australia, North America and Japan who list Ora King on their menu.
This year's brief is to take inspiration from a piece of art, across any medium, and interpret this as an Ora King dish.
The challenge inspires new levels of creativity, focus on plate appeal, and place Ora King as the hero.
Artistic interpretation can be literal or abstract and embraces any creative medium such as visual, performance, aural or poetry.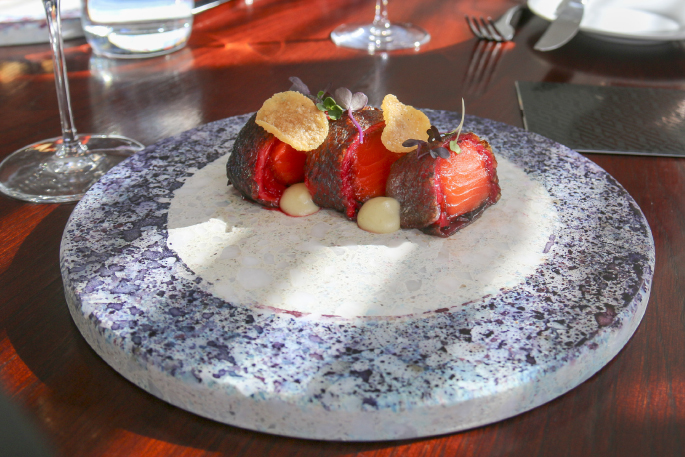 Trinity Wharf
Trinity Wharf Executive Chef Stuart Perry describes his entry dish named Auroa of Kings:
"This year's entry was met with excitement and trepidation as our inspiration had to come from a piece of art. I had chosen three to my short list, a portrait of my family farm painted by my late grandmother, a landscape water colour of Catherine Creek by aboriginal artist Albert Namatjira, a piece of street art graffiti by Heesco showcasing five world leading chefs in a laneway in Melbourne.
It was the latter which I had chosen to go with.
It influenced my dish in several ways, these were visual, thoughts, memories and ideology.
With these four foundations I began breaking each down into techniques, flavours and visual concepts.
I kept the dish light, with a sense of earthiness as each laneway has its own "personality", with the art itself it is refined graffiti yet in a rough laneway setting.
I wanted to create a refined dish which would suit being plated in a raw and organic manner.
"Auora of Kings" was created to showcase the essence of each chef, I took their ideology, so Heston was the questioning of the plating and presentation, Joan Roca one of the pioneers for deconstruction plating of dishes, Massimo Bottura on wastage and utilising ingredients, Ben Shewry memories and Daniel Humm "Make it nice".
The dish utilises the whole of the Ora king Salmon, starting with the middle I cured the salmon fillet in coffee and chipotle to showcase how robust the salmon is in accepting flavour. Pieces of black garlic are dotted around then it is wrapped in beetroot cured belly and finished with crispy skin the crackers are the scratching's from the salmon frame and the artichoke puree is made with the frame to enhance the richness."
Thanks Stuart, we absolutely loved every little intricate detail of your dish particularly the crackers.
Your hand painted plates were an amazing back drop to your creation.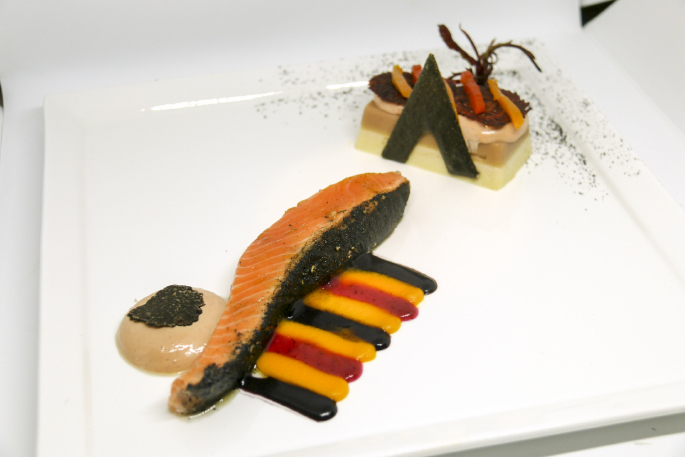 Mount Bistro
Multi Award winning chef Stephen Barry from Mount Bistro describes his dish:
"The piece of art inspiring this year's Ora King Salmon creation is my cousin Albert McCarthy, a prominent Maori artist. He describes his artwork as two works that complement one another, or you could say, they are one in the same.
In keeping with the spirt of the artwork I am using sustainable fresh local and foraged ingredients. I have used the artist's colour palate to influence the dishes flavour palate and have recreated the artwork on a plate. I have used many iconic Kiwi ingredients and incorporated them with the dishes component.
'Ora King, the art of salmon' (my dish)
Confit of Ora King Salmon with avocado oil, lime, fennel pollen, harakeke seeds, Jerusalem artichoke cremeux, jellied tamarillo salmon broth, tamarillo hollandaise espuma, truffle, purple kumara mojito sauce, beet crisp.
The salmon is filleted, skinned then sliced slices on an angle to give a cut of similar shape to the artwork. The salmon is then rubbed with fennel pollen foraged in the heat of summer. The salmon is semi-cured in a dry brine. The salmon is vacuumed in a bag with local avocado oil and lime zest then poached in a sous vide.
After poaching the salmon is dippedinto crushed harkeke seeds and seared, to form a crisp blackened layer where theskin once was.
Foraged Jerusalem artichokes are poached, pureed blended with crème fraiche and spices then set with agar agar.
A broth is made from the salmon bodies.
This is reduced to intensify the flavour and mixed with tamarillo pulp and set with gelatine on top of the artichoke cremeaux. A beetroot is waffle cut and slow baked while being weighted between baking paper to create beetroot crisps.
Purple kumara is baked whole, peeled and pureed with mint, Bacardi, and lime to make a sauce. A tuille garnish is made with crushed harakeke seeds, artichoke puree, isomalt and coconut sugar.
A crumb is made with spices and crushed flax seeds."
Thanks Stephen we absolutely loved the use of the artists colour palate in this dish.
So many elements all cleverly constructed to interpret the artwork. This dish is currently on the menu at Mt Bistro and is absolutely a stunner.
Good luck to all our local entrantsthis year. I can only say the patience,and detail that goes into these dishesis incredible.
What makes Ora King different?
New Zealand's own Ora King Salmon is revered around the world by discerning chefs.
Ora King Salmon are grown sustainably in the deep, cool waters of the Marlborough Sounds.
With worldwide demand for seafood increasing, aquaculture is a highly efficient use of the marine environment.
Ora King salmon is itself a rare luxury, which makes up less than one per cent of the world's salmon species, giving it a luscious, elegant texture and rich taste.
Each salmon is reviewed by master graders and if it doesn't meet the highest level then it doesn't go on to become Ora King salmon.
Ora King has the highest natural oil content of all salmon – a naturally rich source of omega 3s. A 150g portion of this fish provides the complete daily requirement of omega 3. It's fantastic texture is buttery and soft, without excessive fat. It cuts easily due to its unique muscular structure, is light in the mouth and coats the palate delicately making it a real pleasure to eat.
Subscribe to our weekly Newsletter
Email: