On September 19, 1893, the Electoral Act 1893 was passed, giving all women in New Zealand over the age of 21 the right to vote.
As a result of this landmark legislation, New Zealand became the first self-governing country in the world in which all women had the right to vote in parliamentary elections.
I remember being delighted that in October 1978, once I was 18 years old I would be eligible to vote.
At the time, it didn't occur to me that at one time, women weren't allowed to vote. For me it was the defining action transitioning from child to adult and I didn't comprehend the impact on women gaining the right to vote nearly a century before.
The Suffrage 125 Tauranga Committee has been working with other organisations and community groups across the Bay to organise commemorations to mark 125 years since this ground-breaking event.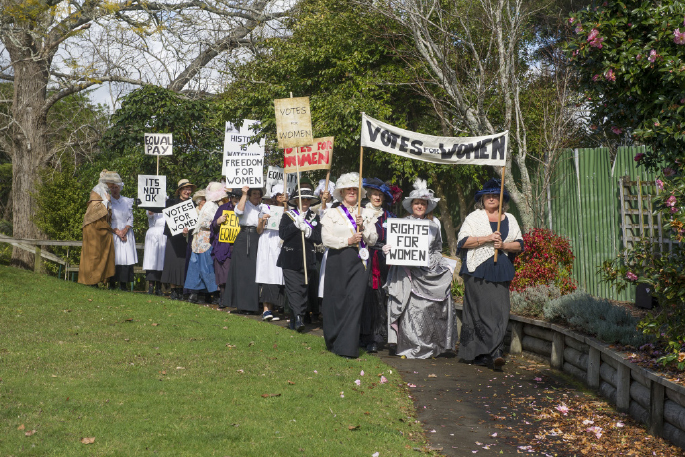 These have been running from July 28, which is the anniversary of the 'monster' suffrage petition's submission to Parliament, and will continue through to November 28, which marks the first New Zealand General Election in which women could vote, and finish on December 20 to mark the date when women first voted in the Maori electorates in 1893. The opening event, Jo Torr's exhibition 'Vahine- Wahine' held in the People's Gallery – Toi ka rere – at The Historic Village, reflected on the position of women through history, with garment sculptures that incorporate an aspect of Polynesian/Maori or European cloth.
Katikati held a Suffrage 125 Commemoration Day which included a march through town in period costume. Lillybeth Melmoth ran a 'Frocks on Bikes' vintage-style event, and local colleges debated whether men should get the vote.
Planting Kate Sheppard camellias is also a feature of some Tauranga commemorations, with Helen Clark planting three at The Elms Te Papa Tauranga, followed by Jan Tinetti planting more at Robbins Park on September 19, and again at the Fourth Avenue Reserve on September 28.
The Fourth Avenue area is significant as the land overlooking the reserve and the Waikareao tidal estuary was once owned by Hilda Hewlett, who was the first British woman to obtain a pilot's certificate. In 1928–29 Hilda bought four sections on Edgecumbe Road overlooking the estuary, which had served as the town's flying field for eight years.
Landing and take-off could take place only for an hour or so either side of low tide.
She was also the inaugural president of the Tauranga Aero and Gliding Club. Hilda closed her aviation company in England, moving to Tauranga with her daughter. As Hilda explained, "the urge to escape from the three Cs – crowds, convention and civilisation – became strong".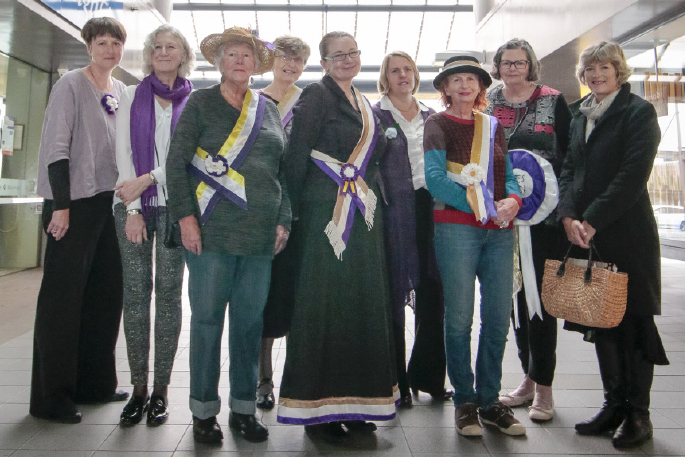 New Zealand also offered opportunities to camp and fish – other long-time interests.
In 1934 Jean Batten, touring New Zealand after her celebrated flight from England to Australia, was welcomed to Tauranga and hosted by Hilda.
Two roads near Tauranga airport have been named for each of them.
Debbie McCauley, heritage specialist at Tauranga City Libraries has been sharing her research into her own suffragist ancestor Eliza Wallis, nee Hart, (1846-1914), who was a signatory to the 1892 and 1893 suffrage petitions, as well as being a founding member of the National Council of Women.
"Sarah Hart was pregnant with her second child when her husband, bricklayer Edward Hart, stole food to feed his hungry family," says Debbie.
"On the run for 17 months, when captured he served six years on board prison hulks. After his release the family searched for a better life and found it offered by the New Zealand Company, arriving in 1841, the year after the Treaty of Waitangi was signed. "Eliza was their first New Zealander, born in 1846. A mother of 12, she became a suffragist and actively sought the vote for women, which was granted after a `monster petition' was presented to Parliament in 1893."
Debbie has written a bilingual children's picture book, 'Eliza and the White Camellia' as a Suffrage 125 project. The story spans Eliza's life, from poverty, emigration, elections, illegitimate children, women and the vote, the trial of Minnie Dean, to the formation of the National Council of Women, and concluding the month following the start of World War One.
The Papamoa Genealogy Group will be running a drop-in session at Papamoa Library which will enable members of the public to come and find out whether their own ancestors signed the 1893 suffrage petition that resulted in New Zealand being the first self-governing country to give women the vote.
While chatting with Debbie about women's suffrage in New Zealand, I became aware that the words 'suffragist' and 'suffragette' mean different things. In 1928 all British women over the age of 21 were granted the right to vote in political elections.
Those women involved in the first wave of the campaign were known as suffragists and believed in peaceful, constitutional campaign methods. In the early 20th century, after the suffragists failed to make significant progress, a new generation of activists emerged. These women became known as the suffragettes, and they were willing to take direct, militant action for the cause. There were no suffragettes in New Zealand
Debbie's book launch will take place on December 1 at Tauranga City Library. Other events on the Suffrage 125 Tauranga calendar can be found on www.mytauranga.co.nz search word 'Suffrage 125'.
Subscribe to our weekly Newsletter
Email: