Cherie Bennett didn't want to speak to The Weekend Sun, contacting the newspaper was simply a "last resort".
At the heart of her complaint is a sore throat.
For a month the Mount Maunganui mother has been attempting to lay a complaint with the Health and Disability Commissioner over the level of care her 10-year-old son Nicholas received from a physician at Bayfair Doctors.
"I've been trying to follow the right procedures to lay a complaint but nobody seemed to care," says Cherie.
On July 13, Cherie took Nicholas to Bayfair Doctors to have a severely infected scratch on his finger examined, as well as his sore throat. During this consultation she claims to have asked the doctor five times to take a swab of his throat.
The swab was extremely important. Cherie explained to the doctor her nephew, who was staying with the whanau, had previously suffered from rheumatic fever and she "needed to protect my family".
"It's all over TV and radio that sore throats matter. The fact I had to ask repeatedly and sell it to that doctor to throat swab him I believe is poor practice."
The doctor believed Nicholas' sore throat was likely viral due to his finger infection and antibiotics would cover him "if it turned out to be anything". Betadine was applied to his finger and the pair were sent on their way with a prescription.
Six hours later they were back at the practice. The infection had spread from the webbing of his finger up to his wrist.
"Nicholas had become extremely lethargic, had bloodshot eyes and couldn't speak properly.
"We were seen by another doctor. I explained what happened that morning; this doctor said Nicholas' finger was septic and the sore should've been scrapped off with the pus drawn out."
After several unsuccessful attempts to give Nicholas antibiotics orally, he ended received intravenous antibiotics "which worked thankfully".
Two days later Cherie received a call from Bayfair Doctors confirming Nicholas' tested positive for strep throat, meaning he had to return and get further antibiotics to treat the infection.
At this point Cherie decided to lay a complaint. Following two discussions with Bayfair Doctors' practice manager, Cherie claims she was informed they'd decided to make it policy to swab children if they had sore throat symptoms.
"It should have been the practice's policy in the first place. Bay of Plenty children, especially Māori and Pacific kids, are in the highest demographic in NZ for rheumatic fever."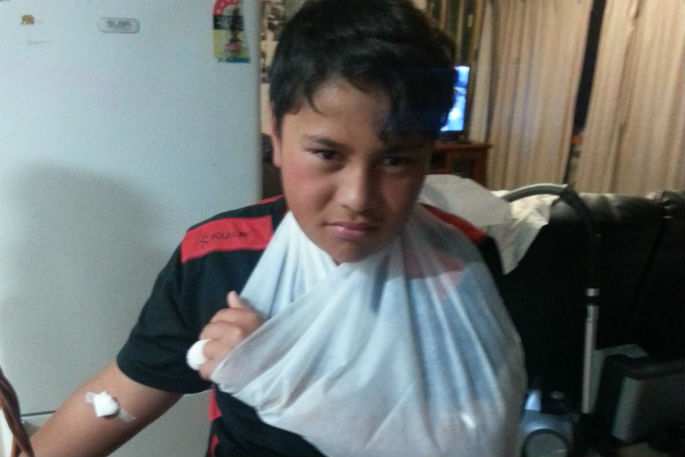 She also asked the practice manager what would happen to the doctor she alleges acted negligently.
"If I didn't push for a swab my son could potentially be walking around with a serious disease. The practice manager told me she'd speak with the general manager and call back next week."
Cherie says she called back several times during the week but couldn't reach the practice manager. She left messages, but received no replies.
She decided to lay a complaint with the HDC, but didn't have much luck there either. After speaking to a Tauranga-based Health and Disability advocate, they said they'd email a complaint form to her – after a month the form never arrived.
So she called The Weekend Sun.
Last Friday The Sun contacted Bayfair Doctors and the HDC about Cherie's complaints. The following Monday Cherie was inundated with emails and calls from both organisations.
A Green Cross Health spokesperson, which owns Bayfair Doctors, says the health and wellbeing of their patients is a priority and they take all complaints raised extremely seriously.
"Following a conversation with the patient, we understand she has contacted the Health and Disability Commissioner with regards to her complaint, which the doctors, Bayfair and Green Cross Health supports," says the spokesperson.
"We are satisfied the complaint will be dealt with through a process which is fair to both parties and we will comply fully with any outcomes from the HDC process."
A National Advocacy Trust spokesperson confirms an advocate is working with Cherie to resolve her concerns and looking into her complaint about the delay.
While a spokesperson for the Health and Disability Commissioner says a consumer can contact the HDC directly, or with the assistance of an advocate, should they wish to escalate their concerns or lay a formal complaint about a health or disability service.
The Weekend Sun has chosen not to name the doctor at the centre of the complaint.
Rheumatic fever:
Rheumatic fever is a serious but preventable illness, which mainly affects Maori and Pacific children and young people aged four to 19, especially if they have other family members who have had rheumatic fever, says The Ministry of Health.
Rheumatic fever starts with a kind of sore throat called a strep throat – a throat infection caused by a bacteria called Group A Streptococcus.
The ministry recommends if a child has a higher risk of getting rheumatic fever and has a sore throat do not ignore it, take them to a doctor or nurse straight away to get their throat checked.
For more information, visit: rheumaticfever.health.govt.nz
Subscribe to our weekly Newsletter
Email: