Western Bay of Plenty residents are invited to tomorrow's public opening of their new museum in the old Firestation building on Main St in Katikati.
And there's bound to be fun and games – with the first exhibition being named just that – showcasing entertainment, leisure and sporting activities from years gone by, for both adults and children.
Western Bay Museum manager Paula Gaelic says she selected the new museum's first exhibition theme for a very specific reason.
"I chose Fun and Games because we've been closed for such a long time and most museums that close don't re-open.
"And most museums that haven't been funded by their councils don't get funded by their councils – so we have a big reason to celebrate," says Paula.
"Our volunteers, our community and our sponsors have all come on-board – they have all worked incredibly hard or provided products or services in way of kind – so it's time for us celebrate."
Paula says the museum's next four exhibitions are planned, which will be set up in the Taylor Bros Transport exhibition gallery, and will rollover every three months.
"This is to provoke the desire of our community to revisit," says Paula. "We want to draw them back by offering new, fresh, exciting items on display each exhibition they haven't seen before – like many we have on show in this first exhibition."
But first Fun and Games has been meticulously and professionally set-up with multiple displays capturing how we used to spend our free time.
There's old musical instruments including violins, clarinets, squeeze boxes and harmonicas – plus gramophones, record players, accompanied by the museum's top 10 records – including To Assist New Zealand Artists – the TANZA – variety.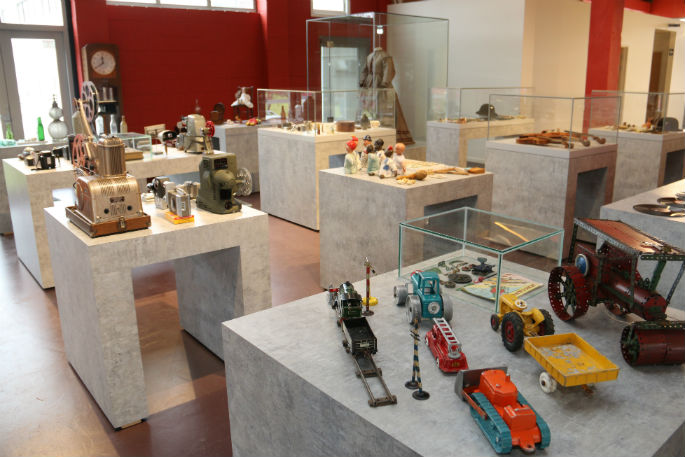 "Two of the violins have been donated by the family of Mary Elizabeth Killen, who was very musical. In fact her whole family was musical, and we have also Mary's book called 'The Songs of Ireland', which has been donated by her great-grandson Colin Smith," says Paula.
The Killen family's harmonium, shipped out from Dublin in 1878, also features. "It still plays and was made in America by Mason and Hamlin."
Men's accessories including old-fashioned collars, a moustache China cup and a World War 2 fob watch can be seen. "A gentleman, when he would go out, would change his collar. And the guys had more accessories than women," says Paula.
Women accessories are covered with hat pins, a boot and corsetry kit, a fuel-burning hand-warmer, a cocktail stirrer worn on a lady's neck and old-school coal range straightening irons.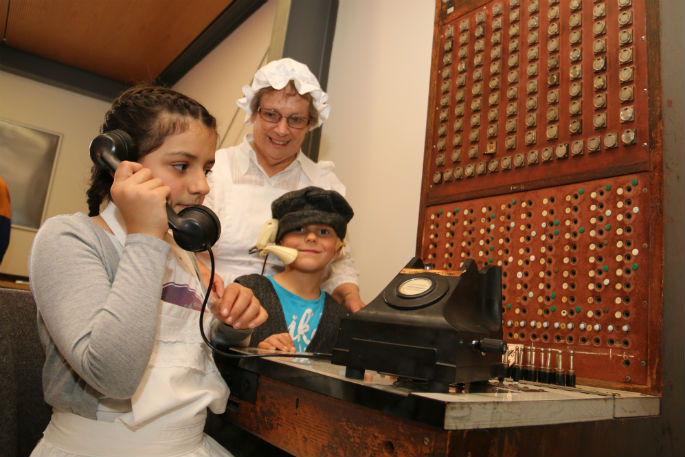 Jocelyn Pannett watches over Dylan Heard, 6, and Layla Heard, 10, as they work the phone exchange.
Games including cribbage, poker dice and knuckle bones feature too. "Collecting cigarette cards was massive – they were huge from the 1880s to 1920s. Then Sanitarium cards followed," says Paula.
"Smoking was a big thing – all the men smoked and it was a big part of their social lives – so we have a display featuring cigarette-related items.
"I know it's controversial – but it was a big part of what they did. One item is a Blue Henry Spittoon bottle for a gentleman to carry in his pocket to stop the spread of tuberculosis."
There's a 1920s French doll, a golliwog – and the controversial Punch and Judy puppets.
A sport section shows off bowls, skiing, circket, tennis, fishing and discus items. "And back in the day they'd take their picnic table, hamper and portable grammar phone on social outings. And, of course, their Box Brownie [camera]."
Paula says the early settlers got dressed for any social event – even a picnic was a really big deal. "Everyone would get their best dresses on, do their hair for the event."
"It was big part of their life in that time – so we're featuring anything from the late-1800s through to the 1950s."
"They were also really well-known for partying, dancing all night then going home to milk the cows at daybreak."
The museum also has a permanent Samuel Middlebrook Taonga Maori Collection and a purpose-built old school room.
This includes an operating telephone exchange with booths, the dairy for churning butter and a replica 1910 coal range kitchen and much more.Plus, the Model 3 Treadle print press circa 1860s, which Paula says is one of only two operating in the world. "The other is held at the London Museum."
The museum opens to the public from 10am tomorrow, with a Katikati College kapa haka performance. And Waihi Troupe will provide entertainment from 11am-1pm.
Fun and Games is open from August 27-November 30 from 10am-4pm daily. Museum entry costs adults $5 and under-15's cost $2.
Photos: Chris Callinan.
Subscribe to our weekly Newsletter
Email: