Music Plus


with
Just occasionally, as we rush towards the precipice, it can feel like time is standing still.
I've felt that recently, enjoying in the same week both a new Martin Scorsese film and a new Rolling Stones album.
Art from 80-year-olds. Vital, kick-you-in-the teeth art. If I didn't hate the term I'd be tempted to call it surreal. Things have changed, as Bob Dylan, continuing a busy tour schedule at 82, said.
'Killers of the Flower Moon' left me exhausted, and not because of its three-and-a-half-hour length; it's an emotionally-harrowing slow-burn of a film, an epic told on an intimate scale.
Scorsese has long been posited as America's greatest filmmaker and here stakes his claim again with both the sheer technical skill and imagination – witness the raging fires shot through stained glass windows in a vision of hell – and also the overarching intelligence to construct and tell a story of this scale. Plus, 80-year-old Robert De Niro makes a fine smiling villain.
Who woulda thunk it?
Two things particularly struck me. I'd read the book and the film is very different. Not in its facts but in how it tells the story. The book centres on lawman Tom White, as these events precipitated the birth of the FBI; but in the film he is a peripheral character, introduced only in the final third. A reminder there are many ways of telling a story.
Also the music, both the score and chosen songs, the last work from Robbie Robertson, who was also 80, is superb. I suspect a posthumous Oscar.
On to the Stones. And damn! Who woulda thunk it? Much as I enjoyed their rediversion into old blues a few years back, I suspect many people alive will not actually remember that once upon a time there was a thrill in waiting for the next, probably great, Stones' album. Hell, I'm old enough to remember when 'Some Girls' dropped, when the Stones were genuinely exciting and controversial.
Well 'Hackney Diamonds' is it. A final – I assume final – great Rolling Stones album.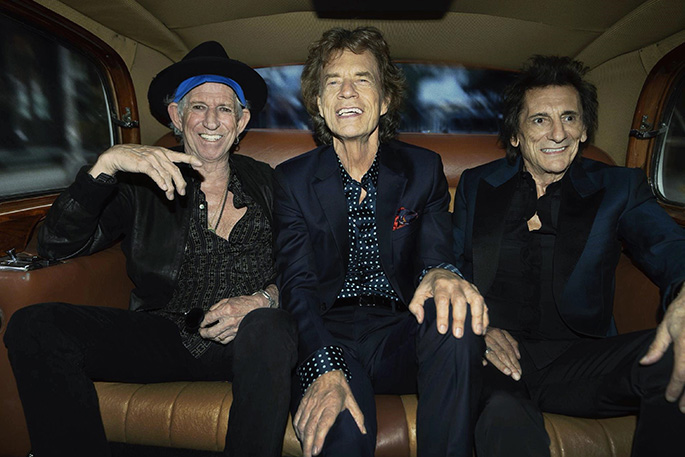 Photo. The Rolling Stones.
'One, two, three, four'
I'm not doing a track-by-track as to why it's so good, let's just look at one song: 'Bite My Head Off'. It actually start with a count – "One, two, three, four" – how 'old-school', and even that sounds cool. The guitar riff is ferocious, 'Start Me Up' on meth, and 80-year-old Jagger is snarling like he's never snarled before. This is great stomping rock 'n' roll. Then 81-year-old Paul McCartney plays a distorted bass solo like he wants to kick the walls out and the guitarists leap in – 79 and 76 respectively – to blow the roof off the place. Damn, it's something else.
And a closing reminder: 81-year-old Richard O'Brien's 'Kingdom Of Bling' is debuting at Baycourt on November 24-25. That a new show from the man behind 'The Rocky Horror Show' should premiere in Tauranga is extraordinary. That it costs $20 with the money going to Starship is simply a gift. Get your tickets now.
---
Hear this week's Playlist: