Our Backyard Trust is hosting their first Tauranga Harbour and ocean clean-up project this Sunday, May 15, at Sulphur Point Marina.
Events coordinator Louise Stewart says Sunday's clean-up is a community focused event, and Our Backyard Trust is working to get as many people involved as possible.
"We welcome everyone to get involved in this great community initiative, and look forward to everyone working together to help look after and be proud of our own backyard," says Louise.
The event starts 9am Sunday, with the meeting point at 66 Keith Allen Drive, outside Tauranga Sports Fishing Club.
Louise says the community will be asked to focus on land-based collection of rubbish while the Our Backyard Trust has organised divers to collect rubbish under-water.
"Bins and rubbish bags will be provided, but volunteers can wear comfortable clothes and appropriate footwear for the event."
Sustainable future
Our Backyard Trust co-founder Brent McConnell says the clean-up will involve divers diving around the harbour, boat ramps and poeple collecting rubbish on land at beaches.
"We're going to bring all of that refuse back to a truck-and-trailer at Sulphur Point and take it away," says Brent.
He says getting people in the community involved in creating a sustainable future is something he has a huge appetite for.
"It's a great opportunity for everybody to respect what we play in."
Brent, a co-owner of Stoney Creek, says this event is part of a wider environmental initiative – and the community will see more events like this in the future.
Our Backyard Trust was started by Brent and his wife Juanita to give back to the environment, along with other projects.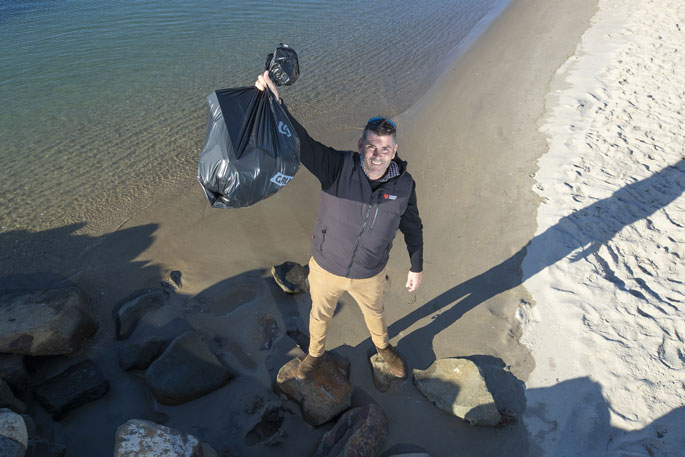 Our Backyard Trust's Brent McConnell is gearing up for the first ocean clean-up event on Sunday May 15. Photo: John Borren.
Louise says this Sunday's event will run from 9am to 4.30pm.
"We will be providing a barbecue later in the afternoon for all to enjoy – so no one will be going home hungry. We will [also] be providing a few kids activities to keep them happy and entertained."
A coffee cart will be on-site in the morning too.
One Base funding
Most of the funds for the event were raised during the One Base Fishing tournament in March via the 'tag and release' initiative, which also focused on health of the waterways.
"We wanted to look after three pillars; one being conservation, one being rural mental health and one being community and child welfare," says Brent.
"We want to protect our environment and the fish that we're chasing. If we can influence that, that would be a pretty cool thing."
Louise says this event is just the beginning.
"We believe this is going to be start of one of many community events which we would like to hold as we continue to grow within the BOP region."
Our Backyard Trust's Tauranga Harbour and ocean clean-up project is this Sunday, May 15, from 9am-4.30pm, with people asked to meet at Sulphur Point Marina.
Subscribe to our weekly Newsletter
Email: