Some of New Zealand's 'big kite flyers' will be attending this year's Matariki Kite Day at Matua on Sunday afternoon flying their spectacular world-class kites.

Kiteman of Katikati John Russell is looking forward to sending his kite heavenward along with kites flown by NZ Kite Association fliers from Auckland, Rotorua, Wellington and Whanganui.

"Peter Clark from Auckland has one of the most fabulous collections of soft kites in New Zealand, including octopuses. His latest being some of Disney's favourite characters," says John.

"And if the breeze is right then Rotorua's Ray and Rosemary McCully will fly their new three metre double star facet kite along with their big Matariki delta kites."

The NZ Kite Flyers Association, which John is a member of, along with the Tauranga City Libraries are holding the annual Matariki Kite Day on Sunday, June 19, at Fergusson Park.

"This is a great family fun day," says John. "It was very big last year with thousands attending."

The event officially opens to the public from 12pm-4pm.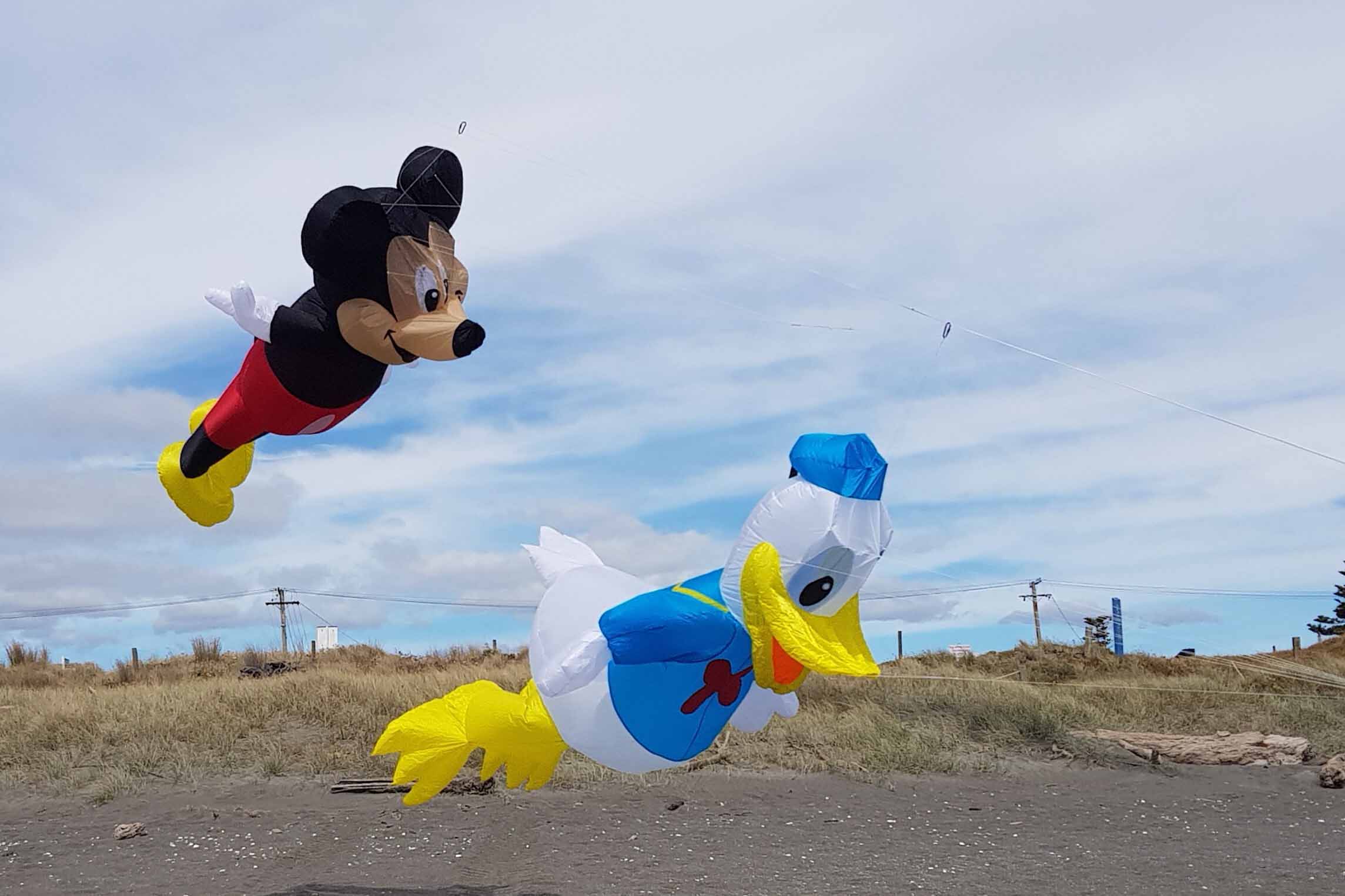 Peter Clark's Disney kites. Photo: Supplied.

Heaven and earth

Connecting heaven and earth, kites are traditionally flown at Matariki to send karakia to those that have passed and to send wishes for the future to the heavens.

Ancient Maori kite flying traditions have a highly symbolic connection to Matariki – the two were historically inseparable. Kites were seen as connectors between the heavens and earth.

During this period of joyful abundance of Matariki, tribes throughout New Zealand, without exception, historically placed their greatest emphasis on kite flying.

Ancient Maori were expert kite makers and flight controllers. Their kites were usually tail-less, decorated, and of varied sizes, shapes, names and purposes – from those used for light-hearted entertainment to kites used for highly significant spiritual rituals.

Children and adults made kites to practise whanaungatanga – social relationships – to reinforce tikanga/kawa – tribal lore – to produce artwork, perfect aerial movements, to test skills in competitions and to add their "touch" of vibrancy to the sky.

The most common kites were constructed from toe toe, manuka, harakeke, raupo and aute bark.
Kites were also believed to be messengers. Like birds, they were considered as having spiritual connections, hence the ambitious cloud=piercing kites that required several people to operate using kilometre-long ropes.

Matariki

Matariki can be appreciated as a popular kite flying time and as an important period for kite development and prototype testing.

Of the several thousand kites flown during early colonial times, decorated with shells, feathers, foliage, tukutuku, artefacts and carvings, none exist today.

But as Maori New Year Matariki celebrations become more widespread, New Zealand's skies are once again playing host to the colour and pageantry that is traditional Maori kite flying.

The public is encouraged to wrap up, bring whanau, some hot chocolates, and a kite of their own down to the beachside of Fergusson Park to join in on the winter festivities. There will also be a range of food stalls and a children's activity space.

"This year's Matariki Kite Day in Tauranga is shaping up to be a great day and we are expecting an excellent turn out this year," says John.

The Matariki Kite Day is at Fergusson Park this Sunday, June 19, from 12pm-4pm.

Matariki – the Maori name for the star cluster also known as the Pleiades – runs until July 19 this year, and features a large number of events and activities that almost anyone can participate in. Information about exhibitions, workshops, art hunts, a panel discussion and storytelling are at: www.mymatariki.co.nz

Subscribe to our weekly Newsletter

Email: