The alternative New Zealand flag is running into resistance. The Tauranga City Council version flying at BayCourt was stolen on Waitangi weekend.
The one on the flagpole at the Te Puke Memorial Hall was this week ripped from the flagpole and replaced with a pair of shoes.
And TCC plan to fly a 3m by 6m version of the alternative flag from the giant flagpole on the Elizabeth St /Takitumu Drive roundabout is being challenged by local solicitor Rob Paterson.
While the city council has permission from the government committee that looks after flag flying, Rob says the flagpole's Resource Management Act consent only permits the council to fly the New Zealand national flag.
Rob was a submitter on the original Resource Management Act application to site the former Woolworths flagpole there in 2006.
"The resource consent specifically stipulates that only the New Zealand National Flag can be flown," says Rob. "In addition, there can be no public gatherings or ceremonies at the site of the flagpole."
The 3m by 6m alternative flag is being sponsored by businessman and BVL chairman Peter Farmer.
Those in council who promote flying the alternative flag will effectively be parties to any breach of the resource consent which amounts to a premeditated and deliberate act, says Rob.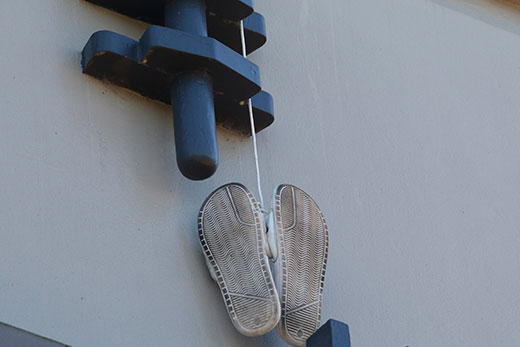 He says Mayor Stuart Crosby is aware of the legal position from correspondence in 2010 and 2011.
Stuart says the opportunity to see a giant version of the alternative flag flying from the Elizabeth St/Takitimu Drive flagpole is the result of a request from Bay of Plenty MP Todd Muller and the sponsorship of Peter Farmer, who is paying for it.
"We have to make it very clear we are not endorsing the new proposed flag. We propose to fly them both to generate interest and debate over the upcoming referendum," says Stuart.
The contents of Rob's letter is being assessed by TCC's legal team, then they will make a decision, says Stuart. The big alternative flag – sporting Kyle Lockwood's silver fern flag with black, white and blue design that won the first flag referendum – is under construction.
Peter, who is representing the Tauranga Community Flagpole Trust, is the instigator of the original flagpole project, says Rob. That trust eventually paid for the flagpole relocation and reconstruction.
"And, as I recall, [the trust] gave assurances that the costs of maintaining same [flagpole] would be met by the Trust, then left it to TCC ratepayers to foot the bill with a $5000 per year budget for the purchase of new flags, banners, repairs and maintenance," says Rob.
Subscribe to our weekly Newsletter
Email: