So here we are: the first column without a newspaper to accompany it. After over fifteen years of writing a weekly column it seems strange.
But, in the hope that some of you out there, either isolated at home or still braving the deserted streets, still want to read about entertainment-related topics I'm going to press on, continuing to do, I hope, a little bit to amuse and inform you in these bleak times.
Because everyone's making their own fun these days. For many people even visiting the supermarket now means at least getting a break from sitting around at home.
I do worry about these trips though, when there are people out there occasionally coughing away and neglecting to follow any sort of rules for social distancing. It really is alarming when someone coughs near to you. I would suggest, as a simple solution, that if someone coughs too near to you, you very politely suggest that they "far cough".
In fact, I'd recommend this as a new government initiative to prevent possible virus spread: everyone should learn to far cough. And then you should all far cough as far away as you can. That should sort the problem.
OK. Back on track, I have some new music. Those following the local scene on Facebook will have surely noticed continued activity from the indefatigable Anthony Coulter, who has recorded an album, Memories, and sent it out into the world along with several videos and a new single.
Prolific
Anthony is an enthusiastic and prolific writer and performer. You've probably seen his picture around, at a show, smiling from behind his piano. Anthony smiles a lot; he is a cheerful kinda guy. But he is also a serious student of the songwriting game, attending songwriting workshops and studying different approaches to writing.
Like Mike Garner's recent album Don't Mind The Rain, Memories was recorded at two different Tauranga studios, Soundtree Studios in Whakamarama with Shane Davies (currently also singer for Electric Universe) and Welcome Bay's Colourfield recording studio with Tim Julian. Like most albums it has taken a while, with work stretching out over the past three years.
So far Anthony has previously released five songs as "singles". Last year it was Arresting A Dream, Any Colour You Like, The Point Of No Return, Racing With The Moon, and Superpower Smile. The new one is Scorpio. There have also been striking videos created as accompaniment, particularly the full-on "vampire" look that Anthony created for Arresting A Dream.
There are a bunch of the Bay's finest singers lining up alongside Anthony, with Denise Hyde from Tauranga's Shabang featuring on almost the whole album. Racing With The Moon is a duet with her. You can also find singer Brooke Stinson (ex-Hybrid Blues) on Superpower Smile while Liz Tamblyn, who sang on the previous EP provides vocals on The Point Of No Return and Sands Of Time.
Meanwhile, Tim Julian, at whose studio Anthony previously recorded his debut EP Shaking Her Wings, weighs in with bass and guitar on three songs.
Debuts
These newer songs debuted at Tauranga's Fringe Festival at the Historic Village in October when Anthony donned full stage make-up and did a live recreation of his vampire alter-ego from the music video.
There are other nice cameos on the album, such as the saxophone, courtesy of Lewis Martin, which pops up on the title track as well as on Kiss Of Life. The latter has a music video filmed by Shane Davies starring local photographer Jo Jones, who also provided the cover photo of Racing With The Moon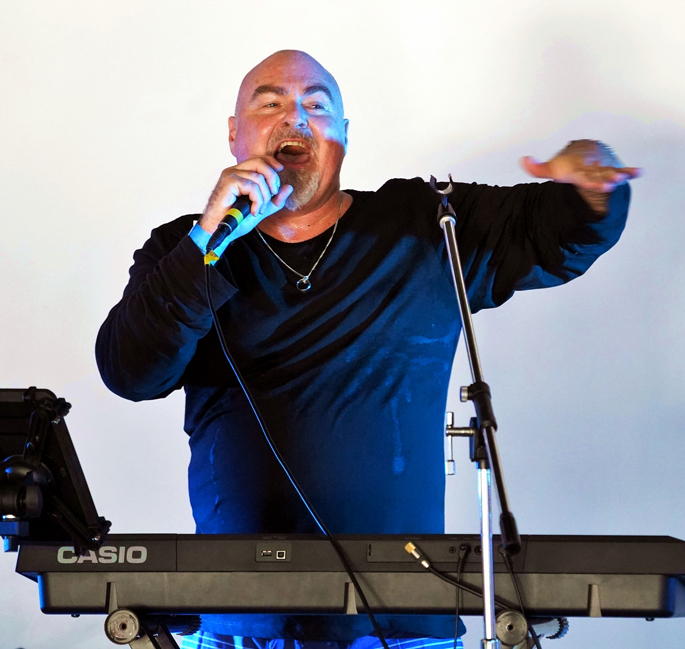 Anthony has been playing regularly at The Black Sheep Bar and Grill in Whakamarama and more recently was part of the Bay Rains fundraising concert at Waihi Beach Hotel in March. He is currently collaborating with other writers in the Bay to create material for his next album, Missing Pieces, planned to be ready some time next year.
But, best of all, you should check out his music for yourself. You can follow his Anthony Coulter Music pages on Facebook and Instagram, and you can have a listen via the following links:
Memories: https://open.spotify.com/album/1b3JMvSJjqy5QExIwAFNkB
Scorpio: https://open.spotify.com/album/6s9OW1Cpr2yR6IWjG86YPW
Racing With The Moon (with Denise Hyde ):
https://open.spotify.com/album/3sgaWJJpJOtaHzDcfAUnVn
Subscribe to our weekly Newsletter
Email: