It's hard to know who would be more chuffed. The noted ornithologist, who gave his name to a cute but very pongy grey fluff ball in a burrow on Mauao, or the fluff ball itself.
'Hugh' the grey petrel is named after the late bird man Hugh Clifford, who gave 15 years of his life ensuring the future of the seabird colony on the Mount.
"If we don't keep an eye out on the tui and grey-faced petrels," he once observed, "we may find we only have the sparrows to watch". So we're all beholden to Hugh Clifford. And especially beholden is 'Hugh', who this week took the ornithologist's name out of respect, out of gratitude, out of survival.
'Hugh' is no doubt here because of his namesake.
And it's believed to be the first grey-faced petrel of the season to be born on Mauao.
"It's still in the burrow, a study burrow, with an inspection lid so we can keep an eye on it," says Western Bay Wildlife Trust petrel specialist Paul Cuming. Hugh probably owes Paul a bunch too.
Hugh is still an 'it' because there's a gender issue. The petrel could be a girl called 'Hugh'. They just don't know at the moment but Hugh became Hugh regardless.
Its 68mm by 48 mm egg was laid in a well-lined chamber at the end of the 30cm burrow in mid-August and hatched after 55 days of incubation.
"He's safe in there, he's warm and he's getting fed," says Paul.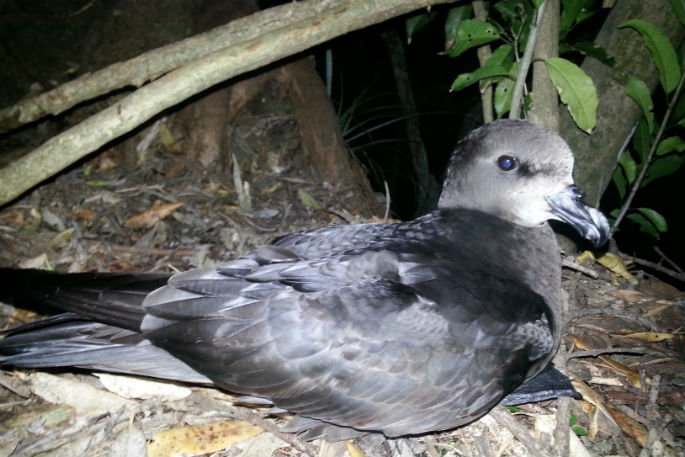 Hugh's mother…or father.
One of the parents stays with him while the other goes to sea, returning with a regurgitated fish smoothie. Nourishing kai moana but that's why Hugh pongs.
"Towards the end of feeding Hugh will be as big and even bigger than his parents and that is why the parents will spend longer at sea gathering enough food to satisfy his appetite."
Hugh is a grey ball the size of your fist, a down ball. Down is 65-75 per cent of the bird's mass. "There is not much flesh and bone."
He's a cute bloke – and that's from another bloke. And it would be easy to get emotionally attached. "Ah, yes," says Paul. "But only in that I am not happy when I see a dead one." He tries to stay objective. "Mainly, because we were facing an uphill battle to save the colony on the mountain. And we didn't need an emotional upheaval every time there was a setback."
Like the dark days of 2006, when they found just two chicks that season. The rest had been devoured.
And therein lies Hugh's problem…constantly confronted with mortality. The odds are stacked against him.
"He will be lucky to fledge," says Paul matter-of-factly. That is old enough to grow wings big enough and strong enough for him to soar off into the world beyond.
About 200 eggs will be laid on Mauao this season. Just half those, just 100, will hatch. And half those again, just 50, will fledge. "We get 50 in a good year and that's without any major eruption of predators," says Paul. That's sustaining the colony, not increasing it.
And Hugh doesn't help himself. "By nature the grey-faced petrels are quite rowdy birds and they betray their own whereabouts." It's a high-pitched whistle "whis-her", "wik-wik" or a low moan "oor-wik". It's like an advertisement that attracts the rats and other mammalian predators, stoats, weasels and ferrets. "It's the noise and the fish smell that do them in," says Paul.
And that's where the wildlife trust's pest control systems kick in. It's working, Paul and the trust are winning over the predators…so far.
"But you can have terrific pest control and still lose birds. For example, we have had some weasels on Mauao this year. How did they get there and were they human assisted? Makes us wonder."
Predators are the difference. Because just 800 metres offshore from Tauranga is Motuotau Island. It is pest-free. "The statistics blow Mauao out of the water," says Paul. "Incredible breeding success, good population dynamics, beautiful island, tens of thousands of birds, it's another world out there."
One day Hugh will be equipped with a sharp beak, powerful jaw and sharp claws. But at the moment he's sitting in a burrow facing due north, facing Karewa Island, facing out to sea. And he's vulnerable.
"No, we don't have an exact address or a zip code. That's not for public consumption for obvious reasons."
If providence delivers Hugh from the predators, he will develop his flying wings at about 118 days and take off for a few years of OE. Then his internal GPS will deliver him back to the front door of the burrow it was born in. Aged eight to 10 he will find a mate and the process starts over. Then again it might be a girl called Hugh, who lays the egg.
Paul, who has given the petrels 23 years of devoted service, has just come off a week of observation tours to keep an eye on Hugh et al. The 'Please do not disturb sign' has gone up in the colony and that's the way the petrels like it …rowdy, smelly, but private.
"But in order to assist the knowledge and understanding of our work and the petrels, we were happy to share Hugh."
Perhaps there's another petrel on the Mount waiting to be named. Paul the petrel, boy or girl. It has a nice ring to it.
Subscribe to our weekly Newsletter
Email: