Traditionally, New Year's Eve is probably the worst night of the year for Western Bay of Plenty Police.
"The aggression, the disorder, the fighting, the violence," says Western Bay of Plenty area commander Inspector Clifford Paxton. But this year was quite different.
This year, police saw the lowest number of arrests made since 2008, says Clifford.
There were 15 arrests made on New Year's Eve, including one at an R-18 event at ASB Baypark, and 12 made on December 30.
"Of the 15, the majority of arrests that were made were in Tauranga, which is a reverse of what we'd traditionally see.
"We usually see more in Mount Maunganui than we would in Tauranga. That just shows the change in the environment."
Similar numbers were passing through the 'detox tent' with St John Ambulance.
"So there was a flow on effect to our partners, St John and others alike."
Clifford says police are very pleased with partygoers' behaviour on New Year's Eve and the lead up to it.
"For New Year's Eve itself, the reports I got were that people were happy, they were engaging and friendly and it was quite a different tone to what we've seen in previous years where we've tended to have people who were quite aggressive, often severely intoxicated and obnoxious.
"That same theme was present right in the lead up to New Year's Eve as well."
It's a different scenario to last year's story, with people partying at a Tauranga City Council free event.
This year is the first year TCC cancelled the event due to reports of an increase in serious offences, including sexual offending and assaults.
In the past, Clifford says there's been a select few who were arriving to the Mount for no other reason than to prey on the vulnerable and cause problems.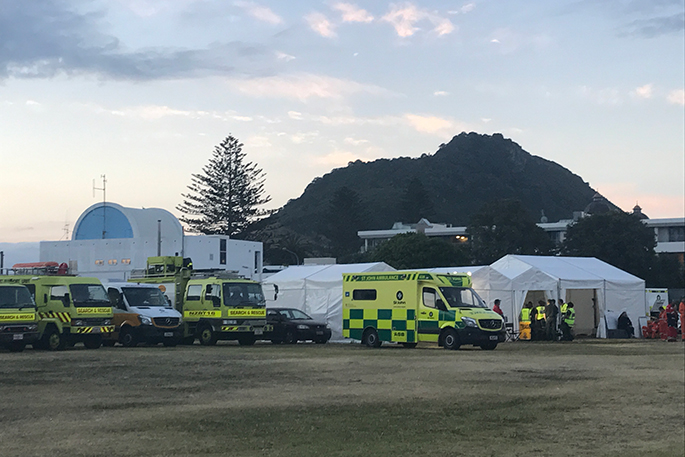 "Because there was no event, they made decisions to go elsewhere and we didn't see that same sector that we've seen previously."
This year behaviour was much better. "We just didn't get the same issues along Marine Parade that we've seen in previous years," says Clifford.
"What ended up happening is we actually saw more issues in Tauranga than we did in Mount Maunganui, which is a massive change to what we've seen previously.
"A lot of it was lower-level stuff: disorderly behavior, destruction and that sort of stuff. The pleasing thing for us is that we didn't see the same serious nature of offending that we saw last year around the sexual assaults and people being knocked unconscious to the ground – and that was very, very pleasing."
January 2 proved a little more disappointing. Three people were arrested from the Bay Dreams festival at ASB Baypark for intoxication, assault and breach of bail.
One person was seriously injured after being struck by a vehicle on Maunganui Rd about 2pm. They were transported to Tauranga Hospital.
There were several others who were struck at low speeds and didn't require hospital attention.
"There was quite a lot of pre-loading going on and that was probably a contributing factor to some people being struck as they were crossing Maunganui Rd."
As we head further into the holiday season, Clifford encourages people to be safe on the roads.
He says this holiday period police have had significant issues around driver behaviour and drink driving.
"There's been a number of people apprehended for drink driving but also a number of compliant around driver behaviour around inattention, crossing the centerline and speed.
"We always encourage communities to plan their trips, make sure they allow plenty of time, make sure they're not distracted, wear their seatbelts, don't exceed the speed limit – and if you're going to consume alcohol, make sure you've got a plan in terms of how you're going to get home safely.
"Ensure you've got credit on your phone and if you go out, make sure you go out in pairs or in groups. Look after yourselves and each other."