"There was a very real danger we were going nowhere," says Martin Knudsen.
There was an even greater danger that their four wheel drive would be seized and chopped - and 18 months of planning, logistics and dreams left shredded and scattered over the Silk Road they had planned to travel.
"It was all very worrying and very frustrating," says Jeanette Knudsen.
Te Puna adventurers Martin and Jeanette Knudsen were in China's south eastern city of Shenzhen about to set out on a 16,000 kilometre, three-month odyssey down one of history's most fabled trade routes – the route that carried goods and ideas between great civilisations, the route once taken by Marco Polo. But no-nonsense Chinese authorities held their keys, their vehicle and their hopes. The trip stalled before it had started.
It's the stuff books of books. And that's exactly what Jeanette did – she chronicled their adventures in a kind of two hundred page letter home, a book called Four Kiwis on the Silk Road.
Experiences and encounters, sights and sounds, smells and tastes permeate every page. "I really wanted to give the vicarious traveller, the armchair traveller, an experience. Because I don't think many people are going to do the same. For most people it's beyond them."
Jeanette takes the reader through nine countries –from China, Central Asia and Eastern Europe, motoring to the roof of the world, through the Silk Road heartland, and on the way brushing with dictatorships, crooked cops in Russia, scrounging gas in Uzbekistan, riding highways and dirt tracks, to green oasis cities in barren deserts.
And we savor romantic Silk Road stop-offs, like the golden city of Samarkand, wander through history, through the streets of one of the great cities of Central Asia with its carefully preserved ancient craft traditions of gold embroidery, silk weaving, engraving, ceramics, carving and painting.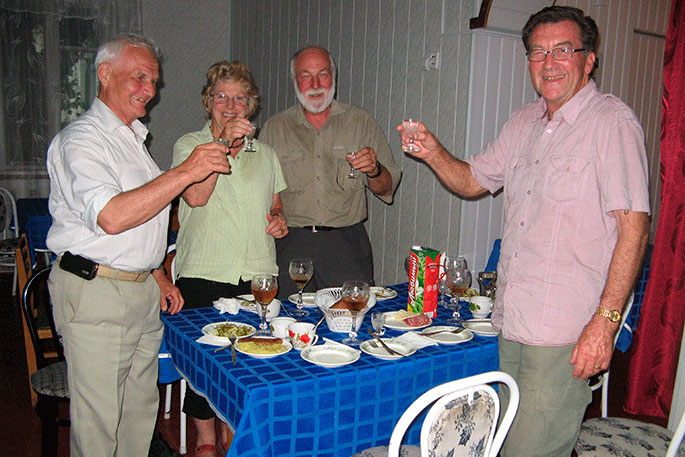 Za zda-ro-vye! Shots of vodka for a Russian host, Anne and Maurice O'Reilly, and Martin Knudsen
They packed for all eventualities – like cartons of cigarettes for bribes. Leave a pack in an accessible place in the 4WD and corrupt officials will make things happen for you.
And adult diapers. "I'd heard too many stories about Delhi belly or Karachi crouch so severe that people can't control it," says Janette. "I wasn't having that." Fortunately the diapers arrived home still packed.
Then at a guest house in the Parmia Mountains near the Aral Sea they encountered a little Kiwi-ana. "You squatted, nowhere to sit." Together Jeanette and Martin sneaked out to the long drop in the dead of night. "The sky was gloriously studded with stars." But the long drop meant the romance of the moment ended right there.
Four Kiwis on the Silk Road isn't just a travelogue of maxed-out credit cards, sunburn and weight gain – it's experiential travel, a learning experience with a rich narrative of political and cultural backdrops, romantic settings, encounters, tribulations, triumphs, people and the happenings.
And remember, all this went very close to not happening. First the Knudsens had to wrestle with Chinese bureaucracy for five days just to get their vehicle out of their shipping container. Then there were brake problems with the Nissan Terrano. No WOFs meant no driving.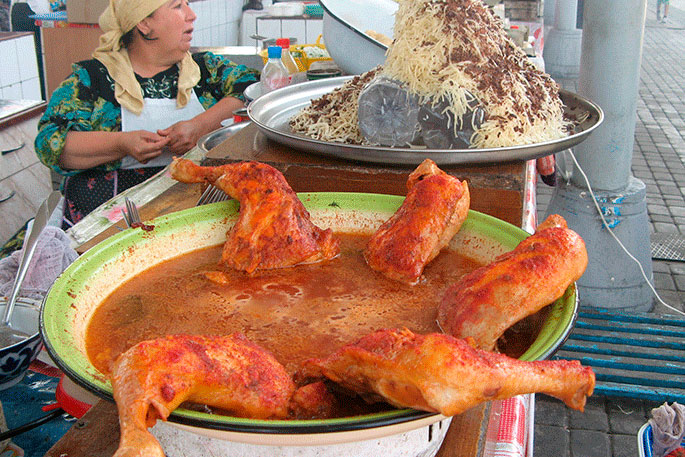 No-one for the duck? The Chorsu Bazaar, Tashkent.
They put the vehicle on the back of a truck and took it to a testing station and then to a mechanic. They were twice failed. A third time and the vehicle could have been seized and scrapped. "I don't know if money changed hands, if there were bribes," says Martin. But the Nissan was released and the expedition was back on.
That was when their guide spotted the kiwi emblem on the Nissan. "He wanted to know why these intrepid kiwis would have a picture of a chicken on their vehicle. We put him right."
It's been a journey of time, explains Jeanette. Although the adventure happened in 2011, the book has been five years in the writing. But the stories have worn well with time.
The Silk Road is a network of routes where, through the ages, traders carried gold and silver, silk and other fabrics, exotic fruits and spices and porcelain across a caravan tract from Xi'an, the eastern terminal in north western China through Central Asia to Istanbul, Iraq and Iran. "And fanning out to India and Afghanistan and up into Central Europe."
The trip was initiated by friends Anne and Maurice O'Reilly – they are the other two of the Four Kiwis on the Silk Road. "They've done Africa and Russia," says Jeanette. She admits to not knowing what the Silk Road was until the O'Reillys invited them along.
The Knudsens don't lie on beaches. "Definitely not us" says Jeanette. Their idea of a rollicking good time is driving from Brisbane to Perth via Broome and Darwin for 12 weeks, or a 2000 kilometre caper from Cairns to Cape Yorke, across Canada from Vancouver to Halifax or 5500 kilometers from Capetown to Nairobi. "Yes, we do like a nice long drive," says Jeanette. "And basically anything that's not the usual tourist fare."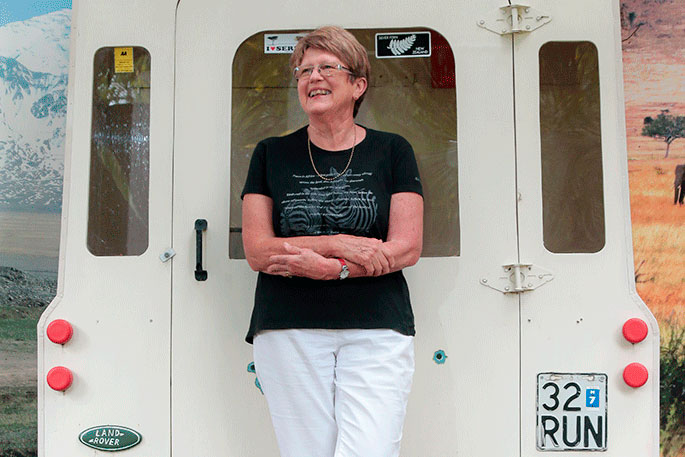 The author, Jeanette Knudsen at home.
Ask for just one standout memory from a myriad of memories on the Silk Road and raisins, bread and tea rush to mind.
"I was photographing an elaborate front door in Western China when the woman came out and invited us in. We didn't understand each other but we sat and chatted through an interpreter. It was quite delightful and unexpected."
So while people are divided by cultures and borders and politics, kindness can overcome. "There's still that tradition of hospitality," says Jeanette. "A tradition of taking in a traveller."
So many years later Martin is still puzzled why in a country of 20,000,000 people, and lots of diesel, it was so hard to buy, well, diesel?
The country was one of the "stans" the Knudsens passed through, one of the nations created by the dismantling of the USSR, Uzbekistan.
"We would stop at a gas station promoting diesel and they would just throw their arms up and yell 'no diesel, no diesel'. To this day I don't know why – there was diesel, just no diesel for us."
The Nissan 4WD was offloaded at the end of the trip – it has a new life in Denmark. It has gone but it is still here, in kind.
Martin, the retired builder, created a wooden replica of the rear of the vehicle. It's now a garden installation at their home. The Silk Road stops in Te Puna these days.
A copy of Four Kiwis on the Silk Road is available by messaging Jeanette at: mjknudsen@xtra.co.nz
Subscribe to our weekly Newsletter
Email: