It's a rogue power pole.
And it's been wilfully crunching fenders and bumpers in suburban Tauranga for years.
That's what neighbours say, that's the power pole's reputation. It's mean on cars.
Les Geraghty is its latest victim. The prominent Tauranga realtor backed his BMW X3 down the driveway at 228 Valley Road and either didn't see the pole, or it leapt out in front of him. Or both. "I wasn't going fast, and then there was this bang." A $2500 sort of bang – ouch! That's what it costs to fix a BMW ding after mixing with a power pole.
Les can't entirely blame the power pole. There was a 'drivership' issue as well. "I had been to a property up the drive to collect a water cylinder." The cylinder was in the back of the BMW – one of those crossover SUV models – and it completely obstructed his vision through the back window.
"There's no reverse camera and I was backing using my wing mirrors, which is what I normally do when backing anyway." The proximity sensor went off – beep, beep, beep – but too late. And it was a nice wide drive, easy for backing, unless there's a power pole straddling the two driveways. And crunch, an expensive crunch.
"The guy at the address said: 'aahh, not again, I normally warn people about that pole. Heaps of people have hit it'. And when I was talking to a friend, she said: 'not the power pole at 228'…whaaaaat?"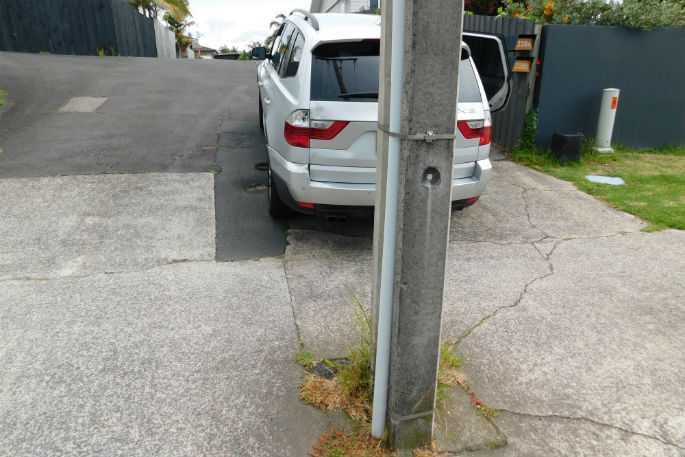 The pole may stand defiantly between two driveways but it has territorial rights – has had for nearly half a century. It's been there since 1971. And while Les Geraghty blames the power pole, Powerco blames residential expansion in Mount Maunganui, because this has caused many properties to be redeveloped.
Now Powerco has someone called a customer experience manager, aka a trouble shooter. He is Mr Matthew Ogier. "According to council records, units 228A and 228B were built in 1989 and resulted from a sub-division of the original 228 Valley Road property. A new driveway was built at this time, resulting in the existing pole now straddling two driveways."
So we can't blame the pole, although Powerco in its response to The Weekend Sun does refer to it as a 'problem pole'. So why not shift it, re-position it? That seems to have been a lost opportunity - 1989 was probably a better time for that discussion.
"The pole supports both electricity and telecommunications services," says Matthew. "And while shifting it is possible, it's not a simple matter. There's also the question of cost."
But what about duty of care points out Les.
Powerco has 1.1 million customers across 442,000 homes, businesses and organisations. And one of its declared corporate values is a commitment to keeping people safe.
"Quite right," says Matthew. "Safety is a key driver throughout Powerco's operations. But Powerco has no record of any accidents involving the pole until Mr Geraghty's recent accident. There have been no complaint and no requests to have the pole shifted."
Powerco visited the site this week to check the safety of the pole. There was no visible damage. Not to the pole, but the back of Les's car is munted.
And the pole continues to stand its ground, waiting to do its worst, to leap out and bite another fender, another bumper. It'll undoubtedly happen again and Les thinks Powerco should give the neighbours an early Christmas treat and move the pole. Perhaps Powerco should warn Santa against backing out of 228.
Subscribe to our weekly Newsletter
Email: