'Genius' – that's how Colin Lunt describes his long-time associate, friend and Kokomo frontman Derek Jacombs.
To celebrate the Tauranga band's 25th birthday this year, Colin has trawled through his memories right back to when he first met Derek and Kokomo almost 15 years ago.
In 2001, just a few months after landing in New Zealand, I saw Kokomo front the first half of a concert shared with the Nairobi Trio. Having seen many big and small bands in the United Kingdom, it was with some doubt the evening would step up to expectation – but it did and was my first contact with Kokomo, I still have the signed CDs.
Later that year I was formally introduced to Derek at Creative Tauranga's Annual General Meeting. The Jazz Festival was on the lookout for a marketing person, we were introduced and so the relationship began. Derek at that time was festival director. It was involvement by fire.
Here was a career musician trying to elevate the Jazz Festival to its rightful place in the music calendar, finding it difficult to navigate the intricacies of finance, contracts, promotion and council while at the same time enlisting musicians from New Zealand and beyond.
Trying to co-ordinate a festival including Downtown Tauranga gigs and Baycourt concerts, I had no idea what I was getting into apart from the fact that we accepted each other's failings and qualities without exception and we formed a strange partnership.
Our friendship has lasted through many highs, lows, disasters and achievements for 15 years.
Derek never ceases to amaze me for his incredible memory of music and lyrics, I have known him to sing more verses of a Dylan song from memory than Dylan himself sings.
His love and understanding of words is exemplified in many of his latest songs like 'Brando', the humour of 'Joe the Bartender', and who really knows what 'Vinegar Hill' is about?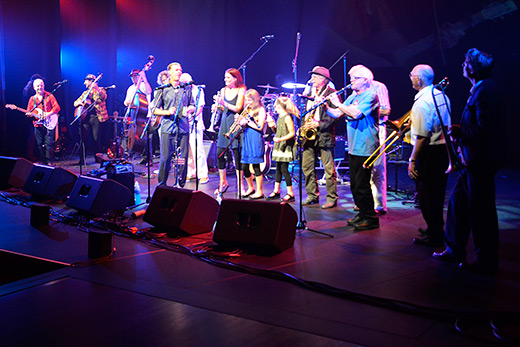 But then listen to the sensitivity of 'Song for Brook (Angels)' and the haunting 'Deserter's Song' – both from my favourite album 'Songs of Love and Not'.
He has an ongoing affinity with Dylan, probably possessing more of his legal and not-so-legal tracks than most. Kokomo often concludes with the upbeat Quinn the Eskimo but have a listen to his beautiful versions of Dylan's 'I Want You' or 'It's All Over Now Baby Blue' which he recorded with Kokomo's bass player Nigel Masters under their alter ego the Self Righteous Brothers on their first album 'Rusty Swing Feel'.
Throughout Kokomo's existence Grant Bullot has been by Derek's side with his unique harmonica style. Grant's artistic nature provides the band with a sometimes soulful, sometimes up tempo sound which Derek weaves into his arrangements with great skill especially when combining with Sonia Bullot's trumpet creating the unusual but very successful "horn section" and producing the bed for the 'Kokomo Sound'.
For many years Derek restricted drums on-stage to a snare and sometimes to a full set in the studio. That all changed when Beano Gilpin came on the scene, providing the band with a metronomic addition to the back line. Up front he has involved one of the most talented guitarists in the Bay, Mike Kirk. Again a musician of huge skill and precision, a quality which DJ has always admired.
The change in line-up from four to six did not seem to take DJ out of his comfort zone; in fact it challenged him to deliver a bigger sound and bigger concerts but he has never deserted the ever-present love of the Blues.
Having worked with Derek through the years of the Jazz Festival and now, as in Derek's words, (one) whose job description is amorphous but has included manager, photographer, publicist, web-designer and more, I can only hark back to a night when the Jazz Festival was presented with an unexpected second award for innovation.
DJ, as president, had popped out for a smoke and I was left to accept the award. The first words that came to mind, apart from 'thank you', were: "Derek Jacombs is the inspiration, the rest of the team are the perspiration". This still applies and I find it a privilege to be part of the Kokomo Krew.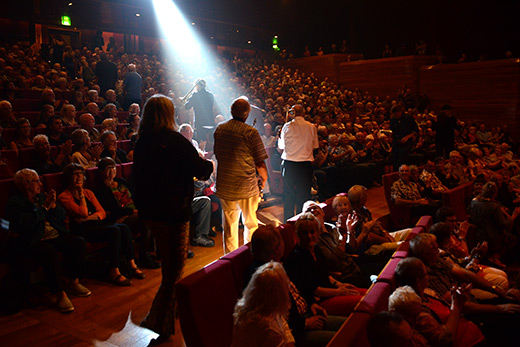 Subscribe to our weekly Newsletter
Email: