A Tauranga man's afternoon walk along Wairoa River took an unexpected turn after he caught a 20kg kingfish with his hands.
Logan Reid was walking his dog Bonny at Miles Lane Reserve along the river's edge when all of a sudden he spotted a "huge white fish" moving gently in the shallows on Tuesday.
"Of course I didn't have my fishing gear with me - but I couldn't quite believe it when I realised it was a kingfish.
"As I approached, it saw me and swam out into the river further - so I thought that was the end of that."
But only minutes later, the fish swam up to Logan once again. "The fish was floating on its side in about a metre of water. I took off my shoes and waded towards it."
In the spur of the moment, he made the call to spear the fish with a "long, sturdy" stick. Logan then grabbed a hold of it, carrying it to dry land.
"It was all a bit overwhelming. I had nothing to end its life with, so I rustled around in the surrounding bush and found a brick."
Fishing is banned under alert level 4 restrictions. When New Zealand moves to alert level 3 at 11.59pm on Monday, April 27 fishing is allowed from the shore.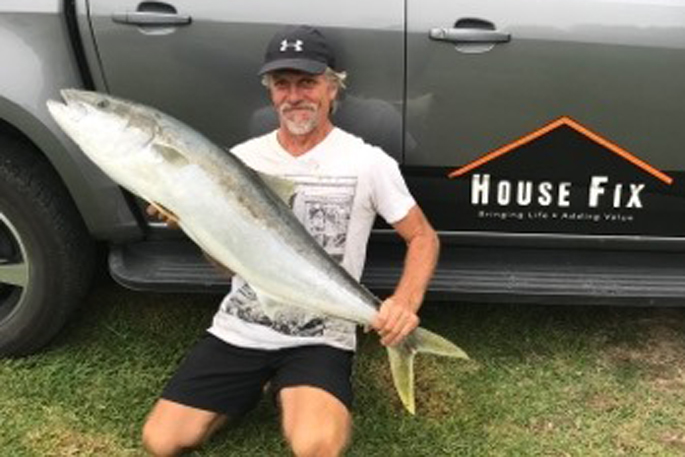 Logan describes the experience as a "miraculous provision", saying when he left the house yesterday he had no intention of catching a fish.
"When I was walking back with it, I had to drag it across the grass because it was much too heavy to carry. My wife just couldn't believe it when I bought home."
Longtime Bay of Plenty angler Mark Sherburn says a number of saltwater species enter rivers, particularly at high tide to feed.
"The harbours and lower parts of the rivers are a rich environment food-wise for them."
Logan, who is a seasoned fisherman, says normally Kingfish are very good fighters. But this one was clearly struggling.
"If you caught one on a rod on the boat you could battle with it for more than half an hour but this fish wasn't acting normally - it was tired."
He spent the evening gutting the fish, cutting it up and handing it out to neighbours. "Over the fence and from a safe distance of course," he adds.
Logan reckons he'll get about 12-15 meals out of the Kingfish.
"This is absolutely the biggest fish I have ever caught."
Subscribe to our weekly Newsletter
Email: