For one day, staring out at sea, eight totara pou caught the attention of walkers who had ventured from their home bubbles to walk along Papamoa beach during the lockdown.
The tall figures stood separate, yet together, blank expressions carved into their faces, like the stone heads on Easter Island gazing out silently across the ocean.
Local wood sculptor Chris Pointon had placed them there, on the top of the dunes, held in the sand by long stainless steel rods up their middle. For about five hours on Anzac weekend, the eight solitary figures become an expression of all that the national emergency was about, resonating with many who saw them.
"I'd been walking on Papamoa beach for my exercise," says Chris. "One of the things I noticed as you walk along were people just sitting or standing on the highest points of the dunes, staring out to sea with quite a blank sort of look. It was the whole lockdown experience of 'when is this going to finish?'"
Chris, who has exhibited over the last decade as part of the Bay of Plenty Garden and Art Festival, had the idea for making the figures during the first day of lockdown.
"I needed a project to do, otherwise I thought I'd get bored and also as an artistic response to the situation."
He had some 100-year-old totara strainer posts handy so started working on them.
"I picked the ugliest ones that I couldn't use for anything else and decided to make them into some people."
After a week he had completed five of the final set.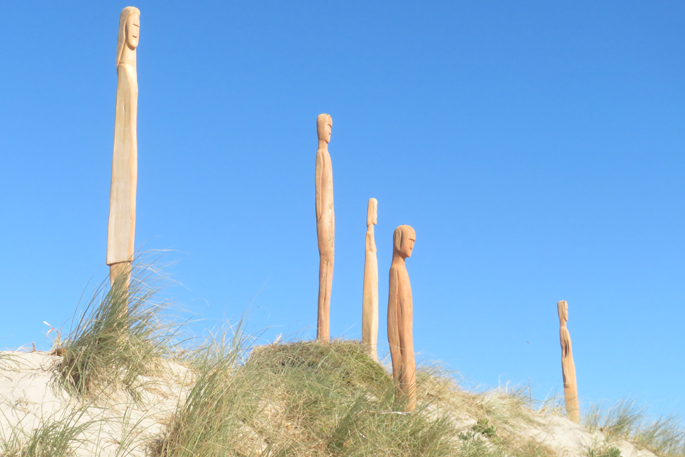 The sculptures in the dunes.
"I got up early one morning, stood them sepatately inside some old barrel hoops on the front lawn and called them 'Social Distancing'.
"My wife's interpretation was that it was some new friends for her because she was feeling a bit lonely in lockdown."
After completing the eight figures, he moved them around the lawn and reconfigured them into groups so that they were in 'bubbles'.
"They were no longer in their bubbles. That was the second iteration of the installation."
This fascination with turning totara strainer posts into representations of people is something he undertook to do with his 2017 entry in Katikati's NZ Mural Contest and Arts Festival Sculpture Competition. Back then the festival theme was 'Children are our Future'. Somehow the description of that earlier sculptural piece continues to resonate now.
Back then, Chris wrote about the 2017 pou as: 'these 'pillars of society'[that] have ignored the growing environmental and social issues confronting our society. Battered relics of the past, they represent flawed old ways of thinking. The hope for the future is our children, who with open eyes and minds can take the lead.'
This time, as he walked Papamoa beach, there was something about seeing people standing silently staring out to sea from the top of the sand dunes that captured him.
"I thought these eight pou could look quite good up there and I could photograph them in a different setting."
On the Sunday of Anzac weekend Chris and his wife Judy carried the newly made posts down to the beach and set them up on the highest sand dune.
"We sat there with a thermos of coffee. People noticed them as they walked along the sand, were photographing them and some climbed up to see what they were."
His statues, some shorter and others up to two metres in height, became a bit of an icebreaker.
"People kept their social distance but also wanted to talk about them and their own situation in lockdown.
"I had kept the statues reasonably rough, edgy and uncomfortable. The head has eye sockets and a nose but no mouth. They have fairly blank expressionless faces. Sort of depressed, sad, that was what I was trying to get to. Some have body language which also suggests the same idea."
Across a safe distance, Chris found that people drawn to the figures started talking about their own lockdown experience.
"I think there's probably some very lonely people out there at the moment. That haven't had much chance of social connection or been able to talk with people."
Although resonating with many, Chris wasn't about to leave the eight pou permanently at the beach.
"They have a stainless rod up the bottom, which means I can pick them up and plant them anywhere. It would be nice to leave them there and expect them to be there in the morning, and not become part of a camp fire on the beach overnight. But that was too much of a risk.
"The idea was to take them there, put them up, people could see them, as a pop-up installation. I could take some photos and give them more of a new meaning to what they are, entitled 'Waiting For Lockdown to End'."
He changed their positions, grouping them in different ways across the ridge. After about five hours, he picked them up and took them home.
"A lot of people stopped and photographed them from the beach. Kids were drawn to them. Some people came closer. People just responded because of where they're at. Hopefully it gave people a lift."
His eight new friends are now back at home enjoying life in the garden.
Subscribe to our weekly Newsletter
Email: